A video capturing the moment a Minneapolis officer tackled a 64-year-old Black man inside an Aldi store has gone viral on social media.
The incident took place at the Aldi on East Franklin Avenue on Wednesday evening. A video that captured part of the incident was posted on Instagram later that evening, and has amassed more than 100,000 views online.
It begins with the man, who identified himself as Troy Lee Billups, telling Officer Christopher Lange: "Don't put your hands on me!"
Lange, who is white, is seen grabbing Billups by the collar and shoving him face down into a nearby counter.
"What are you doing? You're supposed to de-escalate! How the f**k is this de-escalating?" the person filming the video can be heard saying.
Lange then throws Billups to the ground and the pair struggle for more than a minute as the man repeatedly tells the officer not to touch him.
At one point, the officer tells a bystander that Billups is being arrested "because he's obstructing."
"No, you escalated this situation!" The person filming says. "You escalated this situation and you made this happen. It's clear. It's clear as day!"
The officer later takes Billups outside and when the person filming catches up to them near a patrol car, they appear to be discussing an alleged altercation that led up to the incident.
"You shouldn't have put your hands on me," Billups tells the officer. "We weren't fighting, we was talking. We weren't pushing. We didn't touch each other. Only I just said, 'Don't put your hands on me.'"
Moments later Lange places Billups in handcuffs.
"Officer Lange escalated the situation," the person filming says as the arrest takes place, with two other officers joining Lange. "This man was having a conversation with someone else, no pushing, no shoving, no physical interaction occurred until Officer Lange initiated the physical action as seen in this video."
Billups was arrested and booked for obstructing the legal process with force. The Office of Police Conduct Review is evaluating the matter, a spokesman for the Minneapolis Police Department said.
According to a police report submitted by Lange, he was working off-duty security when he stepped in to stop an altercation he witnessed.
"One of the parties started to actively resist the officer after being told to leave and still actively resisted when informed he was under arrest," the report says, according to KARE11. "The male was arrested and booked at the Hennepin County Jail."
Online records from the Hennepin County Sheriff's Office show Billups was released from custody on Thursday afternoon. Court records show the case against him was dismissed by prosecutors.
An Aldi spokesperson told Newsweek: "At Aldi, we're committed to ensuring the highest level of safety for our customers, employees and local communities. We are cooperating with local authorities as they investigate this matter further. We kindly ask that you direct any questions to the Minneapolis Police Department."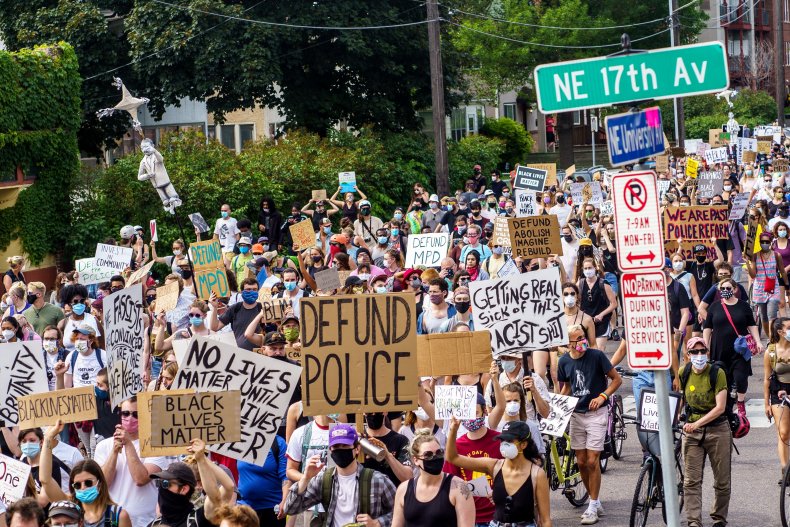 However, the video of the incident has prompted activists to call for Lange to face immediate disciplinary action.
"It is clear that Officer Lange's excessive force escalated a situation that called for de-escalation," the Racial Justice Network (RJN), a grassroots organization fighting for racial justice, said in a statement.
Lange has been investigated for misconduct five times since 2019, according to the organization. "We demand that he be immediately fired or placed on administrative leave pending the results of a swift investigation into his actions,' the statement added. "It is simply unacceptable to allow an officer with such a history of abuse to continue serving the residents of Minneapolis.
The RJN also noted that the incident took place as Minneapolis Mayor Jacob Frey is asking for an extra $27 million in funding for the Minneapolis Police Department, citing a rise in violent crime and staffing shortages.
"How can we justify increasing the Minneapolis police budget by millions of dollars when we have so many officers working off-duty shifts and on-duty officers responding to calls for non-violent residents?" RJN member Sonja Western said. The organization has been contacted for additional comment.
The city saw unrest that quickly spread across the country last year after a video that captured a Minneapolis officer kneeling on the neck of George Floyd, a 46-year-old Black man, as he gasped for air circulated widely online. That officer, Derek Chauvin, was fired and later sentenced to over 22 years in prison for Floyd's murder.
The MPD and the mayor's office have been contacted for comment. Billups could not immediately be reached for comment.
Updated at 11 a.m. ET on 12/8/21: This article has been updated to add a statement from Aldi.