WHO, UNICEF Push for Using Commercial Flights to Send Medicine, Aid to Afghans
The World Health Organization (WHO) and UNICEF on Sunday called for the creation of a "humanitarian airbridge," in order to give commercial aircrafts the ability to deliver medicine and other aid supplies to people in need across Afghanistan.
The UN agencies said in a statement that the humanitarian needs of Afghans "should not and cannot be neglected," as the U.S. and other foreign nations rush to evacuate citizens and allies after Afghanistan fell to the Taliban last week.
But with no commercial aircrafts currently permitted to enter the Kabul airport, the agencies warned that humanitarian groups have no way of getting supplies into the country for those in need.
"WHO and UNICEF call for the immediate establishment of a humanitarian airbridge for the sustained and unimpeded delivery of aid into Afghanistan. We are also closely following up with all UN and international partners to explore options for expediting aid shipments," the agencies said.
Even before the Taliban's recent takeover of Afghanistan, the agencies said that the country required the world's third-largest humanitarian operation, with more than 18 million people needing help.
"Conflict, displacement, drought and the COVID-19 pandemic are all contributing to a complex and desperate situation in Afghanistan. Humanitarian agencies need to be supported and facilitated to meet the enormous and growing needs in Afghanistan, and make sure that no one dies unnecessarily due to lack of access to aid," they stated.
The statement comes as the U.S. and other countries continue evacuation operations across Afghanistan. On Sunday, the U.S. Defense Department called upon commercial airlines to assist in the ongoing evacuation efforts by activating the Civil Reserve Air Fleet (CRAF) for only the third time in history. That means American Airlines, Atlas Air, Delta Airlines, Omni Air, Hawaiian Airlines and United Airlines will provide a total of 18 aircraft to support the evacuation of citizens and personnel.
However, the commercial jets are not expected to fly in or out of the Kabul airport, but rather to help ferry thousands stranded at U.S. bases in Qatar, Bahrain and Germany.
The scene at the Kabul airport has been gripped by panic and uncertainty in recent days, with reports that Americans attempting to evacuate the area could face terrorist attacks by the Islamic State group (ISIS) or threats from the Taliban.
The U.S. embassy on Saturday told citizens "to avoid traveling to the airport and to avoid airport gates at this time unless you receive individual instructions from a U.S. government representative to do so," over potential security threats. A day later, National Security Advisor Jake Sullivan said the threat of attack is "real" and said that U.S. officials are using "every tool in our arsenal," to protect the safety of Americans.
According to the Pentagon about 17,000 people, including 2,500 Americans, have so far been evacuated from Kabul. By Sunday it was unclear how many Americans are still in Afghanistan, though Sullivan estimated that it is still "several thousand."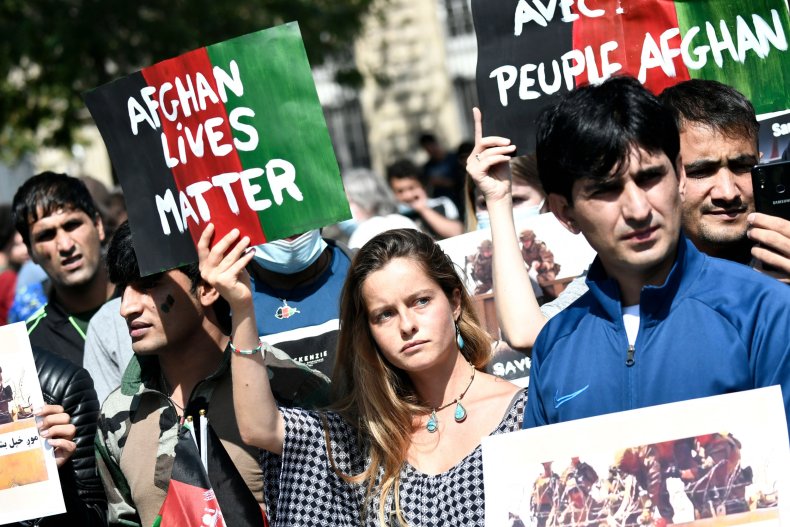 Meanwhile, tens of thousands of Afghans are looking to flee the country in fear of being brutalized or killed by the Taliban. Since seizing power last weekend, the militant group has attempted to portray a message that it will not violate human rights. But several reports have so far indicated that women are being beaten and tortured, and that people are being executed.
As international evacuation efforts are ongoing, the WHO and UNICEF said Sunday that they will continue to stay in Afghanistan and deliver all possible aid to Afghans in need.
"Our work continued even when the hostilities were at their worst. We remain committed to staying in Afghanistan and delivering, and we rapidly shifted gears to address the needs of millions of Afghans who remain in the country," the agencies said.