Who Were The Brussels Metro and Airport Bomber Brothers, Khalid and Brahim El—Bakraoui?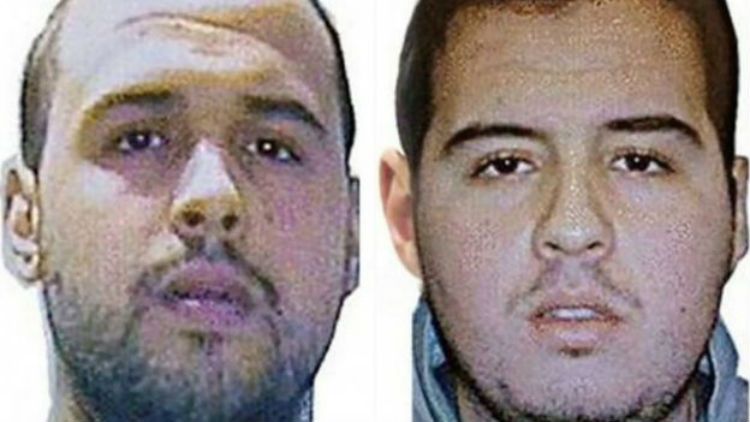 On Wednesday, the Belgian federal prosecutor identified two Brussels suicide bombers as brothers Brahim el-Bakraoui and Khalid el-Bakraoui.
The two men were involved in the deaths of 31 people at Brussels international airport and the Maelbeek metro station, committing separate suicide bomb attacks on behalf of the Islamic State militant group (ISIS). But what do we know about these two men?
Brahim el-Bakraoui
Brahim, a 29-year-old Belgian national born in Brussels, was one of the suicide bombers at Zaventem airport who detonated a suitcase suicide bomb. Authorities identified him from a fingerprint left at the scene.
In the image, he is situated in the middle of the three suspects, wearing dark dress and one dark glove, leading to speculation that he was hiding the detonator in his hand.
A notable suicide bomber tactic is to have a death switch, a trigger that when released by the hand, detonates. The tactic is used to ensure that the device still explodes even if the attacker is neutralized.
Before the attack, an unidentified taxi driver drove Brahim and his two accomplices to the airport with their suitcases from a property in the Brussels district of Schaerbeek. He became suspicious after they declined his help with the luggage. He also said that they were angry when not all of the luggage could fit in his vehicle. According to Belgian news site HLN, the driver contacted authorities after finding out about the attack and led them to the jihadi cell's safe house.
Belgian authorities raided the property on Tuesday, discovering a nail bomb, chemicals and an ISIS flag. The raid also retrieved a laptop from a trash can, in the same district, belonging to Brahim. On the device, he had left a note, called a will by some media outlets, in which he wrote: "I don't know what to do. I'm in a hurry. I'm on the run. People are looking for me everywhere. And if I give myself up then I'll end up in a cell."
According to Van Leeuw, Brahim also wrote: "I don't want to end up in a cell next to him," in apparent reference to Salah Abdeslam, the lone surviving Paris attacks suspect who authorities captured on Friday. The remark suggests that Brahim feared capture while Abdeslam was hiding in the Belgian capital.
In 2010, Brahim was sentenced to nine years in prison for firing a weapon at police officers in an attempted robbery. He violated his parole in 2015 and has been on the run since.
Turkish President Recep Tayyip Erdogan said on Wednesday that the country's authorities had detained a Brussels attacker, confirmed as Brahim by Turkish officials, in the southern city of Gaziantep in June 2015 before he was later deported to Belgium. He said that Belgian authorities released Brahim after failing to confirm his links to extremism despite Turkey flagging to Belgium the threat he posed.
"Despite our warnings that this person was a foreign terrorist fighter, the Belgian authorities could not identify a link to terrorism," he said at a press conference on Wednesday.
Khalid el-Bakraoui
Less is known about Brahim's younger brother, Khalid. Belgian media outlets earlier reported that the 27-year-old detonated a suicide bomb at the Brussels airport. The Belgian federal prosecutor later confirmed on Wednesday that Khalid in fact blew himself up at Maelbeek metro station one hour after the double suicide bombing at Brussels international airport.
Khalid received a five-year prison sentence in 2011 for a car-jacking and was therefore known to police for his criminal history but not for links to extremist groups or radical elements in the country. According to the website of international crime agency's Interpol, Khalid had a red flag notice against his name, essentially an international arrest and extradition warrant and, oddly, citizenship of the Bahamas.
The Belgian state broadcaster RTBF reported on Wednesday that Khalid had rented an apartment in the Brussels suburb of Forest under a false identity, which was later raided by police.
In the raid, a police sniper shot dead Mohammed Belkaid, an accomplice of the lone surviving Paris attacks fugitive Salah Abdelsam, and investigators discovered the fingerprints of Abdeslam at the residence. The discovery later led to the capture of Abdeslam at a Molenbeek property on Friday, just 500 meters from his family home, after a four-month manhunt.
The revelation about the Forest property suggests that both Bakraouis were involved in the extensive jihadi network uncovered in the raids to find and capture Abdeslam.
Two men escaped the raid on the Forest property last week, in which Belkaid was killed, and these two men may have been Brahim and Khalid. Officials are yet to confirm this detail but, if revealed to be the pair, it will raise questions about how they were able to evade authorities for a week before committing the worst extremist attack on Belgian soil in the country's history.