Why Amazon Echo, Not the iPhone, May be the Key to Internet's Future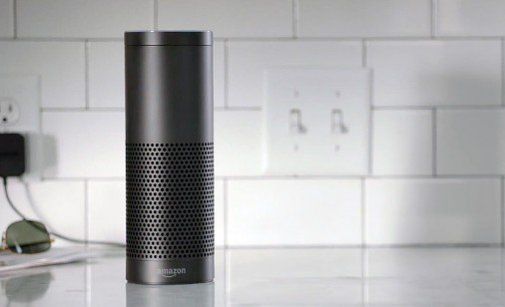 It has not been a good year for Silicon Valley. The world economy has slowed down in 2016 and the global sales for the Apple iPhone, once tech's most successful product, have declined. But a new report on the internet trends of 2016 points to voice automation devices like the Amazon Echo passing iPhone to become the key product produced in the sector.
The "Internet Trends 2016" report from the venture capital firm Kleiner Perkins Caulfield Byers noted that Amazon Echo's sales have increased every quarter for the last year. In the first quarter of 2016, around 1 million Echos were sold in the United States. Four million Echos have been sold since the voice activated units made their debut in 2014.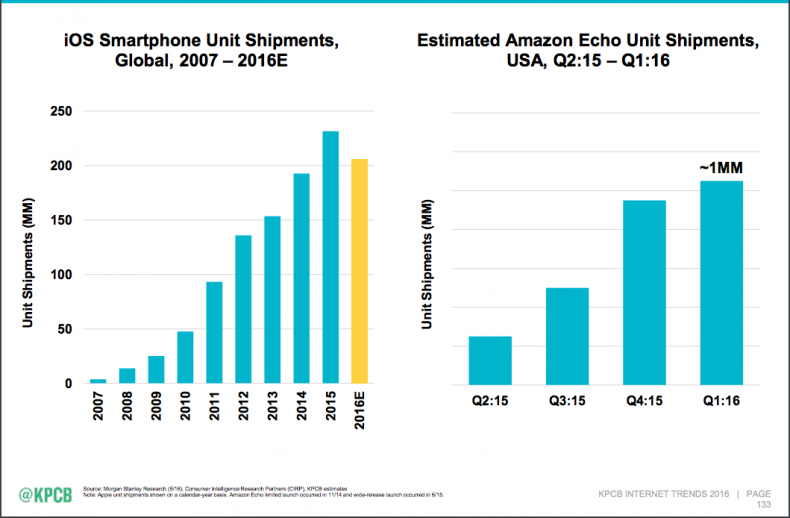 The report points out that voice automation technology is "still [in] early innings." Other voice-controlled assistants like Apple's Siri or Microsoft's Cortana also saw big jumps in use, from just 30 percent of its respondents in 2013 to 65 percent in 2015. The respondents say that the technology improvements was the main reason for the increased usage of voice assistants.
Apple, Google and others have been building their own home voice assistants to chase Amazon. Apple announced in its 2015 developer's conference that it was building an Echo competitor called Homekit, which is still under development. Google was quicker in announcing its own voice speaker called Home in its I/O developers conference last month. Startups and non-tech companies like Ford have been building their own voice-controlled assistants of their own.
At the moment, Amazon Echo has a big lead thanks to the surge companies like Uber, Domino's Pizza and Spotify integrating its services—or "skills," as the report calls it—to Echo's computer interface, which is named Alexa. Within nine months from September 2015 to May 2016, the skills that Alexa learned jumped from 14 to around 950.
Amazon recently expanded its Echo devices to smaller, cheaper devices called Tap and Dot. The report also believes Echo's voice-controlled technology will help "reduce friction for making purchases" off of the largest e-commerce company in the United States.
Amazon is valued at $341 billion and is currently placed in third place behind Apple and Google as the "global internet market leaders," edging out Facebook by $1 billion. But in 2015 revenues, Amazon—which made $107 billion—was a very distant second behind Apple, which made $235 billion.
But Wall Street loves Amazon, whose price-to-earnings (PE) ratio of 297.41 is far ahead of Apple's 10.88. PE is often used as a marker of market excitement for a particular stock. While Apple's revenues fell for the first time in 13 years in April, Amazon reported its largest profit in its history, despite its reputation for reinvesting its profits back into the company to fuel more growth.