Why Amber Heard, Johnny Depp Aren't Required to Be Present for Verdict
While the world waits for jurors in the Amber Heard/Johnny Depp trial to reach a verdict, some have wondered whether the two actors will be in court when the decision is read.
Depp, 58, has sued ex-wife Heard, 36, for $50 million, charging that he was defamed in a 2018 op-ed she wrote for The Washington Post, in which she said—without naming Depp—that she was a victim of domestic abuse. Depp argued that the piece was obviously referring to him and had damaged his reputation, including his ability to get acting jobs. In response, Heard countersued for $100 million on a charge of nuisance.
The civil trial's jury has been deliberating for at least 10 hours at the time of this writing, and it's uncertain when the seven members will reach a decision. They have a mountain of evidence to go through, and several verdict outcomes are possible. Meanwhile, spectators at the Fairfax, Virginia, trial, which has resulted in a media circus, have noted that Depp was in London over the weekend, leading to speculation about whether the Pirates of the Caribbean star or his ex-wife will be in court once the verdict comes down.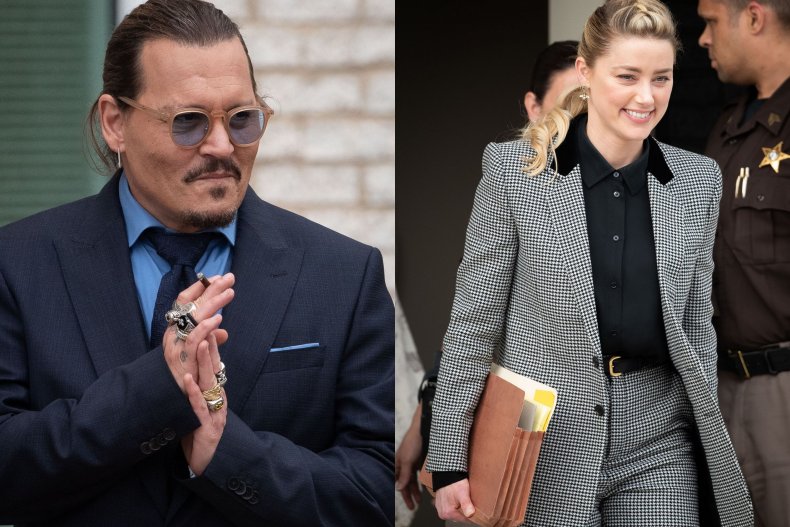 Some legal experts have weighed in on the nature of the trial and why neither actor has to be present when the jury finishes deliberating.
"They're not required to be there because it's not a criminal case," Atlanta attorney Manny Arora told Newsweek. "But 99 percent of the time, people will be there."
While neither the plaintiff nor the defendant must be present during a verdict reading in a civil trial, both actors' legal teams will be there.
Depp made an appearance in London over the weekend to perform at a Jeff Beck concert, prompting some fans to think he might not show up in Fairfax for the verdict.
"He doesn't have to be there, but I would imagine with the amount of time, effort and money that's been put into it, I'd be very surprised if he wasn't there. In my experience, I've always had the clients there because it's their case. They want to see it through," Arora said.
Another attorney, Mark Litwak in Santa Monica, California, predicted that the actors might show up for the jury's decision. "After all," Litwak told Newsweek, "both of them testified, and when a verdict comes down, there's gonna be a lot of press there and they may want to give a comment to the press."
He added, "It's up to them whether they want to appear."
The trial featured six weeks of detailed testimony, with both actors accusing each other of domestic abuse in their short-lived marriage, which ended in 2016.