Why Donald Trump Could Find a Friend in Saudi Arabia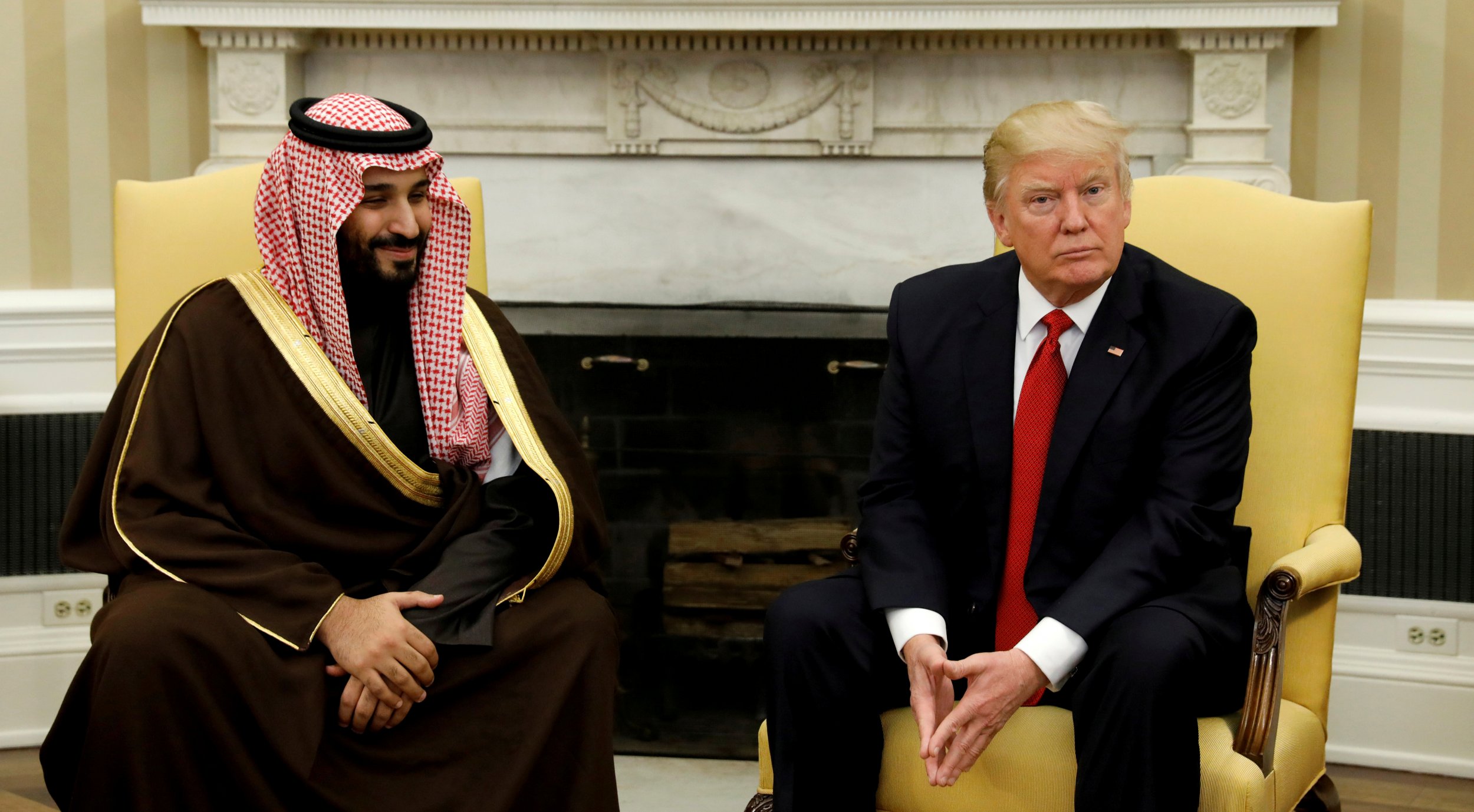 Donald Trump will arrive in Riyadh at the end of this month in his first foreign visit as U.S. president. He visits Saudi Arabia during a tour that will also take in the Vatican and Israel.
Speaking in Washington, Trump noted the religious symbolism of his trip to the Gulf monarchy—home to the two holiest sites in Islam—as well as the need to cooperate with Saudi Arabia on issues of security and counterterrorism.
"It is there that we will begin to construct a new foundation of cooperation and support with our Muslim allies to combat extremism, terrorism and violence, and to embrace a more just and hopeful future for young Muslims in their countries," Trump said.
Despite Trump's sporadic verbal attacks on Saudi Arabia and his rhetoric—interpreted by many as anti-Muslim—the Arab kingdom has called Trump's visit , which will include a bilateral summit of Arab and Muslim leaders, as historic.
Read More: Tillerson Lifts Human Rights Conditions for Lucrative Arms Sale to Bahrain
"It's a clear and powerful message that the U.S. harbors no ill will toward the Arab and Muslim world," Saudi Arabia's foreign minister Adel al-Jubeir said following Trump's announcement, according to Reuters. "It also lays to rest the notion that America is anti-Muslim."
Earlier this year, the 57-nation and Saudi-based Organization of Islamic Conference said Trump's travel ban on seven majority Muslim nations earlier this year would embolden radical extremists throughout the world.
But while the Saudi government did not comment on the ban, Saudi adviser Prince Faisal bin Farhan Al-Saud told Fox News in March that the Trump administration had told Saudi Arabia the measures were not a "Muslim ban" and the Saudi government "takes them at their word."
More recently Trump fired a shot across Saudi Arabia's bow in terms of defense spending. "Frankly, Saudi Arabia has not treated us fairly, because we are losing a tremendous amount of money in defending Saudi Arabia," he told Reuters last week.
It is not the first time Trump has accused Saudi Arabia of failing to pull its weight on defense. During a presidential campaign rally in Wisconsin in 2016 he told the crowd: "They're not paying us a fair price. We're losing our shirt."
But Miriam Eps, a regional security analyst at Le Beck, tells Newsweek that Saudi Arabia is willing to "look the other way" on this kind of rhetoric because of the opportunities Trump offers the kingdom.
"[Gulf] governments are probably willing to compromise on this issue in the face of improved relations and preferred policies under Trump. In other words, if the cost of doing better business with Trump is paying some more for defense, I think they will consider this a very good deal," she says.
Chief among the reasons Trump and Saudi Arabia will be looking to cultivate a close relationship is their shared stance on Iran. The current administration appears far more amenable to Saudi interests than under Trump's predecessor, Barack Obama, who pursued a nuclear deal that ended most sanctions against Iran, Saudi Arabia's principal regional rival.
On the campaign trail, Trump said it was his "number one priority to dismantle the disastrous deal with Iran " and in April the U.S. president complained Iran was "not living up to the spirit of the agreement," the Associated Press reported.
"There was certainly not a lot of love for Obama," Eps says. "He was seen, rightly or wrongly, as an unreliable ally, desirous of reducing the U.S. footprint in the Middle East, and overly concerned with the Iran nuclear deal, reducing his willingness to stand up to Tehran."
Trump has also been seen to tread a path more closely aligned with Saudi Arabia and its interests across the region, where it often comes into direct conflict with Iran. The two nations have backed opposing sides in the war in Syria, where Iran supports Bashar al-Assad and Saudi Arabia some groups of Sunni rebels fighting to overthrow him.
In Yemen, a Saudi-led coalition is fighting against Houthi rebels which U.S. officials have said are funded and armed by Iran, an accusation which Tehran denies.
Unlike Obama, the Trump administration has also shown little interest in tying arms sales to human rights. In March the U.S. State Department informed Congress that it would proceed with a $5 billion sale of fighter jets to Bahrain, waving concerns about the Gulf state's human rights record that had initially delayed the deal under the Obama administration.
"Gulf states look fondly on the Trump administration proceeding with the sale of F-16s to Bahrain, which had been frozen under Obama due to human rights issues; striking Syria in response to chemical weapons attacks; and discussing at the Pentagon the possibility of increasing support for the war in Yemen," Eps says.
"Severing U.S. foreign policy from that of human rights issues is a particular boost for countries, including Saudi Arabia and Bahrain, that tend to be on the receiving end of the latter," she adds.