House Democrats Are Corralling Votes for an Assault Weapons Ban. Here's Why Some Have Yet to Pledge Support
With the GOP-controlled Senate stalled on gun control and the Democratic-led House continuing to advance new proposals, there is another effort that's brewing among House Democrats that they hope will soon have enough support to pass: an assault weapons ban.
"It's substantively an important way to reduce gun violence and to protect people from the carnage of mass shootings," said Rhode Island Democratic Rep. David Cicilline, who authored the legislation.
But there's progress yet to be made within his own party for the bill to prove triumphant on the House floor, even with a Democratic majority. Including Cicilline, 211 Democrats have co-sponsored the bill, plus Rep. Peter King (R-NY), leaving him just six members shy of having the required 218 votes to pass.
Those who have yet to throw their weight behind what's become a divided and passionate issue tend to lean more moderate and are freshmen lawmakers, with roughly half of the 28 Democrats who've yet to sign onto the measure being part of center-left caucuses or are considered vulnerable for 2020. Those who spoke with Newsweek showed pause, explaining that they're either reserving final judgement until after it's debated in committee, believe it's a hopeless task — so long as Sen. Mitch McConnell (R-KY) remains majority leader and Donald Trump as president — or simply did not want to discuss the matter.
"Generally, I'm not supportive of bans, because I think that we have to focus on sensible gun legislation that we can actually get passed," said Rep. Anthony Brindisi (D-NY), a first-term, moderate congressman. "And when you have nine out of 10 Americans saying that they support something like background checks, to me, that's where we should be focusing the bulk of our energy right now when it comes to gun legislation."
Congressional Democrats have continued to demand that McConnell allow a vote on a House-passed universal background check legislation from February that would afford few exceptions to requiring the act of running a person's name through a federal database, even during private transactions — a move that advocates say is necessary to help prevent future mass shooters from wrongfully obtaining firearms. But Senate Republicans have made it clear: they need Trump's blessing before they'll move forward on any gun control measures.
Several Democrats expressed concerns over the language of the military-style assault weapons ban, fearful it could infringe on constituents' Second Amendment rights and their ability to use such weapons for hunting and fishing. There is a balancing act of trying to find new legislation that could help curb gun deaths at the hands of mass shooters and not implementing an overreaching bill with unintended consequences, they explained.
"There [is] some concern about the breadth of some of the definitions. In general, I'm supportive of banning military-style assault weapons, but I think we're watching this go through committee and markup and trying to get feedback on some of the specific details before making a decision," said Rep. Lizzie Fletcher (D-TX). "My district — you know, we're in Texas — is very concerned about gun safety and common-sense laws to address it, and I think there's a balance here where we're just trying to figure out about some of the specifics."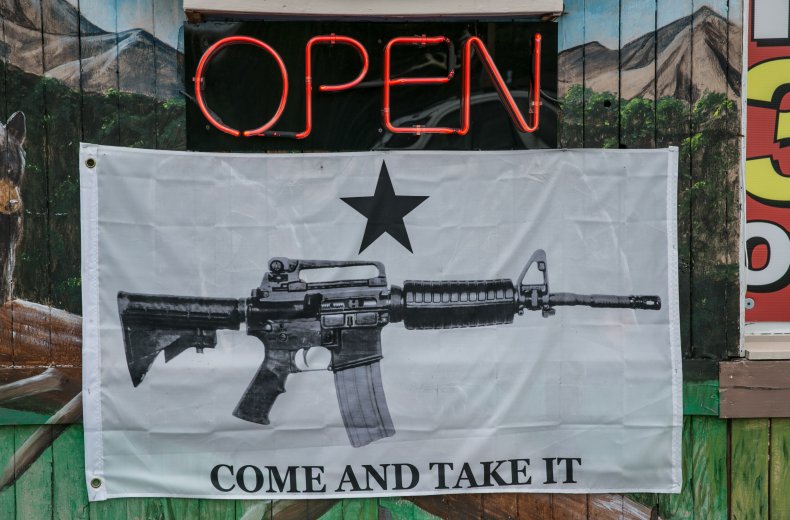 Rep. Jeff Van Drew (D-NJ) expressed similar concerns, highlighting a past assault weapons ban in his state that prohibited boy scouts from using rifles for training and the need to focus on identifying people with ill intentions before they commit atrocities. However, the moderate newcomer elaborated, it was likely he'd ultimately vote in favor of the ban, despite not sponsoring the legislation.
"Assault weapons are something that a lot of people are concerned about. At the end of the day, what is the definition of it going to be?" Van Drew said. "There is a good chance that I will support it."
One measure he did not support that Democrats are advancing through the House is a ban on high-capacity magazines, which he believed would do little to curb a mass shooter's intentions.
Rep. Elissa Slotkin (D-MI), also a moderate freshman, said she's keeping an open mind about the assault weapons ban and has yet to take a closer look at the bill's text. Although acknowledging the difficult situation that she and some of her Democratic colleagues may find themselves in thanks to divided districts, she believed a ban should not be something the party shies away from.
"I think it's an extremely controversial issue. There's certainly people lobbying me in my district on both sides of the issue," the former Middle East CIA analyst said. "But I think we also have to do what's right for the protection of our kids in schools and we have to acknowledge what's going on [with] the ability of some of the semi-automatics to induce huge consequences. A ban is not the only option, but it is something we should be considering. I think it's right to be having the discussion."
Rep. Cheri Bustos (D-IL), head of the party's campaign arm, the Democratic Congressional Campaign Committee, declined to speak with Newsweek about her lack of support for the assault weapons ban.
The chamber's Judiciary Committee, of which Cicilline is a member, passed a slew of new gun control proposals on Tuesday that will soon be considered by the full House, which include a so-called "red flag" law to temporarily confiscate firearms from those believed to be an imminent threat to themselves or others, outlaw high-capacity magazines and bar those convicted of all hate crimes from obtaining a gun.
Gun control is a highly partisan issue, and a move to bar the general public from owning a certain type of firearm would become ammunition for Republicans to use as proof that Democrats are trying to "take away Americans' guns." Cicilline has no illusions about the dilemma some of his colleagues find themselves in. It's a "fair point," he said, for those who view the effort as futile with McConnell leading the upper chamber and Trump in the White House.
"All of the legislation that we have passed is focused on how to keep guns out of the hands of people who shouldn't have them. A weapons ban, for some, is more difficult, because it actually bans a particular kind of weapon," Cicilline said. "I think everyone recognizes that's a bigger lift than the universal background check, but that doesn't mean we shouldn't move forward with it."
Cicilline pointed to America's previous assault weapons ban from 1994 to 2004 as evidence to why the country needs another one. During that decade, mass shootings declined by roughly 37 percent and the number of deaths dropped by about 43 percent as compared to the prior decade, according to data compiled by Statista shown in the chart below.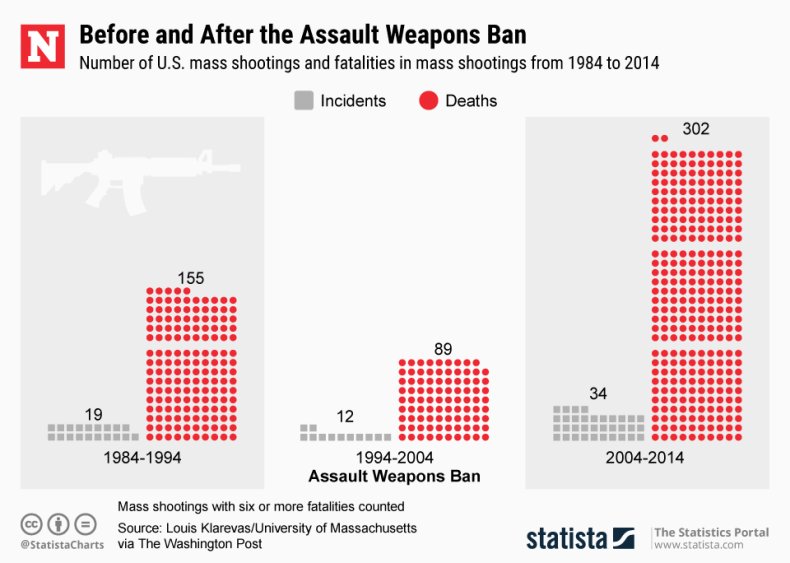 Most of House leadership has already thrown their support behind the ban. Majority Leader Steny Hoyer (D-MD), who voted for the previous assault weapons ban in the 1990s, told reporters Wednesday that once the assault weapons ban goes through the Judiciary Committee, they'll gauge whether enough support exists within the party to pass the full House. The timing of when the bill will be debated in committee is not yet known.
The chair and vice chair of the Democratic Caucus, Reps. Hakeem Jeffries (D-NY) and Katherine Clark (D-MA), respectively, also expressed their support for the measure to reporters on Thursday.
"I don't think, from my standpoint, we're in the position to speculate about what will help or what will hurt [the Democratic Party]. We want to do the right thing," Jeffries said. "Part the right thing, it seems to me, is to ponder the question[s]: Are assault weapons weapons of war? Who are assault weapons designed to target? Are they being used to hunt deer, or are they being used to hunt human beings?"
Noticeably, House Speaker Nancy Pelosi (D-CA) has not co-sponsored the legislation, and she's remained mum about the proposal in recent public remarks on gun control.