Wife's 'Childish' Way of Eating Candy Caused Husband to Have 'Panic Attack'
A post has gone viral on Reddit after a woman shared that she gave her husband a "panic attack" after a night of being a "trash goblin" and falling asleep with blue-colored lips.
Redditor u/Noproblllama wrote about the "stupid" incident on the subreddit "TIFU"—or "Today I F**ked Up"— in a post that has been voted on over 41,000 times.
She wrote that she recently decided to stay up until the "wee hours" of the morning eating Easter candy and playing video games. She explained that one of the things she was eating were "Robin Eggs"—the colorful candy-coated malted milk balls.
"Well, as a kid I used to do this stupid thing where I would lick them and smear the color all over my lips because hey, free lipstick! Do not ask what compelled me to do this, but [I] did this last night with a blue one," she wrote.
She said she fell asleep on the couch with her lips dyed blue and woke up to her husband moments away from calling 911.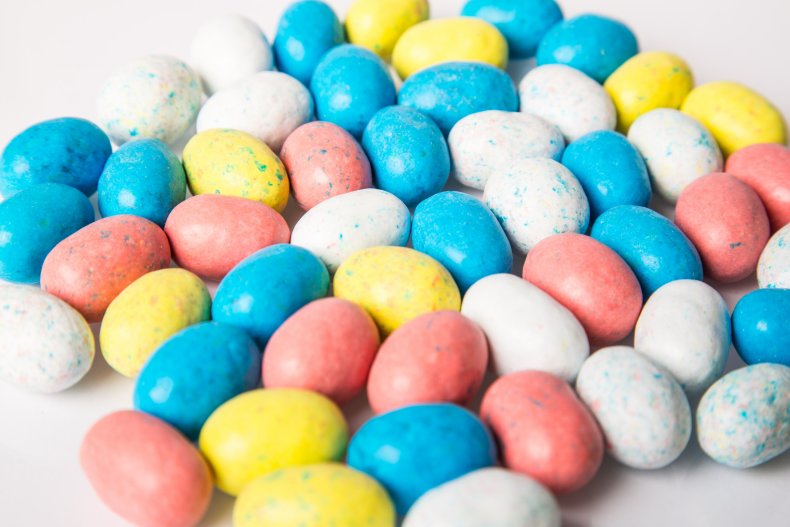 According to Delish, when "Robin Eggs" were first released they were not covered in the bright sugar coating and were a bit larger in size. Nowadays, the candy is only available in the weeks leading up to Easter which this year falls on April 17.
Delish went on to say that while the eggs come in blue, white, yellow and pink, the speckles on the eggs are mostly blue so "downing a whole bag of Robin Eggs will likely give you a case of Smurf mouth."
According to Popular Science, the first food dyes were created in the 1800s out of coal tar. Many of the hundreds of synthetic dyes manufactured over the past century, though, are toxic with only nine approved for use in food by the U.S. Food and Drug Administration policy, the outlet said.
The Redditor said she woke up to her husband "violently" shaking her and by the time she realized what was going on, noticed he was fumbling with his phone.
"I kind of...flapped my arms angrilly [sic] and said something like 'whazwrongwitchyou?!' Yeah, he had been about to call 911 because he just walked out on his wife passed out with blue lips, he thought I was choking," she wrote.
She said he was pretty angry to find out it was candy and called the incident the "the dumbest thing" she's had to explain to her husband throughout their marriage.
Many commenters chimed in below the viral post to share their own silly candy-related incidents.
"I had a Junior mint get stuck to my chest after passing out, fell off my chest and into the toilet while I peed and being half asleep thought I peed it out. Convinced I was going to die. Not the same but you aren't the only other trash goblin," one commenter wrote.
"I dropped a caramel m&m in my lap during a movie once. It was dark so I didn't see it. Well, I guess it rolled down to my crotch and I ended up sitting on it. Walking out of the theater with a '[s**t] stain' on my light jeans was probably not the most embarrassing experience but holy [s**t,] it's definitely in the top 20," wrote another.
One commenter wrote that reading about the "childish" nature of the incident made them happy: "It always makes me very happy to know that people still do the silly things they used to do as kids."
Newsweek reached out to u/Noproblllama for comment.