Will Kate Middleton and Prince William Wear Out Their Welcome?
Prince William and Kate Middleton have filled pages of British newspapers this week—but there are signs they may face a rocky road ahead.
The Cambridges were out in force Tuesday night as England won a Round of 16 Euro 2020 soccer match against Germany—a long and emotional rivalry too deep to sum up in a few short sentences.
Even before the ball had been kicked in anger, a future king stole the show, going on to appear on newspaper front pages and even in a splash headline.
However, it was not the next king (Charles), nor the king after that (William) but the potential king in three reigns' time, Prince George, who won the nation's hearts as he sang the national anthem by his parents' side aged just seven.
"By George we did it!" exclaimed the front page of the Daily Mail Wednesday morning alongside a photo of the child clapping from the terraces of London's Wembley Stadium.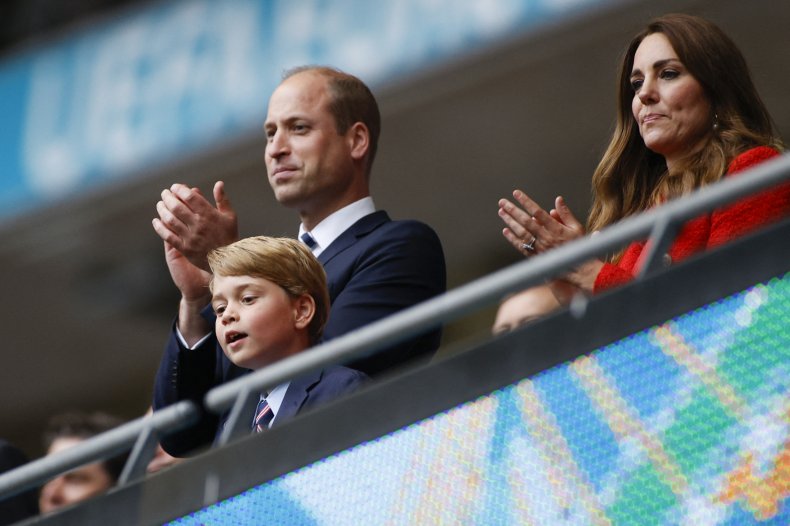 In Focus
Prince George with parents Prince William and Kate Middleton celebrate England's win in the UEFA EURO 2020 round of 16 football match between England and Germany at Wembley Stadium in London on June 29, 2021.
Launch Slideshow

3 PHOTOS
The extensive coverage in the morning papers will be received as a success by Kensington Palace, tying the royals to the patriotic jubilation that comes with sports success.
But it comes during a busy week for Prince William who is also trying to position himself as the heir to Queen Elizabeth II's warm relationship with Scotland, a nation at risk of voting to leave the U.K.
On Thursday, he must also confront his brother face-to-face after months of briefing wars at an emotional event to mark what would have been their mother's 60th birthday.
The world will expect a sign of reconciliation despite all that has happened between the brothers, leaving the second-in-line with a packed yet fraught schedule.
The queen and Prince William attended the Ceremony of the Keys at the Palace of Holyroodhouse, in Edinburgh, in their latest charm offensive north of the border, even as the Scottish National Party hopes to force a referendum on whether or not to remain in the U.K.
And that political backdrop creates some perils for the royals, with the Duke of Cambridge already being accused of stepping too close to breaching long-standing palace impartiality conventions.
On his last visit, at the end of May, he proclaimed the family's commitment to the country but also met with former U.K. Prime Minister Gordon Brown, who was born in Scotland and is campaigning to remain in the union.
The private talks sparked a backlash from former Scottish First Minister Alex Salmond, who warned the prince to keep out of politics.
During that tour though, William was explicit about his support for Scotland as he spoke of cherished childhood memories on summer holidays in Balmoral Castle and of his courtship with Kate at Scotland's University of St Andrews.
He also described how he learned of his mother's death aged just 15 while on the Balmoral Estate.
Princess Diana makes up the third major strand to his week as he will see his brother face-to-face on Thursday for the unveiling of a statue on what would have been her 60th birthday.
The event at Kensington Palace's Sunken Garden may sound like the kind of straightforward, stage-managed PR engagement, difficult only due to poignant memories of the iconic princess who was wrenched from William and Harry's lives when they were just 15 and 12, respectively.
But the stakes are far higher for both brothers, with William often out-flanked by Harry's repeated claims to Diana's memory.
They were last in front of the cameras at the Sunken Garden in 2017 ahead of the 20th anniversary of Diana's 1997 death.
That summer, a series of documentaries were unveiled and during one screening William told journalists gathered that this would be the only time the brothers took a deep dive into the tragedy of their mother's death.
That, it transpired, would prove not to be the case as Prince Harry and Meghan Markle promoted their Archewell website using a picture of Diana during the foundation's early months.
And Prince Harry was clear that he could not have quit royal duties without his mother's money when he and Meghan launched their intercontinental ballistic tell-all with Oprah Winfrey in March.
He said: "I brought what my mum left me. And without that, we would not have been able to do this, so touching back on what my mother would think of this, I think she saw it coming. I certainly felt her presence throughout this whole process."
Harry referenced Diana again in an interview with Spotify's Armchair Expert podcast when he said of royal life: "Look what it did to my mum. How am I ever going to settle down and have a wife and family, when I know it's going to happen again?"
And then in his Apple TV docuseries The Me You Can't See, he talked extensively about shared experiences of sitting next to his brother in the back of a car while Diana tried to drive, through tears, away from pursuing photographers.
There have been signs of Prince William offering a different view of his mother's memory.
The Duke of Cambridge challenged Diana's, and by extension Prince Harry's, anti-palace narrative after a BBC journalist was found to have falsified documents to persuade the princess into a 1995 tell-all interview.
In a statement released to Newsweek he said: "It is my view that the deceitful way the interview was obtained substantially influenced what my mother said. The interview was a major contribution to making my parents' relationship worse and has since hurt countless others.
"It brings indescribable sadness to know that the BBC's failures contributed significantly to her fear, paranoia and isolation that I remember from those final years with her."
The interview in question was the famous sit-down in which she discussed Prince Charles' affair, saying: "There were three of us in this marriage so it was a bit crowded."
However, William's statement read: "It is my firm view that this Panorama programme holds no legitimacy and should never be aired again."
Since the Oprah interview, Prince William's friends have been talking to acclaimed royal historian Robert Lacey, describing how Prince William "threw Harry out" of Kensington Palace.
The context for that argument was bullying allegations levelled against Meghan Markle by their joint staff, with William taking the side of his communications secretary over his sister-in-law.
All that means Prince William is fighting on multiple fronts, positioning himself as the future king of Scotland amid warnings from independence campaigners; facing a trans-Atlantic briefing war over events at Kensington Palace that took place two or three years ago; and fighting for control over his mother's memory as Prince Harry repeatedly returns publicly to America's favorite Princess.
This is occurring after a year in which he and Kate Middleton have worked consistently to position themselves as the champions of Britain's National Health Service (NHS) during a coronavirus pandemic. Not to mention after Kate Middleton also launched the Royal Foundation's Centre for Early Childhood two weeks ago.
The Duchess of Cambridge's project would ordinarily have been a centerpiece of the royal family's year but now finds itself competing against the potential break-up of the United Kingdom and the actual break-up of the royal family.