Will and Kate Should 'Refund' $274,000 Spent on 'Failed' Caribbean Tour
Prince William and Kate Middleton should pay back the public money spent on travel during their "out of touch" Caribbean tour, a campaigner on race and gender in Britain told Newsweek.
The Duke and Duchess of Cambridge spent nine days touring Jamaica, Belize and the Bahamas in March, but were hit by protests and a backlash over some of their photo ops.
Buckingham Palace on June 29 revealed around £226,000 ($274,000) was spent on flights for the royals and their team, including a two-week recce by aides.
The money came from the Sovereign Grant, their public funding, given by the U.K. government each year based on profits from the Crown Estate.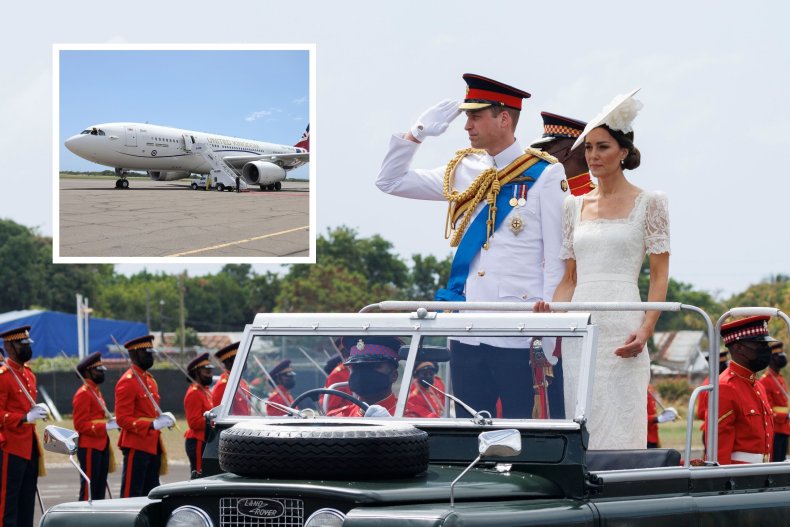 Shola Mos-Shogbamimu, a prominent activist on race and gender in Britain, told Newsweek: "The big concern for me is the amount of money spent on this colossal waste of time.
"The public should demand a refund of the £226,000 spent on the Duke and Duchess' Caribbean trip because they failed in their mission.
"All this succeeded in doing was causing more angst against the royal family. They were totally out of touch, they were ill-prepared and they did not bridge the gap.
"As far as I'm concerned, why in God's name are we paying money for that. They should pay us back that money. I want a refund."
The couple's tour was beset by problems before they even touched down, with a stop in Belize cancelled due to protests. There were then further protests in Kingston, Jamaica, and their presence appeared to ignite debates in all three countries about whether to remove the queen as head of state.
The visit was organized to celebrate Queen Elizabeth II's Platinum Jubilee, marking 70 years of her reign, making the opposition they encountered all the more problematic in the context of the tour's stated objective.
Graham Smith, chief executive of anti-Monarchy campaign group Republic, told Newsweek: "It's a shocking waste of money. They weren't to know it was going to be such a disaster, but the fact that it was only makes it worse. Ultimately, this is taxpayers' money being spent to promote the royals and that's not what taxpayers' money should be spent on."
Among the most awkward moments in the tour came when Jamaican Prime Minister Andrew Holness confronted the couple face-to-face in front of TV cameras with his country's ambition to remove the queen as head of state.
He said: "There are issues here, which are, as you would know, unresolved. But your presence gives an opportunity for those issues to be placed in context, put front and center, and to be addressed. But Jamaica is, as you would see, a country that is very proud of our history, very proud of what we have achieved."
"And we're moving on," Holness said. "And we intend to attain, in short order, our development goals and fulfill our true ambitions and destiny as an independent, developed, prosperous country."
At the end of the tour, William posted his own thoughts in a Twitter post which read: "Foreign tours are an opportunity to reflect. You learn so much. What is on the minds of Prime Ministers. The hopes and ambitions of school children. The day-to-day challenges faced by families and communities.
"I know that this tour has brought into even sharper focus questions about the past and the future. In Belize, Jamaica and the Bahamas, that future is for the people to decide upon."
For more royal news and commentary check out Newsweek's The Royal Report podcast: