Internet Reacts to Will Smith, Chris Rock Clash With Movie Memes
People are sure to be talking about the events of the 2022 Oscars for a long time to come. Aside from the incredible talent taking home the coveted trophies for their stunning work on some of the biggest films of the past year, one of the biggest moments of the night was the on-stage clash between Will Smith and Chris Rock.
Rock cracked a joke at Smith's wife, Jada Pinkett Smith, which poked fun at Pinkett Smith's shaved head (she has openly discussed her experience with alopecia) and it did not sit well at all with Will Smith. Moments later, Smith marched onto the stage and slapped Rock, before returning to his seat, shouting: "Keep my wife's name out of your f****** mouth."
Later in the ceremony, Smith was awarded the Oscar for Best Actor for his portrayal of Richard Williams in King Richard. As a part of his speech, Smith said: "I want to apologize to the Academy; I want to apologize to all my fellow nominees," but did not apologize directly to Rock.
For now, Rock is yet to publicly comment on the incident. The Los Angeles Police Department has confirmed Rock declined to press charges.
While Rock and the guests in attendance were visibility stunned by the clash, so too were audiences watching at home and no doubt, people waking up to the footage of the clash across the world.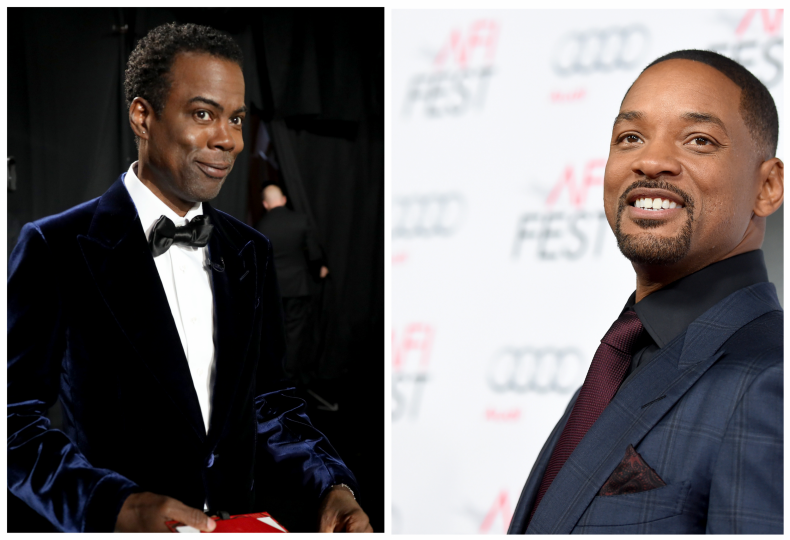 Many viewers have taken to Twitter to share their hilarious reactions and memes to the on-stage spat. For example, some Bad Boys fans have been joking Smith was channeling his iconic role as Detective Mike Lowrey whilst others have said he was channeling his fight with the alien in Independence Day.
Others were upset that Gloria and Marty from Madagascar may not be on good terms going forward whilst other viewers could not believe they were witnessing Smith, who voiced Oscar in Shark Tale, slap Rock, who voiced Marty in Madagascar.
Newsweek has a full look at the best Oscars memes and reactions to the Will Smith and Chris Rock clash below.
1. The Return of Bad Boys' Mike Lowrey
Will Smith channeled Detective Mike Lowrey from the '90s cop movie Bad Boys in many people's eyes.
"What we learnt is don't disrespect MIKE LOWREY!" one user wrote.
2. Will Smith Returns to Independence Day
Multiple Twitter users likened the incident to when Will Smith fought off an alien in Independence Day as Captain Steven Hiller.
3. Will Smith May Be Heading to Bel-Air
Will Smith's character Will was sent to live with his aunt and uncle in Bel-Air after getting into trouble as a kid. Some viewers said Smith will be heading there after his clash with Rock.
4. Hopefully, Gloria and Marty from Madagascar Can Work It Out
Jada Pinkett Smith and Chris Rock starred together in the hit animation film Madagascar as the hippo Gloria and a Zebra named Marty respectively.
One Twitter user asked: "The real question here is how will this effect Marty and Gloria? Will Madagascar be made again?"
5. A Shark Tale and Madagascar Crossover
In the early 2000s, both Rock and Smith starred in two animal-animated films. Rock in Madagascar and Smith in Shark Tale.
"Wait til the kids find out that Oscar from Shark Tale slapped Marty from Madagascar," Twitter user TheDottyShow wrote.
8. The Oscars Guests "React"
Oscars viewers have been imagining how the A-list guests in the audience would have reacted to what they saw. Luckily, Nicole Kidman's response was captured on camera.
9. An Oscars and Euphoria Feverdream
Some likened the chaos surrounding the on-stage clash between Smith and Rock to the recent season of Euphoria, starring Zendaya.