Will U.S. and Russia Finally Get Along? Top Generals Speak After Trump Talks to Putin
The top generals of the U.S. and Russia spoke Wednesday, at least their second conversation this month and the first since Russian President Vladimir Putin scored a landslide victory Sunday.
The conversation between Joint Chiefs of Staff Chair Marine Corps General Joseph Dunford and his Russian counterpart Army General Valery Gerasimov revolved around "Syria and other issues of mutual concern," according to a statement by Joint Staff spokesman Air Force Colonel Patrick S. Ryder, who said "in accordance with past practice, both have agreed to keep the details of their conversation private."
Related: Russia Criticizes U.S. Global Missile Shield in Japan, Where World War II Is Not Over for Moscow
The discussion came as Gerasimov and the U.S.'s top general in Europe and NATO commander Army General Curtis Scaparrotti "exchanged their views on topical issues of international security" in a separate telephone call Wednesday, according to the Russian Ministry of Defense—and a day after Trump offered Putin his belated congratulations on the Russian leader's re-election in a telephone call.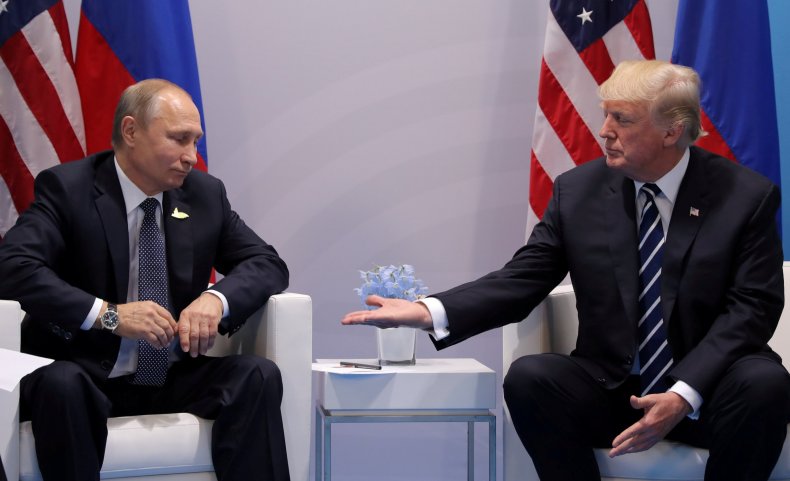 As tensions rose between the U.S. and Russia over conflicts in Europe and the Middle East, Trump defended his decision to call Putin from widespread criticism in Washington and various media outlets. The U.S. and Russia have collaborated to a limited degree against the Islamic State militant group (ISIS), but they still disagree over the political future of Syria. Bilateral relations have been especially rocky since Russia's annexation of the Crimean Peninsula from Ukraine in 2014 and allegations that the Kremlin played a hand in swaying the 2016 U.S. election.
"I called President Putin of Russia to congratulate him on his election victory (in past, Obama called him also). The Fake News Media is crazed because they wanted me to excoriate him. They are wrong! Getting along with Russia (and others) is a good thing, not a bad thing.......," Trump tweeted Wednesday.
".....They can help solve problems with North Korea, Syria, Ukraine, ISIS, Iran and even the coming Arms Race. Bush tried to get along, but didn't have the 'smarts.' Obama and Clinton tried, but didn't have the energy or chemistry (remember RESET). PEACE THROUGH STRENGTH!," he added in a second tweet.
Trump made improving relations with Moscow a leading electoral promise, following decades of rivalry only briefly interrupted by the collapse of the Soviet Union. Unlike his predecessor, former President Barack Obama, Trump expressed admiration for Putin before and after getting into U.S. politics. Differing views on international affairs and accusations that Trump collaborated with the Kremlin to secure his place at the White House have damaged their relationship, but the Republican leader has maintained a desire to mend ties between the world's leading military powers.
As Russia expands its political and military influence abroad, the West has accused Moscow of interfering with the sovereignty of other nations. In the latest instance, London has charged the Kremlin with being behind the poisoning of an ex-Russian spy caught working for the U.K. and later transferred there as part of a spy swap in 2010.
Moscow denied responsibility and the Russian Foreign Ministry said Wednesday that the U.S. or U.K. may have orchestrated the attack in order to blame Russia, as the state-run Tass Russian News Agency reported.