Minnesota Facing 'Extreme' Snow Storm Disrupting Travel and Schools
Meteorologists have warned that a huge swath of the U.S. is set to be battered by a massive winter storm this week — and now it appears that Minnesota may bear the brunt of it.
Snow, sleet, fierce winds, and freezing rain were forecast for this week as experts revealed on Monday that a "major" storm will travel across a huge region spanning several states and some 2,600 miles.
Residents of some parts of Wyoming were even warned that they could suffer frostbite in as little as 30 minutes if they ventured outside where "cold wind chills as low as 35 below zero" were predicted.
And now the attention is increasingly turning to Minnesota as the "extreme" storm barrels towards it from Tuesday. The National Weather Service has issued an "urgent" blizzard warning, covering the Twin Cities and Chanhassen, and described the weather front as an "historic winter storm" likely to result in "whiteout" conditions.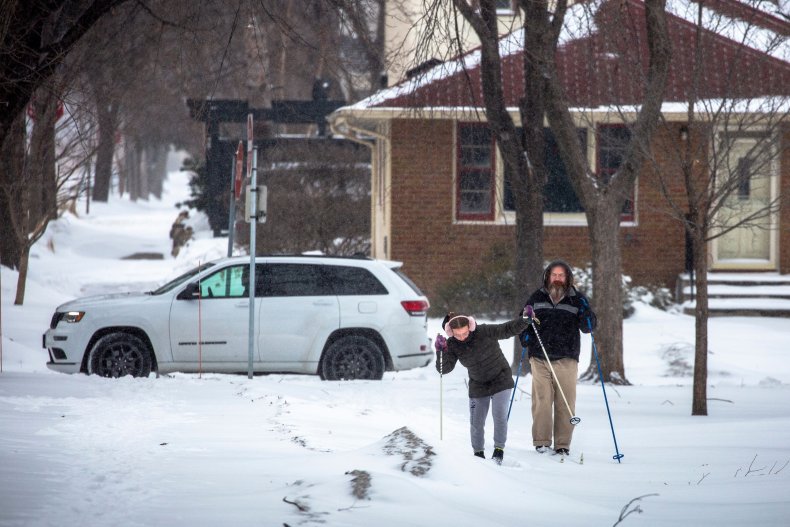 Heavy snowfall is set to "begin Wednesday afternoon and continue into Thursday with an additional 10 to 20 inches expected," the warning said. "Total snow accumulations will range from 15 to 25 inches, with the best chance for the higher end totals across east central Minnesota and west central Wisconsin. This is expected to reach the top 5 heaviest snow storms.
"The worst conditions will be Wednesday evening through Thursday, and a Blizzard Warning was issued for several counties in western and central Minnesota during this time frame. Heavy snow will combine with northeast wind gusts of 35 mph across the region, to near 50 mph in western and central Minnesota. This will lead to significant blowing and drifting snow with whiteout conditions in open areas. Some drifts may be several feet deep, making travel nearly impossible."
Meteorologist Chris Reece tweeted a warning to the state's residents. "The EXTREME level of the Winter Storm Severity Index continues to expand across much of Minnesota with each update. To be blunt, a rare, and straight up shut down, snow storm is on the way to Minnesota. Blizzard conditions are increasingly likely, regardless of totals," he said.
In a follow-up tweet he added: "This means power outages, closed highways, etc. are all in the cards. I would rather you be over prepared than under prepared. Again, no need for anxiety or panic. We're Minnesotans. We know how to do this. but a heavy hit looks to transpire across the state."
AccuWeather Meteorologist Matt Benz is forecasting the same thing. "There is a high probability that Minneapolis will pick up 18 inches [1.5 feet] of snow or more from the storm," he said. "The February record of 13.8 inches of snow from a single storm is likely to be smashed." In fact, the snowfall could rank among the all-time top storms for any month in the city's recorded history, he added.
Parents, students, and teachers will also be bracing for the fact that some schools may be forced to close. As of Tuesday, some were reporting delays or late starts, with buses only allowed to travel on plowed roads. But it's thought that as worse weather moves in, the situation could change. Parents should regularly check their local news for updates, while schools will contact families directly.
Minnesota Public Schools says on its website that the "safety and well-being of students and staff... [and] the ability for buses and cars to travel safely" are considered when assessing the need to close sites due to severe weather warnings. "We continually monitor the forecast from the National Weather Service, and the superintendent meets with numerous administrators in order to make the best decision for students, staff and families," the website added, pointing out that E-learning makes remote education possible.
It is not just schools that will be affected. It is now almost certain that the Minneapolis-St. Paul International Airport will be hit by flight delays and cancellations, and it's possible the hub will even be shut down during the storm.
News of this latest storm comes after a bitter winter that has already ravaged California and left more than 400,000 homes without power in Texas. Even Las Vegas saw snow recently. And thousands of flights have been delayed or cancelled in the U.S. so far this year as planes were grounded due to poor weather.
Travelers with flights planned over the coming week should check their airline's updates for news about their journeys. Motorists in some areas have been urged not to venture out in their vehicles unless it's an emergency, with warnings to take a winter survival kit with them if they must hit the roads. Drivers should check their local news and weather sites for advice.