Winter Storm Survival Kit, Safety and Car Travel Guide: Tips for Weathering America's Blizzards
Wintertime is often associated with picturesque images of snowmen, ice skating and the festive period. However, the season can also bring extremely tough conditions and prove fatal for some Americans.
According to the Centers for Disease Control and Prevention (CDC), 6,660 people died from hypothermia or exposure to cold from 2006 to 2010, an average of 1,320 deaths a year. In January 2019, 21 people were recorded to have died due to the Polar Vortex, with record-breaking cold snaps hitting the country.
While the National Oceanic and Atmospheric Administration (NOAA) forecasts that much of Winter 2019 / 2020 will see warmer than average temperatures, cold weather is anticipated. The north of the U.S.—Northern Plains, Upper Mississippi Valley, the Great Lakes and parts of the Mid-Atlantic and Northeast—is also expected to have a wetter than average weather from December through to February. If temperatures drop below freezing, this wet weather could cause hazardous icy conditions.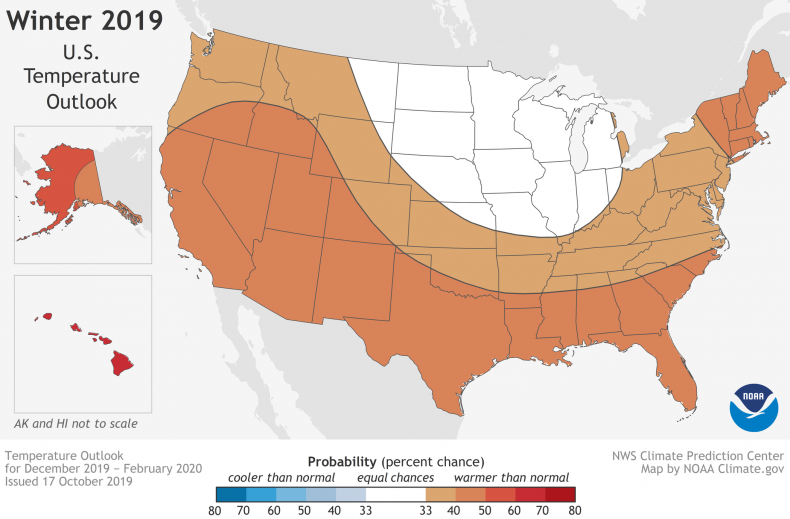 How to prepare for winter weather
Apart from watching weather forecasts and checking the National Weather Service's (NWS) alerts, being prepared for severe weather can make all the difference to staying safe if caught in hazardous conditions.
If there are plans to go outside during winter weather, NWS recommends checking the temperatures and the wind chill indicies before making concrete plans. Using the calculator created by NWS, entering the wind speed and the temperature can help determine if anyone in the area is at risk from frostbite.
Frostbite can take hold quickly, depending on the weather conditions. NWS features a story of a man called Charles who lived in Upper Michigan in 1995. It was a dangerous time because of temperatures getting down towards -50 degrees Fahrenheit, However, Charles did not realize the extent of the cold and went outside not properly covered—head and ears were exposed. When he went back inside, he had already developed an advanced case of frostbite and his ear lobes were starting to turn a bluish black.
Regardless of whether frostbite is a risk, dressing warmly, with several layers, can help protect people against the cold weather. A warm coat, gloves/mittens, a hat and water resistant boots will ensure that exposed skin can be covered. Warm socks are also helpful as frostbite is prone in the toes, fingertips, ear lobes and nose.
Some might think that keeping warm by exercising outside might help. But the NWS recommends avoiding over-exertion due to the strain the cold already puts on the body and heart.
For anyone on a farm, move animals to a sheltered area and make sure they have extra food available. According to NWS, most animal deaths during the winter are from dehydration, so have a fresh water supply for emergencies.
Schools that are open during severe winter weather need to make sure they have an action plan which has been rehearsed. Maximizing safety could also mean school days are delayed, canceled or shortened, so parents will need to be aware of this.
Build a winter weather survival kit
Danger lurks not just outside, which is why ensuring safety indoors is also important. NWS advises the following actions for the workplace and at home:
People should make sure they have extra flashlights (with batteries);
Make sure there is a portable radio to receive updates on the weather;
Have a two to three day supply of extra food and water;
Make sure extra medicine is available;
For homes or workplaces with infants, ensure there is a supply of baby items;
In case of freezing temperatures, ensuring there is an emergency heating source is advised, as well as a carbon monoxide detector for toxic gases; and
In case of injury, having first aid kits is recommended.
The American Red Cross recommends including the following within a first aid kit:
Two absorbent compress dressings (five x nine inches);
25 adhesive bandages (assorted sizes);
One adhesive cloth tape (10 yards x one inch);
Five antibiotic ointment packets (approximately one gram);
Five antiseptic wipe packets;
Two packets of aspirin;
One emergency blanket;
One breathing barrier (with one way valve);
One instant cold compress;
Two pair of large nonlatex gloves;
Two hydrocortisone ointment packets;
One three inch gauze roll (roller) bandage;
One roller bandage (four inches wide);
Five three x three inches sterile gauze pads;
Five sterile gauze pads (four x four inches);
Oral thermometer (non-mercury/nonglass);
Two triangular bandages;
Tweezers; and
Emergency First Aid guide.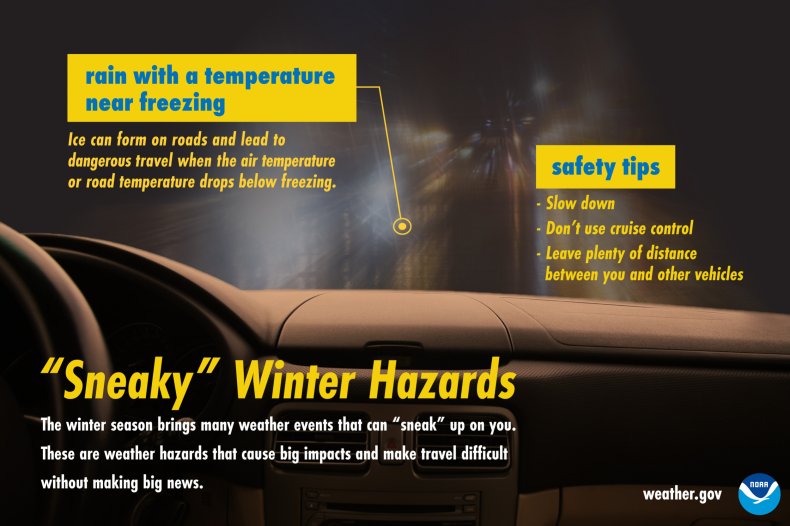 How to stay safe when traveling during winter weather
According to the Federal Highway Administration, over 70 percent of the nation's roads are located regions that receive over five inches average of snowfall annually. While the populations in these areas—which account for nearly 70 percent of the country's total—are used to traveling on snowy and iced up roads, the dangers are still prevalent.
Snow and ice reduce friction against the road and vehicle maneuverability. This, in turn, causes slower speeds, reduced roadway capacity and sees an increased risk of crashes. Heavy snow can also reduce visibility. According to FHWA, freeway speeds are reduced by 3 to 13 percent in light snow and by 5 to 40 percent in heavy snow.
Each year, 24 percent of weather related vehicle crashes occur on snowy, slushy or icy pavement and 15 percent happen during snowfall or sleet, FHWA states. These incidents mean that over 1,300 people are killed and more than 116,800 people are injured, with nearly 900 people killed and nearly 76,000 people injured during snowfall or sleet.
This is why it is imperative that people who plan to drive or travel during the winter months take the right course of action to protect themselves and the people around them. Also, vehicles can be at risk of becoming stranded in extreme weather conditions, so taking precautions could be life saving.
NWS advises doing the following checks ahead of traveling:
Winterize the vehicle and check the battery;
Check the forecast and road conditions ahead of time;
Consider adjusting the route to avoid poor driving conditions;
Carry a cellular phone for use during emergencies;
Keep the gas tank near full;
Coordinate with others the destination and times of travel;
Yield to snowplows; the snow cloud they produce can lower visibilities to near zero so stay back.
Travel winter storm survival kit
Keep a survival kit in your car, including the following items:
Extra blankets or sleeping bag;
Flashlight with extra batteries;
First aid kit with a pocket knife;
Booster cables;
A rope;
A small shovel;
A bag of sand or cat litter for traction;
Plastic bags (for sanitation);
Extra gloves, hat, and socks;
Non-perishable food items and bottled water; and
Road maps (for alternative routes).
Dense fog can also be dangerous for drivers and NWS advises that travel should be delayed if needed. According to its website, in October 2002, a pile-up on Interstate 43 in eastern Wisconsin killed 10 people during dense fog, and in January 2008, another series of accidents in southern Wisconsin led to fatalities due to dense fog.
Safety tips when stuck in winter weather
If a driver has trouble seeing due to weather conditions:
Pull over to the side of the road and stop the car until visibility improves; and
Turn off the car lights and use the parking brake when stopped so that another car won't mistakenly follow tail/brake lights, which could cause an accident.
If a driver gets stuck in winter weather, they should take the following steps:
Stay in the car and do not try to walk to safety;
Tie a bright colored—red or orange—cloth to the antenna;
Start the car for about 10 minutes every hour for heat;
While running the motor, open the window slightly for fresh air to avoid carbon monoxide poisoning;
Keep the exhaust pipe clear of snow;
Tie a bright colored—red or orange—cloth to the antenna;
If someone must venture away from the car, use a life-line or rope.
Drivers can get local travel alerts by calling 5-1-1.
For travelers taking flights during the winter months, it's always worth checking ahead with flight operators or airports to ensure their journey is not delayed or canceled. Fort Lauderdale Airport saw a full closure due to flooding, showing how weather can majorly impact air travel.
How to stay safe when trapped during a winter storm
Depending on the situation, there are different life saving ways people can protect themselves.
If someone is stuck outside during a winter storm, they need to do the following, according to NWS:
Try to stay dry and cover all exposed body parts by finding shelter;
If there isn't a shelter nearby, build a lean-to, windbreak or snow cave for protection from the wind;
Build a fire for heat and to attract attention; place rocks around the fire to absorb and reflect heat;
Melt snow for drinking water, and eat unmelted snow to lower body temperature;
From time to time, move arms, legs, fingers and toes vigorously to keep blood circulating and to keep warm, but avoid overexertion such as shoveling heavy snow, pushing a car or walking in deep snow—the strain from the cold and the hard labor may cause a heart attack and sweating could lead to a chill and hypothermia.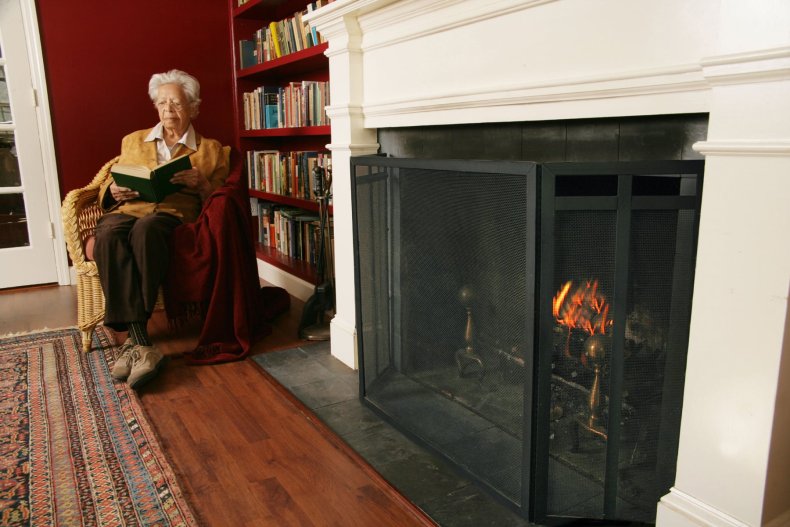 If trapped inside during a winter storm, such as the home or workplace, then NWS recommends taking these steps:
When using heat from a fireplace, wood stove, space heater and others use fire safeguards and properly ventilate;
For a gas furnace, make sure it is not blocked by a snowdrift as soon as it's safe to go out;
If there is an upstairs gas furnace which vents out the roof, it may need to be turned off until the snow melts off the roof;
If heating fails indoors, take the following steps:

Close off unneeded rooms to avoid wasting heat;
Stuff towels or rags in cracks under doors;
Close blinds or curtains to keep in some heat;
Eat as food provides the body with energy for producing its own heat;
Drink lots of water and other non-caffeinated, non-alcholohic drinks to prevent dehydration as cold air is very dry; and
Wear layers of loose fitting, lightweight, warm clothing and remove layers to avoid overheating, perspiration and subsequent chill.
Remember to be sensible with fires within the home. According to the U.S. Fire Administration a heat source too close to combustibles is the leading factor contributing to the start of a winter home fire (15 percent).