Wisconsin state Assembly Speaker Robin Vos, a Republican, announced he was hiring a conservative former state Supreme Court judge to review the 2020 election results in the Midwestern state about 15 hours after former President Donald Trump accused him and other GOP lawmakers of participating in a "cover-up."
Trump and a number of conservative allies continue to baselessly claim that the 2020 election was "rigged" or "stolen" by President Joe Biden and the Democrats. These claims have already been thoroughly litigated and wholly discredited, but GOP lawmakers and officials across the country continue to push for further investigations and audits of the November election results.
Vos announced on Saturday that Michael Gableman, who served on the Wisconsin Supreme Court from 2008 to 2018, would be part of the election review in the state, the Milwaukee Journal Sentinel first reported. The Republican lawmaker argued that the audit would not be "a partisan effort," claiming that state representatives were looking for "fairness and honesty." Vos said that the review would look into what he referred to as "voting irregularities," according to the Associated Press.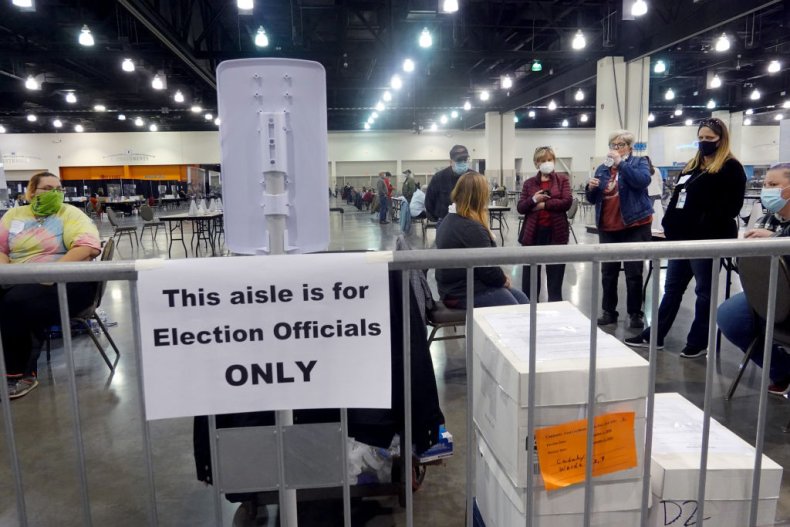 The announcement about Gableman came during the state GOP convention in Wisconsin Dells, about 15 hours after Trump released an official statement blasting Vos and other Republican leaders.
"Wisconsin Republican leaders Robin Vos, [President of the Wisconsin Senate] Chris Kapenga, and [Majority Leader of the Wisconsin Senate] Devin LeMahieu, are working hard to cover up election corruption, in Wisconsin," Trump claimed in a Friday evening statement.
"Don't fall for their lies! These REPUBLICAN 'leaders' need to step up and support the people who elected them by providing them a full forensic investigation. If they don't, I have little doubt that they will be primaried and quickly run out of office," the former president said.
Vos later told the Journal Sentinel that Trump was "misinformed," arguing that they were moving forward with an audit of the results. "We are already doing a forensic audit. I think this is one of those cases where the president is just misinformed by his staff or he didn't see the media reports," Vos said.
Previously, the assembly speaker hired three retired Wisconsin police officers to investigate the results of the 2020 election. These former officers will be paid about $9,600 each over three months, according to the Associated Press.
Gableman, the former judge, previously participated in a November rally in support of Trump. "I don't think anyone here can think of anything more systematically unjust than a stolen election," he said at that Milwaukee event.
Biden narrowly won Wisconsin by a margin of just over 20,000 votes, or about 0.6 percent of the vote. Wisconsin was a reliably blue state in presidential elections from 1988 until 2016, when it narrowly flipped red for Trump. The former president beat out former Democratic presidential hopeful Hillary Clinton in that election by nearly 23,000 votes, or 0.7 percent.
Wisconsin already carried out a recount of its 2020 results back in November. Trump's campaign paid $3 million for the recount, but it actually resulted in Biden gaining 87 votes overall.
Dozens of election challenge lawsuits filed by Trump and his allies have already failed in state and federal courts. Even judges that Trump and other Republicans appointed have rejected the allegations of widespread fraud. Audits and recounts in a number of key battleground states, including in places where the election was overseen by pro-Trump Republicans, have reaffirmed Biden's victory.
Former Attorney General William Barr, who was widely viewed as one of Trump's most loyal and effective Cabinet officials, said in December that there was "no evidence" to substantiate the claims of widespread fraud. The Cybersecurity and Infrastructure Security Agency at the Department of Homeland Security has described the 2020 election as the "most secure in American history."
Newsweek reached out to Vos for comment but did not immediately receive a response.