Russia's Witches Back Vladimir Putin With Magic, but U.S. Spell Casters Turned Against Donald Trump
A group of witches has gathered to cast spells in support of Russian President Vladimir Putin, a show of mystical approval after their counterparts in the United States rejected the policies of President Donald Trump.
An organization known as the Empire of the Strongest Witches held a "circle of power" session Tuesday to offer their backing for the longtime Russian leader. A group comprising mostly of women clad in black robes could be seen in video footage shared by Reuters as they lined along the walls of a room and self-proclaimed leader Alyona Polyn stood in the center reciting spells and ringing bells in hopes of bringing Putin success and the nation.
"Come up with the greatness, the power of Russia, direct the way of Vladimir Putin right and correctly throughout the word of mine. Breathe, Mother Earth, embracing Russia on all sides," head witch Polyn said, as translated by Reuters.
"Oh primordial power, return to the abyss those who wish hate upon Russia," she continued. "May Russia rise and step away from grief and poverty, and may the coming days open the gates of happiness for Russia. All hail!"
Russian folklore contains numerous references to magical and mystical powers, which many today have attempted to harness to various ends. Citing the Ministry of Health, The Moscow Times reported Wednesday that as many as 800,000 Russians were employed as folk healers, psychic mediums and other similar services in 2017.
Putin, who has served as president or prime minister since the very turn of the 21st century, won his most recent election last March by a landslide 76.69 percent vote. He has been hit with mounting domestic criticism, however, as U.S.-led sanctions and lower oil prices degrade the Russian economy and a vastly unpopular pension reform was set to become law in spite of massive protests.
A poll released last month by the state-run Public Opinion Research Center showed that trust in Putin had dropped to a 13-year-low of 33.4 percent as part of a steady decline after confidence peaked at a high of 71 percent in July 2015, a year after his annexation of the Crimean Peninsula in a disputed referendum that took place amid a political uprising in Ukraine.
The move was derided by the West, but celebrated by many Russians who offered Putin a surge of support. As of January, however, this wave appeared to be crashing down as the independent Levada Center placed Putin's approval rating at 64 percent, a five-year low and a 16-point decline from December's figures.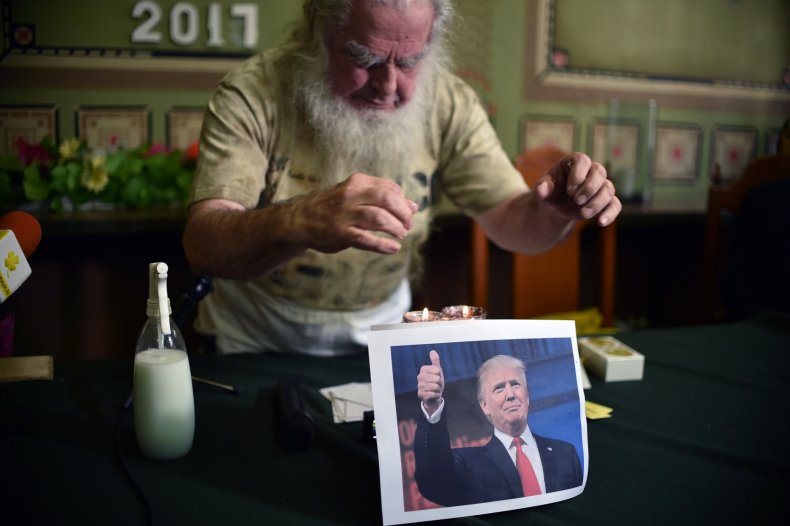 The Russian president still fared better at home and abroad than his U.S. counterpart, however. An October survey by the Pew Research Center placed global trust in Putin at 30 percent, slightly above Trump's 27 percent. A YouGov/The Economist poll published Sunday found Trump's approval rating to be 37 percent, similar to FiveThirtyEight's aggregation of multiple polls, which on average said that 39.5 percent of people in the U.S. approved of Trump's job as president.
Trump also could not match Putin's wins among the witch community, of which there may be up to 1.5 million followers— potentially outnumbering even the Presbyterian sect of Protestant Christianity— in the U.S. Thousands have joined the Official Bind Trump, a Facebook group formed shortly after the president's inauguration as a form of "magic resistance" against the president. A number of witches also joined mystical forces last year in an unsuccessful attempt to block Trump's Supreme Court nominee Brett Kavanaugh amid allegations of his past sexual abuse.
Commenting on the Republican leader's frequent use of the phrase "witch hunt" to describe stubborn investigations into his alleged collusion with Putin to influence the 2016 U.S. presidential election, Firefly House witch community leader David Salisbury told The Daily Beast last month that "many are mad, and the rest are rolling their eyes."
In 2017, Trump blocked former Newsweek writer Zack Schonfeld for telling the president that the "witch hunt" comparison was "an insult to witches."