Without Another Stimulus, Economy Headed for Recession Early Next Year, Forecast Shows
A forecast by Moody's Analytics projects that the U.S. economy will be headed for another recession in the new year if lawmakers do not approve another significant stimulus bill soon, while economists continue to express concerns about the impasse in Washington.
The New York Times reported that advisers to President-elect Joe Biden are circulating projections from Moody's economist Mark Zandi, which show the economy shrinking in early 2021 unless Republicans and Democrats break the impasse that has thus far prevented another round of stimulus amid the COVID-19 pandemic. The analysis from Moody's projects the unemployment rate would tick upward again to about 10 percent without significant federal aid.
"The pandemic is raging, and it's starting to do damage again," Zandi told the Times.
Many other economists have been urging Congress to take action and pass further stimulus for months.
"There's real concern that the economy might yet stall or even contract during this anxious time of transition to the widespread availability of vaccines. The severe economic toll stemming from the prolonged pandemic taken on individuals' employment and incomes, and the loss of employers, could linger for quite some time to come," Mark Hamrick, a senior economic analyst for Bankrate, said in an email to Newsweek.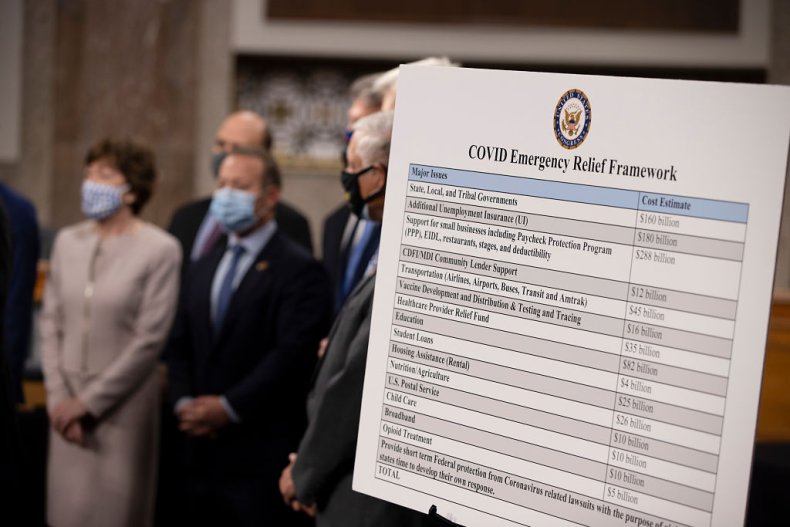 "A nagging source of uncertainty is the fate of any federal legislation aimed at keeping millions of Americans from experiencing a loss in jobless benefits, which could mean the difference between feeding themselves and remaining in their homes in the coming weeks, or not," Hamrick explained.
Even as new jobless claims were slightly better than expected, according to the report released by the Department of Labor on Thursday morning, economists responded with concern. Analysts had expected they would see about 780,000 new jobless claims, but instead the report showed about 712,000 for the week ending November 28.
"I think it's pretty bad. I mean, I'm happy it came in better than expected, but this is still worse than the worst week of all time before COVID came," Austan Goolsbee, an economics professor at the University of Chicago who chaired former President Barack Obama's Council of Economic Advisers, told CNBC's Squawk Box on Thursday.
"We've got thousands of people dying unnecessarily [from the pandemic] and now we're going to threaten millions of peoples' livelihood and millions of businesses [are] gonna shut down," Goolsbee said, pointing out that the pandemic is surging nationwide and leaders are implementing or considering new lockdown restrictions. "I really hope that Congress is able to do something and come together and get some relief."
Biden and Democratic leaders on Wednesday threw their support behind a $908 billion stimulus proposal, far less than what they were pushing for prior to the election. The proposed legislation was put forward by a group of nine senators, including four Republicans, four Democrats and one independent in a bid to break the impasse that has persisted in Congress since summer. A group of Republicans and Democrats from the House of Representatives' Problems Solvers Caucus threw their weight behind the proposal as well.
But Senate Majority Leader Mitch McConnell, a Kentucky Republican, was dismissive of the bipartisan effort when it was unveiled Tuesday. McConnell has backed a more targeted and smaller package that would cost about $500 billion or $600 billion.
The bipartisan bill would provide an extra $300 in weekly unemployment payments to jobless Americans. Additionally, it would provide nearly $300 billion in aid to small businesses through the Paycheck Protection Program, about $82 billion for education, $26 billion in nutrition assistance and $45 billion for transportation agencies. Another $16 billion would be included for COVID-19 testing, contact tracing and distributing pending vaccines. The legislation would not include another round of $1,200 stimulus checks as was included in the $2 trillion bipartisan Coronavirus Aid, Relief and Economic Security (CARES) Act in March.
"The deal must quickly be finalized and passed, with Senator McConnell joining Speaker Pelosi in embracing legislation to advance jobless benefits, among other aid. There's absolutely no reason that this aid has been left hanging for this long," Andrew Stettner, a senior fellow at tCentury Foundation and an expert on unemployment insurance, said in an email to Newsweek. "Botching the finish would be a historic failure with immediate and tragic consequences for American families and the economy."