Woman Adds Credit Score To Dating App Profile With Astonishing Results
A woman who decided to include her credit score as part of an online dating profile has been inundated with interest from potential suitors.
Anesthesia technician Leah Nicewander from Florida, took to TikTok to reveal how she ended up going on "17 dates in 30 days" after sharing a screenshot of her FICO credit score on the popular dating app Hinge.
"I really just did it to make my profile more unique," Nicewander told Newsweek. "I knew the boys would think it was either funny or impressive. I realized it was popular when almost every single 'like' on my profile was directed towards my credit score photo."
Online dating is an increasingly details-focused experience with people eager to connect with a prospective partner who matches them as closely as possible.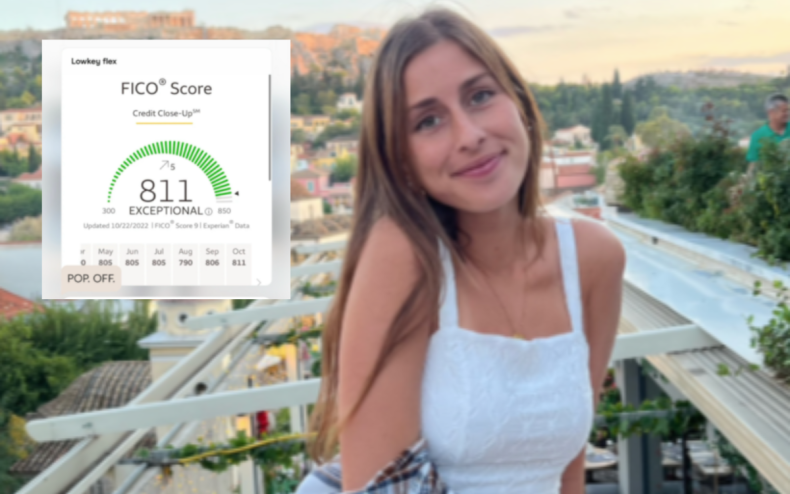 With a large pool of profiles to choose from, people are not afraid of getting down to the minutiae in order to land the perfect date. That goes way beyond hobbies, interests and even politics.
For example, a Pew Research Center survey from September highlighted how 47 percent of American adults using a dating site or app felt it was important for a prospective partner to include their COVID-19 vaccination status as part of their profile.
Nicewander's decision to include her credit score in her profile might have started out as something to try and help her stand out from the crowd but it also taps into something she considers important.
"I have always been responsible with my bank account and I think ahead into the future when it comes to money," she said. "So when I dated guys in the past who blew all their money on pointless things, it bothered me."
While she has yet to come across a guy showing off his own score, Nicewander said it wouldn't be something that would put her off a prospective date.
"I do find it attractive if a guy has a high credit score because it usually shows that he can be responsible," she said.
Nicewander estimates she's had "over 100 men" like her credit score since she began including it as part of her Hinge profile. "The boys love it," she said. "One guy said 'impressive' while another guy 'what a turn on.'"
While fiscal responsibility is undoubtedly an appealing long-term prospect, Nicewander believes her success is largely due to the unique nature of the profile as a result of the credit score.
"So many of these guys said they've never seen anybody do this before," she said. "Most profiles just have pictures of the person or their dogs or something. It's not common to come across somebody's credit score."
Even so, she admitted she's been "shocked" at how popular her TikTok video has been, with the clip racking up over 1 million views. She just hopes other women will take inspiration from her and get a little creative with their own dating profiles.
"So many girls in the comments said they are going to start doing that now," she said. "I think they should! It's funny and it's different, and I think all my girls out there should start attracting guys in unique and creative ways. My girls have so much more to offer than selfies. So if they have good credit or good humor I think they should show it."
Nicewander also has no plans to drop the credit score from her profile—as long as it stays high, of course.