Woman Allegedly Stuffed Into Trunk After Rejecting 2 Men at Gas Station
Two Georgia men have been arrested about one month after allegedly kidnapping a woman at a gas station.
The DeKalb County Sheriff's Office announced Wednesday that Atlanta resident Quentin Williams, 21, and Rodrequicge Allen, 19, of Covington, were both arrested and charged with the felony crime of kidnapping.
Inmate records showed that Allen was also charged with possession of a firearm by a convicted felon or first offender probationer.
It is alleged that Allen and Williams "made advances" to the female victim, Monqua Johnson, "against her will" when she was at an Exxon gas station March 20 on Glenwood Road in Decatur.
"When she declined, the suspects allegedly abducted her and put her into the trunk of a car, releasing her later on Wesley Chapel Road," police said.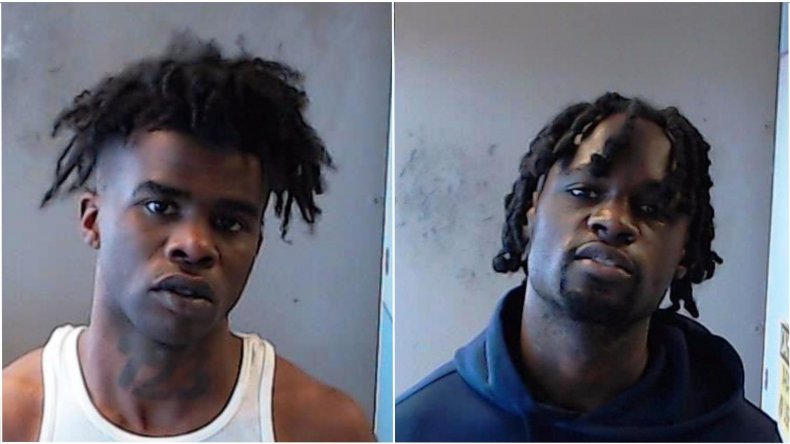 Both suspects were apprehended Wednesday by the DeKalb County Sheriff's Office Fugitive Unit, which worked with U.S. Marshals and the DeKalb Police Department Gangs Unit, in Ellenwood and taken into custody without incident. They were taken to the DeKalb County Jail, where they are currently being held without bond.
An arrest warrant for both suspects was obtained by Newsweek and stated that the suspects allegedly entered the Exxon station and went to a game room in the back. Williams and Allen allegedly "forcefully removed the victim by pulling her hair and forcing her into the vehicle."
"The victim was only able to convince the males to let her leave the car after saying that her cousin was following the car," the warrant continued. That was reportedly when she was let out on the side of Wesley Chapel Road.
Williams and Allen were both ID'd on gas station surveillance video, with Williams also identified due to his clothes matching photos on social media.
In December 2021 the FBI released data on approximately 8.9 million criminal offenses reported via the National Incident-Based Reporting System (NIBRS) in 2020. The 2020 report, issued by the Uniform Crime Reporting Program, showed various data about 23 offense categories, including 10 additional categories for which only arrest data is collected.
The NIBRS report showed that 27,982 incidents in 2020 related to kidnapping or abductions, including 31,216 offenses and victims. There were 31,672 total known offenders.
Data for that calendar year was provided by a total of 9,880 law enforcement agencies with jurisdictions covering more than 177.5 million U.S. citizens, accounting for about 62.1 percent of the 15,901 law enforcement agencies that submitted data to the program.
The FBI reported that of the 8.87 million offenses reported in 7.56 million incidents, 60.5 percent were crimes against property; 25.2 percent were crimes against persons, and 14.3 percent were crimes against society.
About a quarter of victims were reported to have no relationship to their offenders.
Children are often the target of kidnappings or abductions. The National Center for Missing & Exploited Children (NCMEC) assisted law enforcement, families and child welfare with 27,733 cases of missing children in 2021. "Endangered runaways" compose the highest number of missing children reported to the NCMEC, described as children that "are highly vulnerable and face many risks including homelessness, gang involvement and child sex trafficking."
The age of the victim in the arrest of Williams and Allen was not provided by authorities.
Newsweek reached out to DeKalb County public safety personnel for comment.