Woman Cut Off Boyfriend's Penis After He Allegedly 'Attacked' Her Daughter
A woman in Uttar Pradesh, India allegedly "chopped off" her boyfriend's penis on Wednesday after he allegedly tried to rape her 14-year-old daughter, the Times of India reported.
Speaking to the outlet, the mother—whose name has not been released—said she'd just come home from work when she found her live-in boyfriend of two years attacking her daughter.
"I was working [on] the farm when the incident took place. Fortunately, I returned home in the nick of time and caught him red-handed," she told the Times of India.
"He even attacked me while I was trying to save my daughter, so I brought a knife out from the kitchen and chopped off his private parts to teach him a lesson," she continued. "I have no regrets for what I did."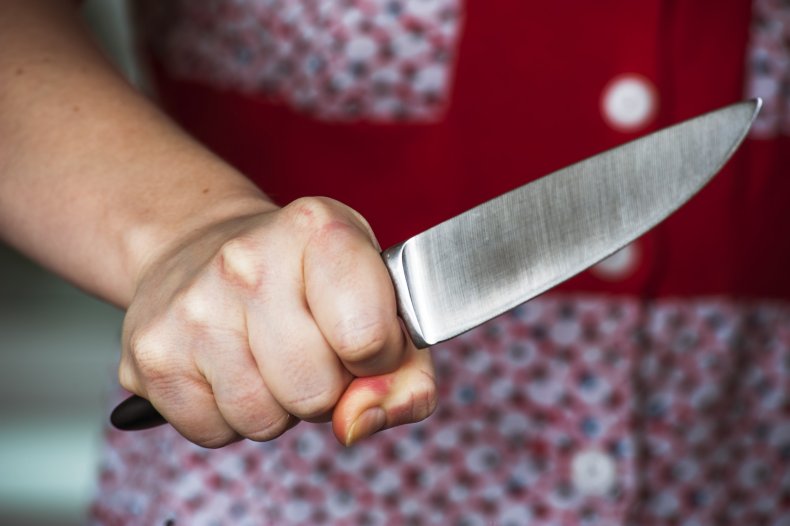 Rape Cases in Uttar Pradesh
Uttar Pradesh has a rocky criminal history, particularly in regard to crimes against women.
In May, for example, a 13-year-old girl was allegedly raped by Uttar Pradesh police while trying to file a report that she'd been gang-raped. In 2018, a 4-year-old was reportedly gang-raped while being treated in an Uttar Pradesh hospital. And also in 2018, two men allegedly set a woman on fire after molesting her.
Data from Statista revealed that Uttar Pradesh reported the second-highest number of rape cases across India in 2020, with 2,769 cases. That same year, the state saw a total of 50,000 crimes against women, according to the BBC.
"[Police data] showed that 2,796 women were raped, 9,257 women were kidnapped, 2,302 brides were killed for bringing in insufficient dowries and at least 23 women were doused with acid [in 2020]," stated the BBC. "And according to [the National Family Health Survey], 35 percent of married women in the state had experienced spousal violence."
The number of rape cases reportedly decreased within the Indian state by 17 percent in 2021, with a total of 2,289 cases, According to the Hindustan Times. But some warn that Uttar Pradesh still isn't safe for women.
"A woman cannot go to the police station to lodge a complaint. In rape cases, the government goes into victim shaming and denial," said Sadaf Jafar, an activist from the state capital, Lucknow. "Women of Uttar Pradesh are surviving because of their grit and with some help from God."
Newsweek reached out to Sadaf Jafar for comment.
Wednesday's Incident
The Times of India said the woman's boyfriend was in critical condition following Wednesday's alleged attack and was hospitalized for treatment. Additionally, an officer with the Lakhimpur police station said the man was booked for rape under the Protection of Children Against Sexual Offences (POCSO) Act, a child sexual abuse law in India.
The outlet did not state whether or not the woman was charged.