Woman Told to Dump Boyfriend Secretly Messaging Ex for Past 5 Years
A woman has been told to end things with her partner of 10 years after discovering he has been secretly communicating with his ex for more than half that time.
Breakups often end with the two parties promising to remain friends, but staying in touch with an ex can often pose a problem for any future partner.
This is perhaps best highlighted in a 2016 study published in the journal Personal Relationships, which saw 260 people quizzed on the amount of contact they had with an ex-partner.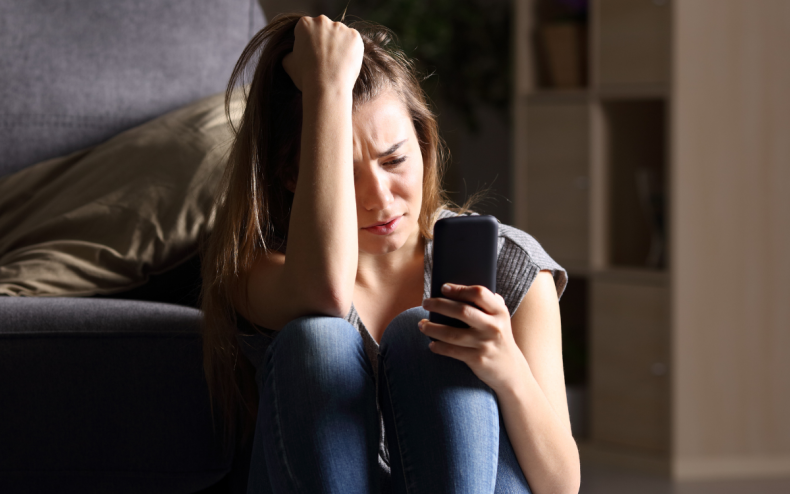 Of that number, around 40 percent admitted to keeping in touch with an ex. More tellingly still, researchers found people were more likely to communicate with exes they either broke up with amicably, still had feelings for or were not entirely over.
The suggestion being that communication with an ex can spell bad news for a current relationship. That certainly appears to be the case for one Mumsnet user posting online as StormsfromtheWest.
In a lengthy post shared to the popular forum, the woman, who is 55, detailed how she has been left torn after discovering her partner of a decade has been exchanging "inappropriate" messages with his ex for the past five and a half years.
She said her partner, who is 70, enjoyed a "very romantic and passionate" relationship with his previous girlfriend whereas their relationship has always been more about companionship. When she "finished" with him, he was "still very much in love" but immediately joined a dating site and met her a month later.
The woman said she discovered the exchange of messages after borrowing his iPhone to use on vacation while hers was being repaired. Though she acknowledged they have been "pretty sporadic" over the years, "There has been talk of meeting each other" with his ex even inviting him to join her at a hotel.
Worse still, she discovered the woman's daughter lives in a city 50 minutes from their home, so she regularly visits now. She said that while a lot of the messages are "reminiscing about the past in a normal way" there are lots of her partner telling his ex she is "always in his thoughts."
"He tells her that she will always be his sexiest woman, and she replies 'and you my best lover,'" she writes. Though they also acknowledge they are "friends" she also found a messages where he called her "sweetheart" and told her she was "fit in every sense of the word."
"The worst thing, though, is what is missing from the messages, which is ANY mention of me!" she added.
While she acknowledged there was no "smoking gun" of them meeting up, "the intention was clearly there" between them and she's torn over whether to end things.
"The exchange has been illicit in that I wasn't aware and he has done it in secret, " she said. "He can't say that they are just good friends, or that he's mentioned it to me. That would be a lie. This is an absolutely staggering betrayal... I don't think I could ever feel the same way about him again or trust him again."
She said the messages made her realize he considers his ex the "one that got away" and has just "used" her to try and mend his heart. "How can I ever be anything but second best when compared with his idealized version of his ex-lover who he had a passionate, sexy, relationship with that was always an escape from reality and that never became mundane?"
Torn over whether to confront her partner, talk it over and try to rebuild the relationship or simply end things now, for those following along online, the answer was an easy one: break things off.
"Sorry but rip off the band-aid," CandyLeBonBon commented. "Do you really want to spend the rest of your life being second best?"
SalviaOfficinalis agreed, writing: "I don't think I'd be able to get over something that's happened over such a long period of time - it's not just a moment of madness is it. She's constantly in his thoughts."
Wantmorenow commented: "the trust is gone and you deserve so much better" with IsThePopeCatholic saying: "He doesn't deserve you and you don't deserve to be second best."
IOPAS wrote: "Trust is gone and you are 2nd best. Don't allow him to do this to you" while PlantChef felt it was also important to consider the fact he was already 70.
"There's too many lies and too much deceit," they warned. "You'll be feeling bitter when he needs care in a few years. Why waste the rest of your young years on someone who is hankering for someone else?"
Newsweek has contacted StormsfromtheWest for comment.
If you have a similar family dilemma, let us know via life@newsweek.com. We can ask experts for advice, and your story could be featured on Newsweek.