Wife Urged To Dump Husband Over 'Flirty' Texts Sent to Another Woman
A woman has been left facing a dilemma after discovering her husband was secretly exchanging "flirty" messages with someone online.
Though she acknowledges the messages themselves constitute a "betrayal," she has been left unsure over whether she is being told the full story by her partner.
Yet for many on social media, the fact he is messaging someone in secret should be enough to have her reconsidering their marriage.
However, for Kelly Campbell, professor of Psychology at California State University, San Bernardino, it's a little more complicated than that.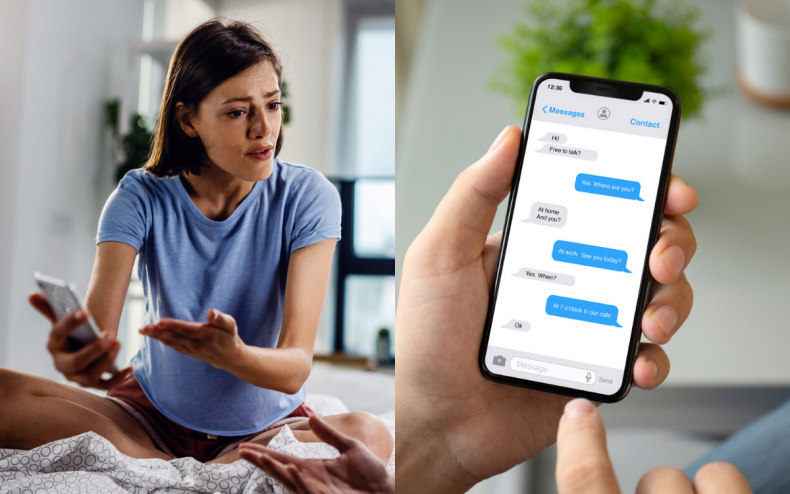 The relationship expert told Brides it ultimately comes down to individual perception of cheating." We don't know if humans are even meant to be monogamous," she explained. " It's just that some people are naturally more in-line with those views and others are not."
With that in mind, she stresses the importance of couples discussing what represents infidelity in their relationship. "It's important to know how your partner defines it," she said. "Men tend to get more upset about physical infidelity, while women value emotional disclosure. How do you know where the boundary is?"
For the woman posting to Mumsnet as PoleaxedandSome, the boundary was crossed when she found "texts from a girl's Instagram account" on her husband's phone. The messages included one telling her partner he looked hot.
When she went to confront her husband he "took the phone and immediately deleted the conversation" before admitting he had been texting her for "around 2-3 weeks."
He said he "knew it wasn't right" and that he had been "flirty" in places but insisted it was "just texting" and "nothing further."
The husband added that he did it because it made him "feel good to have a fun connection" but he would never have "risked" their marriage "by acting on it."
Despite this, his wife was left upset and unconvinced she's "getting the full story." She wrote: "To me, you don't flirty text another person behind your spouse's back."
"Is there any way he can be serious about it just having been texts and nothing further intended?" she asked.
For many on social media, the answer was a resounding no.
ImBurtMacklin wrote: "He deleted the texts straight away. There was more going on than he will admit." Chely agreed, commenting: "The fact he deleted the conversation straight away is a huge red flag."
SpacePotato, meanwhile, claimed: "He is testing the waters with someone else. It might start with texting but do you honestly think he wouldn't take it further?"
Elsewhere, BooBoo24 suggested a simple test to determine if the husband is telling the truth. "I'd be asking for his phone and would expect him to hand it over immediately if it's innocent," they wrote. "Scour his phone. If he won't let you then you have your answer."
ThreeLittleDots said that ultimately whether he went further or not was irrelevant.
"To me it doesn't matter," she said. "It's a betrayal and that's enough for me to reconsider the relationship. What's the point if he's going to be with someone else in his head?"
In an updated post, PoleaxedandSome revealed she ended up contacting the woman directly on Instagram to find out if it had just been messages. She told her "absolutely nothing" happened and she didn't even think the exchanges had been "flirty."
However, she remains unconvinced especially as he evidently thought they were "flirty." "I'm honestly so shocked. He has always been so anti-cheating, ever since we first met," she said. "Just goes to show you never truly know someone."