Woman Walks Around Grocery Store Licking Items to 'Fortify Immune System'
A woman has gone viral on social media after she uploaded a clip to Instagram of herself licking several items in a supermarket, amid the spread of the highly contagious Delta variant of COVID.
Jodie Meschuk, a blogger and author from Colorado, who has claimed that autism is "reversible," posted the video to prove that COVID "isn't a big deal," according to Metro.
In the video, which was shared across social media by several other users after it was deleted, Meschuk is seen licking her trolley, door handles and bags inside of the supermarket.
She told her followers to "be free," and wrote several captions over the video including: "Germs fortify your immune system," and: "Exposure to germs build defenses against asthma and allergies."
London-based radio station LBC reported that Meschuk had 18,000 followers on Instagram at the time of her posting the video, but the blogger confirmed to Newsweek that she has since locked her account due to "many threats and hateful messages."
Meschuk also posted a statement on her website, apologizing for the video, writing: "I understand my video may have been insensitive to some and I apologize to those who found it to be so. My intention was never to hurt or harm.
"Losing a loved one to any illness is never easy and my thoughts and prayers go out to anyone who has experienced such a loss. For those of you who know me and follow me understand my content is social commentary."
According to the blogger's Facebook page, which has around 16,000 followers, Meschuk has posted several times about the vaccines industry, which she claims "has never even been proven safe."
Meschuk has also written a book titled Autism Reimagined, where she allegedly explains how to "reverse the diagnosis," while the description on her Facebook page states: "You can heal your child from Autism."
There have been several instances over the past 18 months of people licking items in supermarkets and other businesses as part of a stunt or protest against COVID measures.
A similar incident to Meschuk's video took place at a Festival Foods store in Marshfield, Wisconsin, in March 2020, early on in the pandemic, when a woman licked the door handle of a grocery store freezer in an attempt to "protest" against COVID.
Later that month, a man was charged with making a terrorist threat after allegedly recording a video of himself mentioning coronavirus before licking several items in a Missouri Walmart.
In a video posted to social media, the man, Cody Lee Pfister, 26, said: "Who's scared of coronavirus?" before he wiped his tongue across a row of deodorants on a store shelf. He was later arrested and charged with making a terrorist threat in the second degree.
Meanwhile, a month later in April 2020, a Canadian man allegedly angry about a bank's adjusted hours amid the pandemic was filmed licking the door of a TD Canada bank.
Newsweek has contacted Facebook for comment on the video and is trying to confirm the status of Meschuk's Instagram account.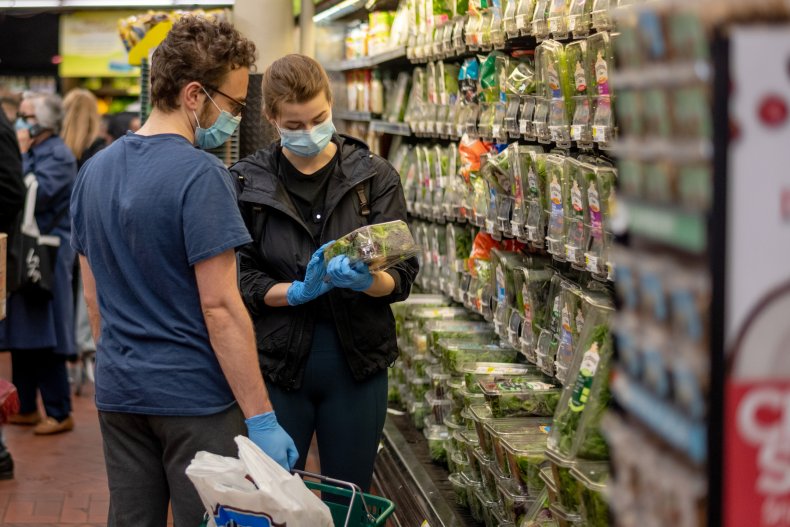 Update 8/10/2021 12:40 a.m. ET: This article was updated to change headline from "Woman Walks Around Grocery Store Licking Items to Prove COVID 'Isn't a Big Deal.'