Woman Lost Mother to QAnon 'Death Cult,' Wonders If She Knew About 1/6 Plot
A woman whose mother became a subscriber to the QAnon conspiracy theory wonders if she knew about plans for a riot at the U.S. Capitol on January 6 before it took place.
Nicole, who withheld her surname for reasons of privacy, told the BBC, that her mother had been a "wonderful grandma" but had become absorbed in the QAnon conspiracy theory and was sucked into what she described as a "death cult."
QAnon is a conspiracy that posits, in part, that former President Donald Trump was secretly fighting an international cabal of Satanic pedophiles, which is said to include senior Democrats, billionaires and celebrities. There is no evidence to support the conspiracy's wild claims.
Nicole spoke to the BBC about her mother in an article published on Friday and said a social media post her mother had written made her question whether she knew about the storming of the Capitol in advance.
She saw a Facebook post from her mother the morning of January 6 which simply said "Wait for the show" followed by emojis depicting bombs.
This was different from her usual posts on Facebook as it was short and not rambling.
Later, when Nicole saw the scenes of rioting from the Capitol, she wondered if her mother had some advanced knowledge.
"Did she know something?" Nicole asked. "I'm looking back, and... did she know something from her groups, that something was going to happen?"
No evidence has yet emerged that the storming of the Capitol was planned in advance but investigations into that day are ongoing, including by a bipartisan select committee of the House of Representatives headed by Democratic Representative Bennie Thompson.
It's possible Nicole's mother was merely referring to a planned rally in support of then President Donald Trump, who claimed the 2020 presidential election was rigged against him.
Nicole recalled how her mother first became involved in the QAnon conspiracy theory by watching Out of Shadows, a film billing itself as a documentary which claims Hollywood is run by pedophiles who distribute propaganda through movies and music videos, among other methods.
"And that was it. She was instantly into this QAnon world," Nicole said.
Though Nicole tried to humor her mother in the beginning, her mother later sent her a link to an article claiming celebrities such as Ellen DeGeneres and Beyoncé were to be arrested and executed on live TV.
"I was like, why would you want this? Why would you even want to see this?" Nicole said and her mother replied that the celebrities in question use children's blood for youth and energy - another aspect of the QAnon conspiracy theory.
"That's when I knew she was in a cult. A death cult," Nicole said.
She added that while her mother was still alive, she was going through a "mourning process."
"And I just don't see myself having her in my life and feeling safe right now," Nicole said.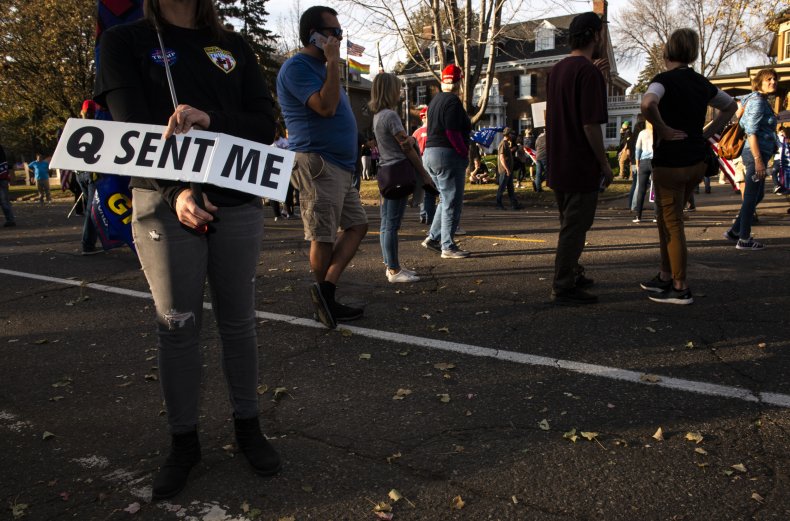 Correction, 09/20/21 06:50 A.M. ET: This story was updated to redact the subject's surname.