Woman Hilariously Photoshops a Smile on Her Boyfriend's Face in Every Photo
A woman hilariously decided to photoshop a smile on her boyfriend's face, after claiming he never grins in their photos.
Claire Huddleston shared a video to TikTok that has since blown up, showing off her impressive editing skills.
Huddleston, thought to be from the U.S., captioned the video: "If you're not going to smile I'm going to have to fix it myself later."
She shares a montage of herself and her other half, thought to be called Kev, showing him looking fairly nonchalant as they pose for the camera.
The video, shared on Tuesday, starts off showing the pair in front of a snowy backdrop, with Kev's arm around his girlfriend.
But thanks to some clever editing skills, a broad grin suddenly appears on Kev's face.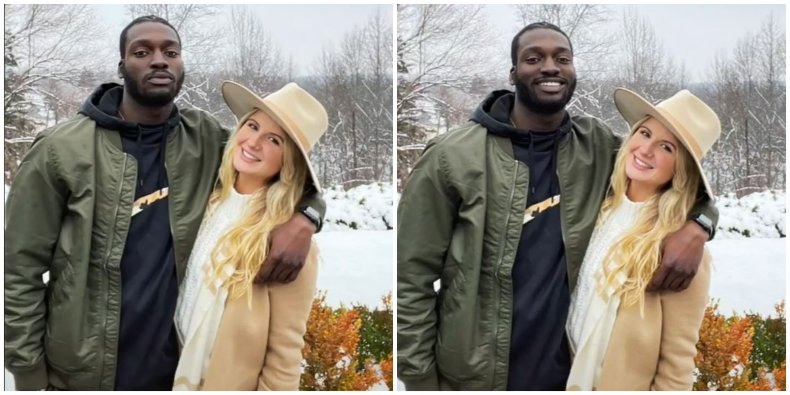 The next snap shows them at the Ocean House, in Rhode Island, as Kev drapes his leg over a bicycle prop.
Again, Huddleston works her technical magic to slap a smile on her boyfriend's face.
The next two are sun-drenched snaps from a beach, with Huddleston editing a toothy grin into each one.
Finally Kev appears in a photo by himself holding aloft what looks like a beer bottle, which he looks much happier about after Huddleston photoshops a convincing smile on his face.
Next the couple pose with adorable Golden Retrievers, but you'd be forgiven for thinking Kev wasn't a fan of canines due to the expression on his face.
But he looks like a pet lover after Huddleston adds another trademark smile into the shot.
Huddleston seemingly shared her boyfriend's thoughts on her hobby, as she added the on-screen caption: "My bf: stop editing a fake smile onto me in all our pics."
The clip has since been watched more than 2 million times, as people were in awe over the technical makeover.
Numerous people demanded to know exactly how Huddleston did it, and she revealed her secrets in the comments, saying: "FaceApp. It's too realistic lol."
While she also confirmed: "Also I don't do this to all our pictures but it's true that he never smiles."
Her edits proved so popular she uploaded a follow-up video revealing exactly how she does it, saying: "Guys I wish I could say I was a photoshop genius but it's just Faceapp smile feature."
She shared a shot of her camera roll, as she selected another photo of her and Kev, before choosing the perfect smile to go with it.
The app offers numerous smiles, including "original", "classic," "wide," "tight," and more.
Commenting on the original video, Amandadangerously said: "Like I don't know him so I don't know his real smile but it looks so realistic I'm impressed."
Lindsay Moran asked: "Wait why does it look so natural though."
Lauren Ashley Beck wrote: "It looks so real. Don't stop."
While Carrie raved: "How do these looks so perfect?!"
And Christine Cottagecore life added: "You have a future in retouching."
Newsweek reached out to Huddleston for comment.
Update 6/24/21, 11:25 a.m. ET: This article was updated to include new photos.