Woman Pranks Sister by Filling Her Entire Apartment With Goldfish Crackers
A woman spent hours painstakingly covering her sister's entire apartment in Goldfish crackers in an incredible prank.
They say there's nothing like sibling love, or rivalry, and that's certainly true for Kaitelen66, who gave her sister a housewarming gift she'll never forget.
The mom shared a video to TikTok, revealing the meticulously placed crackers covering every surface of her sister's brand new home.
The clip shows the kitchen counter, sink, tap, cupboard doors, bath, toilet seat and even her thermostat covered with the snacks—not to mention the floor.
She captioned the clip, shared on Monday: "Left my sister a welcome gift at her brand new apartment she's never seen."
Kaitelen revealed she used hundreds of crackers to cover the home, in an unknown location, adding: "It was five of the huge cartons at Meijer."
People have been taken aback at the neatly arranged fish, with Kaitelen revealing they used simple maths to make sure they distributed an even number of snacks.
She said: "The floor is made up of squares. So we did 9 fish per square. 3 rows of 3. In every square."
She added a little something special on the toilet seat, recreating the Pepperidge Farm Goldfish logo.
"I foreshadowed that by texting them asking if they remember the goldfish slogan," Kaitelen added.
The entire process took more than three hours, and Kaitelen roped in a friend to help her set up the prank.
She said: "I made it to work 15 minutes early after this. It was 3.5 hours with a friend. People spend longer at a bar.
"I did it yesterday morning because she was getting into town yesterday night. They were only around for about 5 hours."
The prankster confirmed they simply worked backwards to avoid stepping on any crackers, adding: "The same way you avoid stepping on what you mopped, front to back."
Despite spending hours on the set-up, she revealed it took much less time to clean up.
"We did it yesterday morning, she arrived yesterday night so they didn't sit long. Only took an hour of vacuuming with a Shop Vac," she added.
Although it could have ended in disaster, as Kaitelen revealed her sister owned a dog.
Responding to comments, she said: "Her dog is the same and we were freaking out about how to tell her to keep it on a leash when she walked in, so we left a trail so she knew."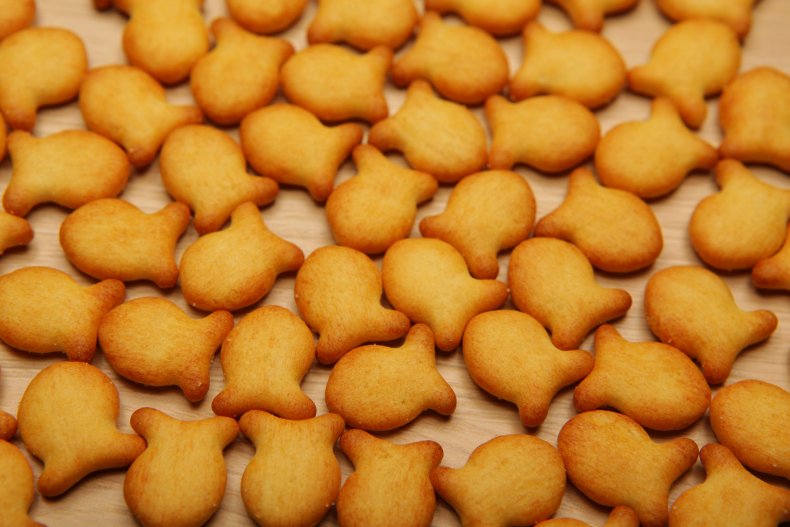 In the end Kaitelen confirmed it was worth it, saying: "I didn't even plan to post on TikTok. Her reaction alone was worth the effort."
People are glad she did share the video, with the clip amassing more than a million views in less than 20 hours.
Praising her dedication to the prank, Justine E wrote: "Automatic like for the effort alone."
Landon Bonneville raved: "The smiley face on the toilet is the best by far."
Kati Broadway asked: "Was a measuring device used here? This is great work truly I am shocked and I've seen these videos."
Paradise wrote: "That's dedication & patience right there."
Newsweek reached out to Kaitelen66 for comment.