Woman Praised for Refusing To Be Stepmom to Husband's Teen Son
A woman has been praised for the bold but "respectful" approach she has taken to parenting her husband's teenage son from his previous marriage.
It's an approach that has apparently seen the pair's "uncomfortable" relationship slowly blossom into one of mutual respect and, possibly one day, friendship.
The secret to her success? She does nothing. As in, she simply does not parent him. But while her approach has won her praise online, it's left her husband distraught.
Blended families—any household with a stepparent, stepsiblings or half-sibling—are common enough in the U.S., with the Pew Research Center reporting that 16 percent of children are growing up in this kind of familial setup.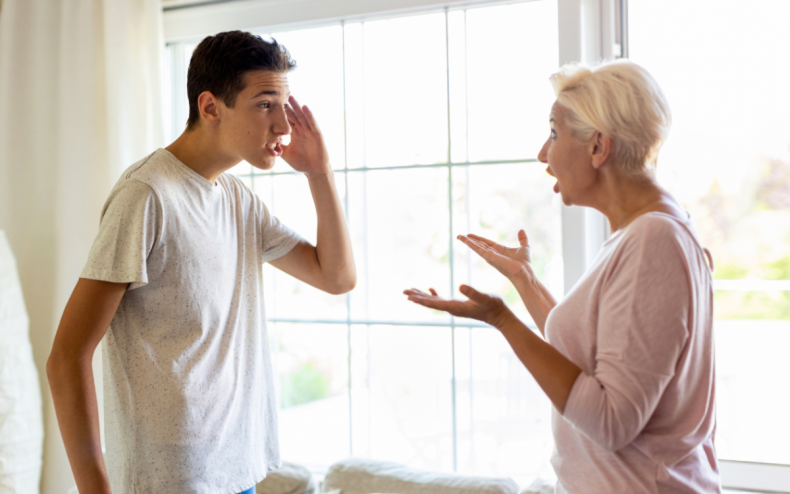 But blended families are not without their issues, particularly if a stepchild in the throes of adolescence is part of the equation. According to psychologist Carl Pickhardt, Ph.D., "in general, everyone's adjustment to this reconstituted family is easier with a younger child."
Writing in Psychology Today, Pickhardt explains that younger kids are "still in the impressionable age of attachment and similarity and compliance to significant adults" and often "open to bonding" with a stepparent.
"By contrast, an adolescent, who is now detaching and differentiating from childhood and parents, has more tendency to keep the stepparent at a distance," he writes.
"Where the little child may have seen much to gain in relation to this new adult in the family, the adolescent may feel she or he has more standing and autonomy to lose."
That was precisely the situation facing one married woman of six months posting to Reddit under the handle Icy_Pipe2902. Writing in a post that has earned over 7,200 upvotes, she explained that her 15-year-old stepson, "Jason," has "never" liked her since she came into the picture two years ago.
"I made the duo a trio and he misses just his dad," she wrote. However, her husband is insistent they try to forge ahead as a family, citing a "lot of guilt" about the fact Jason's mom hasn't been in the picture since his birth and he wants him to have a "stable relationship to look up to."
However, while Jason has never been "openly hostile," the wife said there had been an "uncomfortable" feeling between them until she decided to sit him down and ask "what he wants" from her. His response was to the point: "you're not my mom, you're not my parent, don't act like it."
Taking what he said onboard, she asked if she "could at least be his friend," and while he told her he "wasn't sure," an agreement was reached in which she promised she would not "try and parent him."
There's been a notable improvement in their relationship ever since. "He avoids me less, talks to me more and will even watch movies with me," she wrote. According to the post, her husband was initially pleased at the change until he asked Jason what prompted it. As his wife put it: "he didn't like the answer."
She said he later confronted her about it and said her being a friend to his son was "inappropriate" and she needed to be "a parent" as that was what she "signed up for." However, his wife was unrepentant, telling him she was "never going to be his mom" and that his son didn't want her to be either, so she was just trying to do something so he would at least not "hate" her being around.
She said her husband broke down in tears at this response, telling her she "already gave up" before even trying. But while his reaction left her wondering whether she had taken the wrong approach, the vast majority on social media felt hers was the best course of action.
Responding in a post upvoted over 13,000 times, Embarrassed_Hat_2904 said she "did it the right way" and her husband needed to "back off" and let them have "whatever relationship works best" for them.
H0n3sty agreed, writing: "The kid is 15, he doesn't need a full on parent—he just needs to understand what a healthy relationship is." De-railled said the woman could "still be a good role-model for him, even if she doesn't take the motherly role." They added: "More like one of your parent's friends, that you respect and can talk to."
Speaking from personal experience, eugenefarkas responded: "That's how I am with my stepdaughter. I'm a sympathetic ear and a safe person to come to with problems, which it sounds like this kid needs if his dad is overbearing enough to think he can choose his teenage son's mom."
FutilePancake79 commented said the woman had handled the situation perfectly by being "respectful" and not trying to "force herself on her husband's son."
MauriciaBabilonia also felt the woman had been right to speak to her stepson about their issues before chatting with his father. "The kid is 15," they added. "Asking for his input was the right thing to do."
Newsweek reached out to Icy_Pipe2902, but was not able to verify the details of the case.