Woman Says Christian Teen Ranch Tied Her to Goat, Used Extreme Punishment
A woman who was sent to a program for troubled youth as a child went viral after recalling various punishments she allegedly suffered at the hands of staff.
Kelsie VanMeveren, or @kelskiller, uploaded the video to TikTok where it received more than 9.2 million views and 4,500 comments since April 18.
The "troubled teen" industry brings in about $1.2 billion a year, according to the National Youth Rights Association. Many of these treatment centers involve wilderness therapy and physically intense boot camps.
In the video, VanMeveren said she was sent to Trinity Teen Solutions, a residential treatment center for "struggling" teen girls located in Wyoming.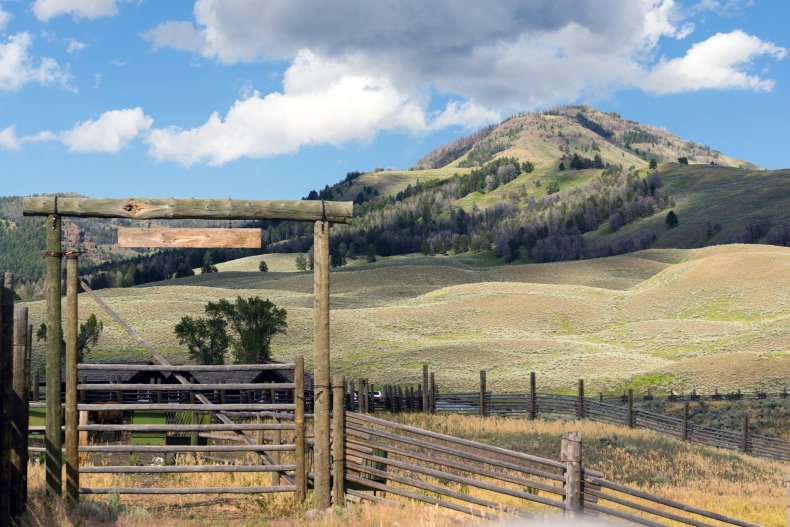 "Worst punishments I got at the ranch," VanMeveren said in the video. "First I had to wear a cardboard chart around my neck that said 'I'm too cool for you.' This was supposed to fix my bad attitude."
She showed a photo of her and another girl giving a thumbs up and smiling as VanMeveren wore the cardboard cutout around her neck. She alleged she suffered this punishment every day for two weeks.
"Then I was tied by a leash to a dog," she said showing a picture of herself hugging a Saint Bernard.
She alleged that she was tied to the dog for one month and that she didn't mind it although it made doing chores more difficult.
"Being tied to a goat was absolutely terrible, he would drag me through the mud, he would head butt me," she said. "I couldn't do anything because he dragged me places."
She said she was tied to the goat for two weeks and was then tied to another patient for two weeks.
"She had to direct every move I made and give me permission to do anything at all," VanMeveren said while a picture of her and the girl tied together with a rope was on the screen.
VanMeveren said there was never a time that they were not sharing the leash and that they had to do absolutely everything together. She then alleged she was tied to staff members for one month.
"Then I was put on silence," she continued. "This was for three months. I couldn't speak to anyone for any reason life or death, ever at all."
She finished off the viral TikTok by talking about "the isolation chair" which she allegedly had to use for one month. VanMeveren recalled the experience being "terrible" because all she was allowed to do was stare at a wall in silence.
"You can't even read, you can't talk, you can't interact with anybody," she said. "You just stare at a wall and want to kill yourself."
In January of this year, socialite Paris Hilton shared her experiences at a boarding school for troubled teens during a podcast after opening up about the school in her 2020 documentary This Is Paris.
"Sharing my story publicly was the most healing experience of my life," Hilton told Newsweek ahead of the podcast's launch on January 26.
Hilton alleged she was forced into solitary confinement and was physically beaten, strangled, and forced to take medication during her 11 months at the school when she was 16-years-old.
She said she suffers from PTSD from her experiences to this day and is now working to reveal the "dark secrets" of the troubled teen industry.
In March 2021, Danielle Bregoli—also known as Bhad Bhabie—publicly detailed her experience at the Turn-About Ranch in Utah that TV personality Dr. Phil McGraw sent her to.
She alleged she was forbidden from sleeping or showering at the ranch.
More than 4,500 users commented on the video, with the majority offering support to VanMeveren and calling her a survivor.
"Being tied to anything is abuse plain and simple I would seek monetary compensation with an attorney," one user commented.
VanMeveren replied that she is currently in the middle of a class-action lawsuit against the center.
"How did they literally take pictures of this cruel and unusual abuse?" another asked. "Were they proud of what they were doing?? It's literally evidence."
"They hated the way you continued to shine and really wanted to destroy your inner greatness," another user wrote.
"I see you, survivor," one user commented.
"Jesus, some of these are basically what they do to prisoners of war," another commented.
Newsweek reached out to Kelsie VanMeveren and Trinity Teen Solutions for comment.