A Michigan woman has claimed that she cannot access her life-saving heart medication after the reversal of Roe v. Wade.
In a video with over 520,000 views on TikTok, Raven Ackerman said on Saturday that her doctor refused to provide her current heart medication because it can induce a miscarriage.
"My doctor called me and started talking about me taking a different medication," she explained. "I take a type of medication for my heart that makes it so that if I were to get pregnant, the fetus would automatically be pushed out of me. Which now is illegal."
After investigating options with her doctor, Ackerman said, they found that her current pill was the only kind of drug that treated her condition without prompting negative side effects.
"I don't know what the f**k I'm going to do," she said. "I need this to live."
Ackerman clarified that although she lives in Michigan, her medication is produced in a state where it has been outlawed. "...until the Michigan Supreme Court rules, abortion is still legal in Michigan," reported NPR on June 27.
The Supreme Court's ruling to overturn Roe v. Wade on Friday set off a swift fallout nationwide. About half the states in the country are likely to outlaw abortion, 13 through "trigger laws" designed to institute bans as soon as federal protections collapsed.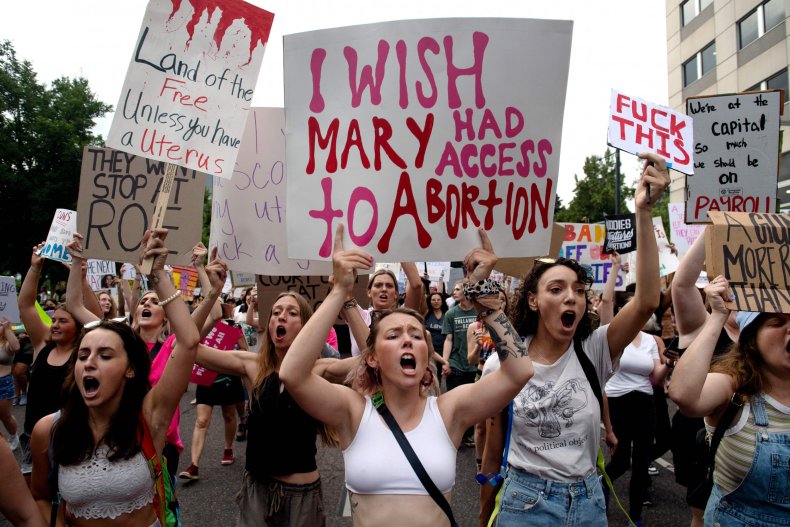 Beyond Pregnancy
But the Court's decision does not only impact women's ability to terminate a pregnancy; Restrictive abortion laws can have life-threatening consequences for people with a range of medical conditions, including past miscarriages and cancers during pregnancy, doctors have warned.
"Forcing people who have chronic illnesses, have had a miscarriage or have been diagnosed with a serious medical condition to carry a pregnancy to term against their will could have life-threatening consequences," said an open letter, organized by the Committee to Protect Health Care.
Laws banning drugs that induce an abortion could also be applied to other medications that carry a risk of miscarriage.
Oklahoma's abortion laws include a statute that says anyone who administers, prescribes or procures drugs or medicine to induce a "miscarriage" could be guilty of a felony, punishable by two to five years in prison.
Under Texas's six-week abortion ban, some pharmacists have already refused to fill prescriptions for medications that treat miscarriages and ectopic pregnancies because they are also used in an abortion regimen, Business Insider reported.
Prison Time
According to a report from the National Association of Criminal Defense Lawyers (NACDL), the fall of Roe is likely to prompt an expansive increase in women being jailed for miscarriages. Last year, a 21-year-old Oklahoma woman was sentenced to prison for manslaughter after miscarrying her child at about 17 weeks.
TikToker Reactions
The comments section below Ackerman's video brimmed with outrage and panic from other women, several of whom said they took similar medications.
"As an ectopic survivor, I needed abortion to live so I understand," one woman said. "They decided folks like us should just [die]."
"Oh my god I didn't even think about that," another wrote. "I'm also on a medication that would harm a baby (and me) if I ever got pregnant."
"I take [an] anxiety medication that can also cause miscarriage and it's the only medication that actually helps and I've tried everything," said another viewer.
Ackerman reassured her audience on Sunday that she found a way to procure her medication—for now.
"I have a friend getting me my medication now so that's a light for me right now," she wrote.
Newsweek reached out to Ackerman for comment.
Uncommon Knowledge
Newsweek is committed to challenging conventional wisdom and finding connections in the search for common ground.
Newsweek is committed to challenging conventional wisdom and finding connections in the search for common ground.
About the writer
Shira Li Bartov is a Newsweek reporter based in New York. Her focus is on trending news, human interest and legal stories. She has covered labor and civil rights lawsuits extensively. Shira joined Newsweek in 2022 from Inside Edition. She is a graduate of Brown University. You can get in touch with Shira by emailing s.bartov@newsweek.com. Languages: English, German, Hebrew and Mandarin.