Woman's 'Ungrateful' Reaction to Fiancé's Engagement Ring Divides Internet
While some brides may pine for an extravagant ring, research suggests going large on an engagement ring doesn't necessarily equate to a happy marriage.
A study conducted by academics from Yew School of Public Policy at the National University of Singapore and Emory University, found men who spent between $2,000 and $4,000 on an engagement ring had a higher rate of divorce (around 1.3 times) compared to those spending $500 to $2,000.
Over 3,000 ever-married adults in the U.S. were quizzed as part of the research, which also highlighted the dangers of being too frugal when it comes to buying a ring with those who spent less than $500 on a ring also experiencing higher rates of divorce.
Even if the would-be groom does hit that sweet spot when it comes to how much they spend on the ring, there are other pitfalls to the process too—as a video shared to TikTok by Brittany Finn demonstrated. It can be watched here.
In the clip, Brittany detailed how she broke the news to her fiancé, Patrick, that she did not like the engagement ring he had bought for her. While her story had a happy ending - Patrick and Brittany have been married for four years now - it proved awkward at the time.
According to Brittany, she had her heart set on a halo ring - the name given to a specific design of wedding ring that features a ring of smaller diamonds encircling a large center stone.
However, Patrick must have missed the memo because he ended up getting her a solitaire engagement ring. Though she was able to feign delight when he first presented her with the ring, that soon changed when she spoke to friends and family
"Everyone who I was close to knew that I wanted a halo," she explained on the video. "When they saw the ring, specifically my mom, she was like, 'How do you like the ring?' I just balled. 'I hate it. I don't know what to do. It's not what I wanted.'"
Possible Upgrade
Her mom was initially able to quell her concerns by suggesting she could always "get an upgrade" to mark their fifth anniversary. Both her parents also urged her not to ask Patrick to replace the ring and she agreed—but it didn't last.
Whenever someone asked her about her engagement and the ring, she said she would pretend to be happy and then later go to her room and cry. She said after a week of constant questions and demands to see the ring she was "over it" and decided to ask him to replace it.
Calling him up one Friday she explained she need to talk to him "about the ring" explaining: "I love you a lot and I love that you took the effort to pick this out and this isn't something that needs to be addressed right now but I really just want to be honest with you and transparent."
"I really don't like the ring," she told him. "It's not what I wanted." She told him it had been "really hard" to "fake" liking it. Thankfully, Patrick's response to her blunt honesty was "so nice" with Brittany's fiancé suggesting there and then that they just "return it" and it was "no big deal."
Ultimately, a few months later she got the ring she wanted and the pair were wed, but despite Patrick's understanding, many on social media expressed surprise at Brittany's response.
Charlotte Rose commented: "When the ring is more important than the guy. I feel super bad for him." Mommylinny agreed, writing: "Love is more important."
Kentucky_mom2 said: "I couldn't imagine telling my partner I hated a ring they chose for me. I'd appreciate the effort and wear it proudly" while evii_1818 said: "Well this marriage is off to a great start... NOT."
However, many sided with Brittany.
Theemmybear wrote: "If you're going to wear something on your hand forever, it only matters what YOU think about it" with Holland Haag adding: "Y'all saying it's better to LIE FOR YEARS, rather than utilizing a return policy."
Olivia Hatton was similarly supportive, commenting: "This is called a mature relationship and if someone can't do this then you shouldn't be getting married," while Gianna Doll responded: "she's allowed to have taste it's not that deep."
'Zero Regrets'
Brittany told Newsweek she decided to share the story after another video she posted online documenting Patrick's proposal sparked discussion,
"I made a video documenting exactly how I tell the story to anyone who asks and it blew up. I had NO idea that it was going to be that big. I legit had 12 followers when I posted," she said.
"In the comments I had SO many people commenting about how they didn't love their proposal and it made me realize that expectations aren't always met in relation to a proposal/ ring. It's not always like the movies. So I decided to continue sharing about the reaction I had to my ring so others could know they weren't alone if they didn't like theirs."
Brittany said she had no idea quite how controversial a clip it would prove. She said one of the most common responses she has found was people telling her "marriage isn't about the ring"—but she doesn't quite see it that way.
"I'm well aware that marriage is more than a ring, a proposal or a wedding," Brittany explained. "But I think it's something that women think about for years and years and when it doesn't go the same way you envision it in your head, naturally, you're disappointed, just like anything else in life."
Regardless of outside opinions, Brittany has "zero regrets" about how she handled things or sharing her story online.
"It shows that I have a mature relationship and a loving husband." she said. "The point of sharing my ring story was that communicating is such a key part of marriage. You have to be able to be open and honest with your partner whether it's something small or monumental."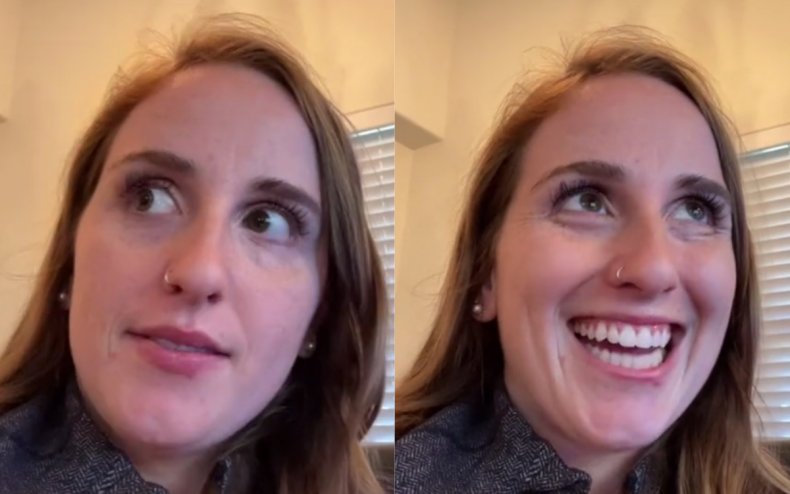 Update 04/05/22, 4:32 a.m. ET: This article was updated with comment and video from Brittany Finn.