Vacations often call for a bit of luxury, but one friendship group has delighted internet users after the extravagant boat ride they originally had planned turned out to be something very different.
During a recent girls' trip to Portugal, southwestern Europe, Alexandria Davis and her friends thought they had booked to go on a lavish sunset boat ride, which called for elegant outfits and plenty of glamour. However, there was a slight glitch in their plans, because, after reaching the boat ride, they realized it wasn't a sunset trip, but a nature tour instead.
Davis shared a clip from the nature boat ride on her TikTok account (@xozandria) on September 8, and it has already received over 4.1 million views, and more than 581,000 likes. The hilarious footage shows the group of women trying to conceal their laughter over the unfortunate error. Alongside the viral video, Davis joked about the one-of-a-kind experience as she noted that they were "dressed to the nines, listening to a man talk about birds."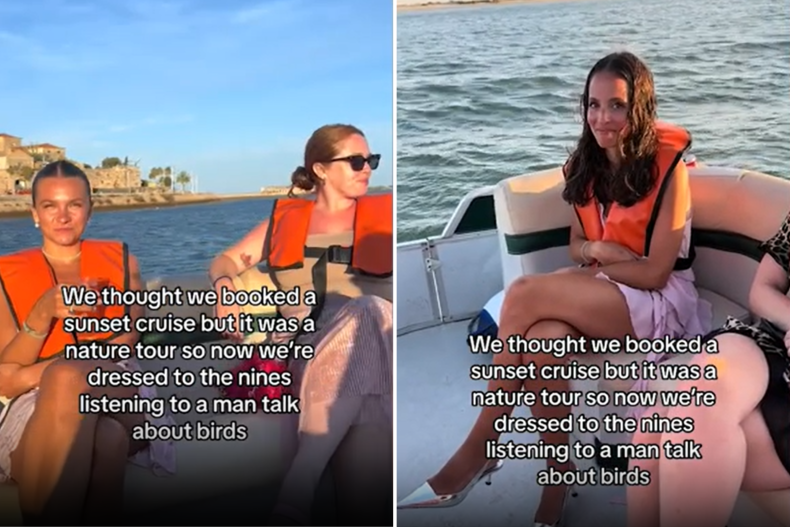 While taking a vacation at any time of year is sure to be an unforgettable experience, nothing quite rivals going abroad during the summer. It seems that the majority of us enjoy making the most of that break to go traveling. A survey by YouGov revealed that 36 percent of participants prefer going on vacation in the summer, compared to any other time of year.
The second most-popular season for traveling is spring, at 19 percent, and 18 percent said that fall was their preferred time of year for a vacation. Winter is the least-favorite season for vacationers, with 15 percent choosing this as the best time to go away.
There are many elements to enjoy when it comes to a vacation, whether it's choosing where to go, packing a suitcase (or 200), or finally arriving at the hotel to get the trip started properly. In an additional YouGov poll, published in May 2023, 65 percent of people said their favorite part of the vacation process is getting to experience it when it's happening.
Some 18 percent of the 32,500 participants said they prefer the anticipation ahead of the trip, and 7 percent replied they most love getting to reflect on the trip when it's over.
TikTok users were left in stitches by the viral video which was posted. Almost 2,000 users have commented on the post already to share their hilarity over the type of boat ride the friends found themselves on.
A comment by @hatsyx reads: "I would 100% get glammed up to talk about birds, 10/10 best day."
TikTok user @benjaminmoore called it "The most wholesome turn of events."
Others found the positive side to the error, as user @mermaidbubbles16 wrote: "This is going to make such a good story for years to come!"
Newsweek reached out to @xozandria via Instagram for comment. We could not verify the details of the video.
Do you have funny videos or pictures from your vacation that you want to share? We want to see the best ones! Send them in to life@newsweek.com and they could appear on our site.