'Wonder Woman 1984': How to Watch Online
Wonder Woman 1984 may have been delayed multiple times, but the movie will soon be available to watch online and in theaters in the U.S., in a radical new release strategy that has angered many in the cinema industry. It does mean, however, that fans can finally see the next set of adventures from Wonder Woman (played by Gal Gadot) as she heads into the 1980s and battles Kristen Wiig's Cheetah, Pedro Pascal's Max Lord and the decade's many bad fashions.
How to watch Wonder Woman 1984 online
Aside from its cinema release, Wonder Woman 1984 is an HBO Max exclusive, meaning that the streaming service is the only way to watch the movie (legally) in the U.S. Subscribers to that streamer will be able to watch it online for no additional cost from Friday, December 25, the same day it comes to theaters.
The release time for Wonder Woman 1984 is expected to be midnight Pacific Time, meaning the film should also be available in different time zones at 3 a.m. Eastern and 2 a.m. Central.
Fans who were hoping to watch Wonder Woman 1984 online for free, however, are sure to be disappointed. Soon after Warner Bros. announced that they would be releasing all of their next year of movie onto HBO Max on the same day that they came to theater, HBO Max also stopped offering it's seven-day free trial. This means that it will cost at least $14.99 to watch the movie on the streaming service, as that is the cost of a month's HBO Max.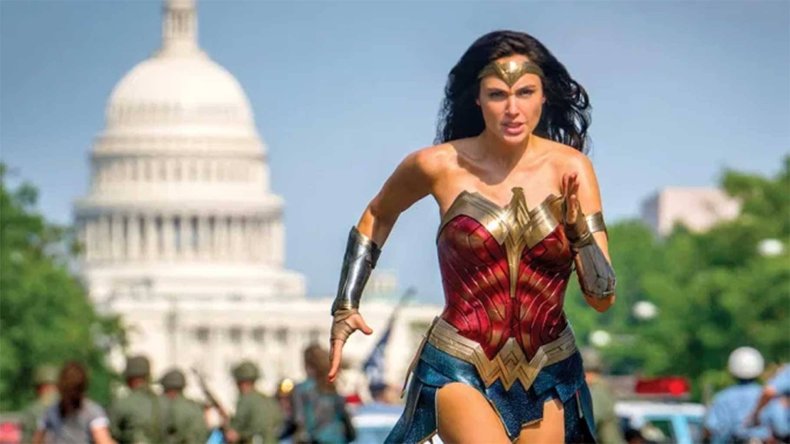 In fact, the streaming free trial is one of the early casualties of the streaming wars. Disney+ removed theirs slightly before the release of Hamilton, while Netflix got rid of theirs in the fall.
The free trial may be gone, but HBO Max has launched a new deal aimed at getting fans to stay on the service after they have watched WW84. Fans can pay for a six-month subscription for $69.99, which works out at around $11.66 a month. This offer is available from now until January 15, 2021.
The release of WW84 also comes as HBO Max makes a deal with Roku, meaning the streamer is now available on all major devices in the U.S.
As HBO Max is a U.S.-only service right now, the film will not be available to watch online in other countries. In the U.K., for example, Wonder Woman came to cinemas on December 16, but will not be streaming until spring 2021.
As for what fans can expect from the latest installment from the DC universe, the official synopsis reads: "Wonder Woman squares off against Maxwell Lord and the Cheetah, a villainess who possesses superhuman strength and agility."
So far, reviews of the movie have been fairly positive, with the film currently holding an 88 percent rating on Rotten Tomatoes.
Wonder Woman 1984 is released in cinemas and on HBO Max on Friday, December 25.