Tonight's SmackDown Live continues at least one thread from Monday Night RAW, and that's the shocking heel turn of Bayley.
The SmackDown Women's Champion aligned herself with best friend Sasha Banks to take out Becky Lynch with a steel chair. With her own championship match against Charlotte Flair on the horizon at Clash of Champions, will we find out Bayley's motivations or can we expect "The Man" to get retribution tonight?
Roman Reigns' story continues tonight as well, after it was revealed that Erick Rowan was the one who has been attacking the former Universal Champion. Daniel Bryan claims he had nothing to do with Rowan's actions, but that alibi wasn't good enough for Reigns who speared the former WWE Champion.
Bryan continues to claim his innocence, but, after Reigns' attack, Daniel is still looking for an apology.
The King of the Ring tournament continues with two more matches. The first is a clash between Ali and Elias. Elias defeated Kevin Owens with the help of Shane McMahon, while Ali took out Buddy Murphy in a highly-contested bout. Can the former 205 Live competitor make it two wins in a row, or will Elias continue his rise? Kevin Owens won't be far behind, so Ali has that going for him.
The other match is between Andrade and Chad Gable. Andrade took out Apollo Crews while Chad Gable got the best of Shelton Benjamin. Both superstars are skilled in-ring performers, so the crowd and viewers at home should see a spectacle.
Finally, the saga between WWE Champion Kofi Kingston and Randy Orton continues. Orton has taken out Xavier Woods and Big E in consecutive weeks - with the help of The Revival - and Kofi is seemingly alone as his match with Randy at Clash of Champions approaches. How will the champ react tonight?
Here's everything that happened on the September 3 episode of SmackDown Live.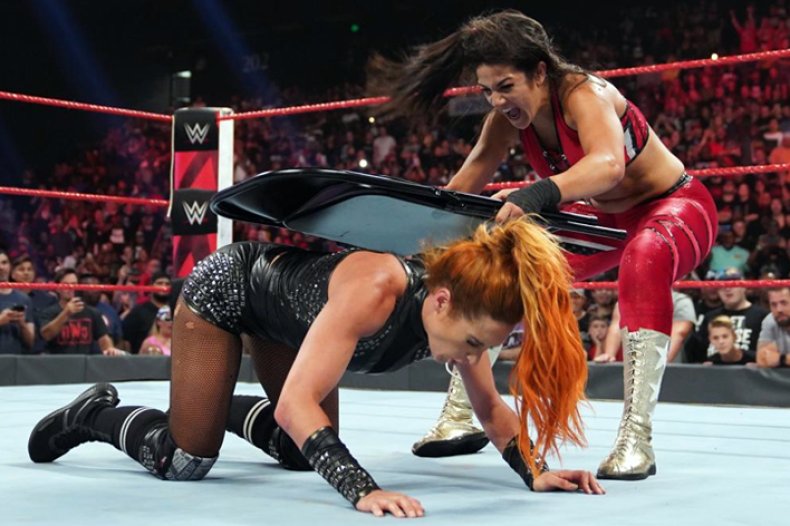 SMACKDOWN LIVE RESULTS
Opening Segment
After a recap of Bayley's heel turn from Monday, Bayley comes out to a chorus of boos.
Bayley says that everyone has something to say about what happened. Bayley says that her friendship with Sasha is what got her to be a champion. Nothing has changed, she is trying to lift people up and give others opportunities. Every since she is trying to make the WWE Universe feel what she felt when she was a fan. Bayley says she's the hero and the role model and to show the kids what it means to be loyal.
Bayley says she couldn't turn her back on Sasha when things got rough and she's doing everything to put the SmackDown Women's division on the map. She will be better than Becky Lynch and have a long title reign and that starts at Clash of Champions when she defeats the "most selfish person on the roster," Charlotte Flair.
Charlotte comes out and interrupts Bayley. Charlotte says she is the queen of selfishness and she doesn't care what Bayley says. What you see is what you get with Charlotte. Charlotte says that Bayley better hug that title real tight because she will win it off of her.
Sasha Banks comes out and stands in the apron. Charlotte hits Bayley when Sasha and Charlotte begin to fight. Flair tackles Sasha to the ground, but Bayley hits Charlotte with a steel chair. Bayley hands Sasha the chair and Banks begins to lay out Charlotte. Sasha hands the chair back to Bayley and the Hugger hits Charlotte again.
Ali vs Elias - King of the Ring Match
Elias wins via pinfall after a Drift Away
The match was very competitive, but Ali misses with the 450 leading to the finish
Samoa Joe Interview
Backstage, Joe says that last night was a mild inconvenience. He says his path of destruction will lead to his victory. He is at SmackDown Live because he is scouting the competition, and that everyone will bend the knee and call him king soon enough.
Aleister Black Segment
Aleister says that he is going to come down to the ring and see if anyone is man enough to pick a fight with him.
Nikki Cross and Alexa Bliss vs Mandy Rose and Sonya Deville
Mandy pins Alexa after a new tag team finisher (similar to Undisputed Era's high low)
The finish was set up by Alexa getting distracted when Mandy and Nikki were fighting on the outside, giving Sonya enough time to get the knees up when Bliss went for the Twisted Bliss.
Backstage
Samoa Joe bumps into Chad Gable who is warming up for his match. Joe makes fun of Gable's height and then says that to win the King of the Ring you need mental toughness and he can see it in Gable's eyes, that he doesn't have it.
Randy Orton Promo
Randy says that in two weeks Clash of Champions happens, and that's when the WWE Universe will have a new champion. It will also be the time that he proves how Kofi Kingston is a fraud.
After a recap package, Orton calls out Kingston to come to the ring. The New Day's music hits and The Revival, double teaming, Kofi come out from the back. They get him in the ring, and Orton starts to call Kofi stupid while he stomps on all of Kingston's limbs.
Orton is about to hit the RKO on Kingston, when he kicks Randy and starts to fight back but the numbers are too much. The segment ends with Kingston taking the Super RKO.
Andrade vs Chad Gable - King of the Ring Match
Before the match, Zelina gets on the mic. She puts over Gable and said he could win the tournament, but he won't because Andrade is in it.
Gable wins via pinfall after reversing a roll up with his own roll up
Aleister Black vs Shelton Benjamin
Shelton Benjamin answered the open challenge during the commercial break
Black wins via pinfall after a Black Mass
24/7 Segment
Drake Maverick and his wife are backstage when The Singh Brothers and The B-Team attack him. He avoids most of them, but Bo Dallas rolls up Maverick to become the new 24/7 Champion.
Shinsuke Nakamura vs Local Enhancement Talent
Sami Zayn gets on the mic and says that tonight is not about the fans, its about Shinsuke. He says that it doesn't matter who the jobber's name is because tonight he is The Miz. Shinsuke is about to show what will happen to Miz at Clash of Champions.
Shinsuke wins via pinfall after a Kinchasa
After Nakamura and Zayn leave, The B-Team run into the ring. Curtis Axel helps Bo fight off Maverick and Gran Metallik, but Maverick rolls up Dallas to begin the new champion.
While he celebrates on the ramp, R-Truth is hiding as a lamp shade next to the King's throne. He rolls up Drake to become champion for the 14th time.
Daniel Bryan and Roman Reigns Segment
Bryan says that he has nothing to do with the attack on Roman Reigns. He says that people may not like Daniel Bryan, but no one can say he's a liar. He hates liars.
Roman Reigns comes out but Rowan attacks him from behind.
Daniel Bryan tries to stops Rowan, but Erick pushes him away. Rowan gets Roman in the ring and hits him with the Iron Claw. Rowan gets on the mic and says that he thinks Daniel Bryan did it but Roman is a fool. He tells Daniel that he's nobody's puppet and challenges him to get in the ring to slap him again. Rowan says that he's happy for the pain he inflicted to Roman and he'll continue the pain at Clash of Champions.
Rowan is about to put Roman through the table when Daniel Bryan gets in between him and Roman. He tells Rowan that he's his friend, but he slaps Rowan when he doesn't listen. This causes Rowan to put Bryan through the table.