You Don't Need To Be a Pro To Buy the Best Electric Ford F-150 Lightning
The least expensive 2022 Ford F-150 Lightning is the best bang for your buck, offering more value than the gasoline-, diesel-, and hybrid versions of America's bestselling pickup.
Reservation holders are now able to confirm their purchase of the new electric truck, which has a starting price of $39,974 before destination charges (and without EV tax credits factored into the equation).
The base model 2022 F-150 Lightning Pro, is designed for, but not restricted to, commercial customers. Meaning that buyers don't need to own a business that uses a fleet to get an F-150 Lightning Pro and they don't have to buy more than one at a time.
For their money, Lightning Pro buyers get less fine appointments and high-tech features, but that doesn't mean that the model skimps on everything. It has vinyl seats instead of cloth or leather, and a 12-inch touchscreen instead of the XLT's 15.5-inch display.
The Lightning Pro comes with four-wheel drive as standard as well as a 32-amp Ford Mobile Charger.
Torque is rated at 775 pound-feet and payload capacity went up in final testing to 2,235 pounds from 2,000. Towing is rated at 7,700 pounds with the Max Trailer Tow package ($865).
Fleet buyers do get access to the extended range battery for an extra $10,000. That offers the extra range and extra power. It can also tow up to 10,000 pounds when properly equipped and comes with the 80-amp Ford Charge Station Pro, which can charge the truck fully overnight.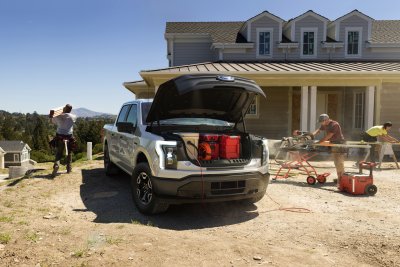 "F-150 Lightning Pro represents so much more than an electric workhorse - it's made for commercial customers inside and out, it gets better over time, and it's totally plugged into always-on services that can help business productivity," said Jim Farley, president and CEO, Ford Motor Company in a press release.
"As more companies make the commitment to go carbon neutral, they are going to expect electric products that can integrate into their operations easily. Ford is so uniquely positioned to answer this call because we have a zero-emissions pickup and van, many of our customers want both vehicles in their fleet."
Lightning Pro buyers that need it get access to a digital fleet planning tool from Ford that calculates purchase and lease costs, tax incentives and regional fuel and energy costs for a business. The company says the truck is targeting a 40-percent savings over eight years through maintenance, "with potential for further operational cost savings through lower fuel costs.
Like the XLT and above trims, the basic Lightning Pro comes with the Mega Power Frunk with 14 cubic feet of water-tight space. The F-150 can carry up to 400 pounds in the space, which also features four 120-volt outlets, two USB ports and lights so the space can be seen in the dark.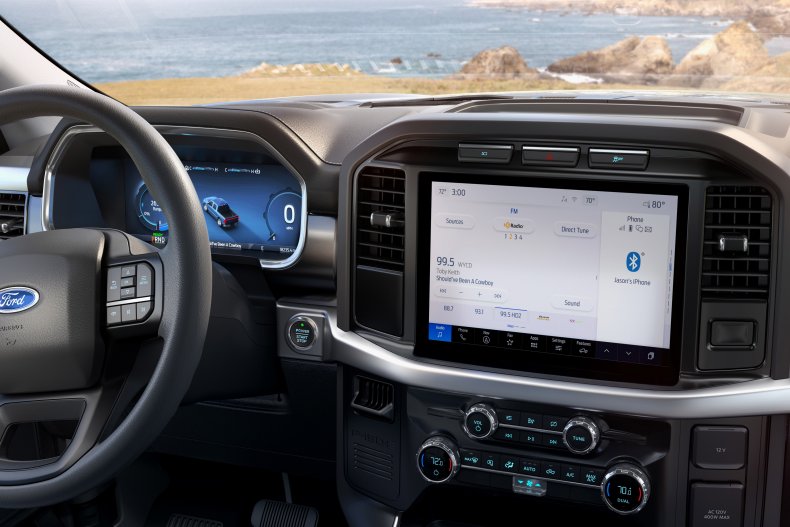 Those four outlets come from the standard Pro Power Onboard power source that delivers 2.4 kilowatts of juice. They're joined by two more outlets in the bed and an additional two in the cabin. Buyers can also step up to the 9.6-kilowatt system, which adds two more 120-volt outlets and a 240-volt outlet in the bed.
The truck adjusts its range accordingly as power is used, and features an automatic shutoff if range gets low enough to not reach the nearest charge station. Fleet managers or owners will set the parameters for this.
The F-150 Lightning Pro is only offered in five-passenger SuperCrew configuration with a full-size spare tire and Onboard Scales that monitor payload for more accurate range calculations. That system will also tell an owner is the bed is overfilled. For maximum efficiency, all Lightning Pros come with acceleration and speed limiters, which can also be set by the fleet manager.
For telematics, the Pro comes with a 4G LTE modem and services to lower operating costs. Ford says it can track kilowatt-hour consumption, charge speed, distance to empty and more, to see how trucks are operating in real-time. The system can also notify managers if the trucks are in an accident.
Charging the Lightning Pro is the same as the rest of the trims from 15-100 percent. On the 32-amp Ford Mobile Charger it takes 14 or 19 hours depending on the size of the battery. The 48-amp Ford Connected Charge Station takes that down to 10 and 13 hours. An 80-amp Ford Charge Station Pro fills up the smaller battery in 10 hours again, but the larger battery in just eight hours. A DC fast charge gets the trucks from 15-80 percent in 44 and 41 minutes.
Service will be provided by one of the 644 electric vehicle-certified Ford Commercial Vehicle Centers and 2,300 EV-certified ford dealers.
When compared to the traditional Ford F-150s, the Lightning has several differences besides the internal combustion powertrain. Starting with price, the cheapest F-150 you can buy is the XL. It's like the Lightning Pro work truck in that it only comes with vinyl seats and washable floors. It also features steel rims with a base powertrain of a 3.3-liter V6 making 290 horsepower (hp) and 265 pound-feet of torque for $32,290. That trim can tow a max of 8,200 pounds.
The upgraded XLT costs $38,130 and comes with 17-inch wheels, Ford Co-Pilot 360 2.0, an adaptive driver assistance system, and chrome bumpers. It also comes standard with the 3.3-liter V6, but can be optioned with the 325-hp 2.7-liter twin-turbo V6 for $1,285 or the 5.0-liter V8 for $2,335 making 400 hp. The turbo V6 can tow up to 10,000 pounds; the V8 raises that to 13,200 pounds when properly equipped.
The Lariat starts at $48,065, landing it close to the Lightning XLT and adds leather-wrapped seats, 12-inch touchscreen, zone lighting and 20-inch wheels. It starts with the 2.7-liter making 325 hp but can be optioned with the 5.0-liter or the 3.5-liter twin-turbo V6 making 400 hp with 500 pound-feet of torque.
The King Ranch starts at $59,290 and the Platinum starts at $62,070, both with the V8. But both can be optioned with Ford's PowerBoost V6 hybrid, which delivers 430 hp and comes with the onboard generator. The top Limited trim (also offered in hybrid) costs $76,595 and comes with the 3.5-liter V6. It comes with leather everywhere, premium audio, a moonroof, 22-inch wheels and more.
Going further, the off-road-ready F-150 Tremor and F-150 Raptor are also available for $53,085 and $69,525, though they won't be cross shopped with the F-150 nearly as much.