Exclusive: Julien Macdonald's Incredible Beyoncé Costume Sketches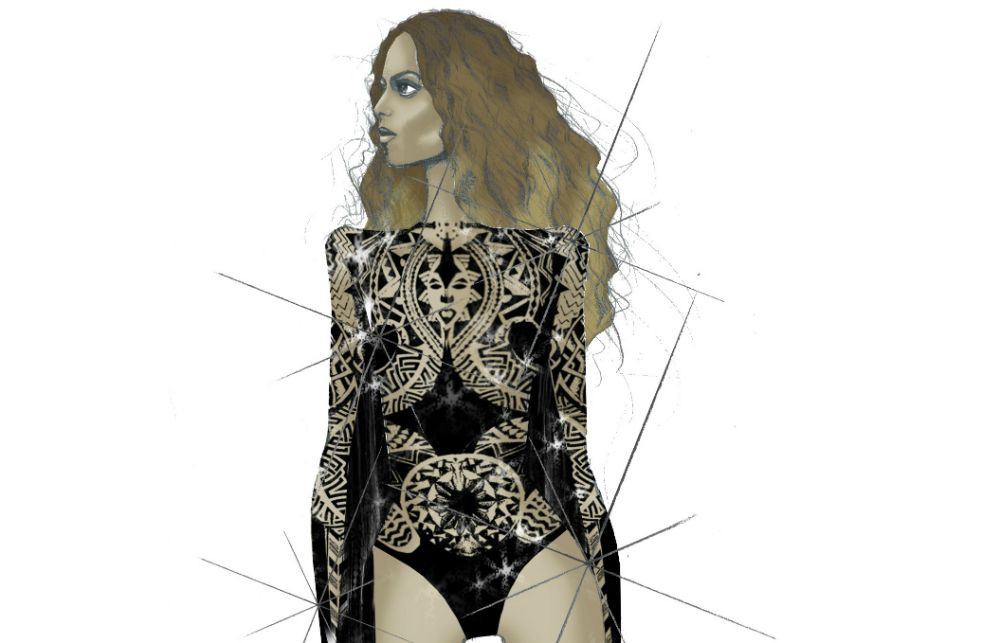 In the wake of two more police shootings in the U.S. this week, the lyrics of Beyoncé's latest song "Freedom" have never been more poignant. The black empowerment song conjures lucid imagery as the star sings of breaking chains, likening the current unrest between black citizens and law enforcement to the atrocities of slavery.
The song's powerful message was buoyed by an equally powerful performance at the BET Awards in June where, along with rapper Kendrick Lamar, Beyoncé opened the show with a theatrical presentation of the anthem complete with her trademark breakneck choreography and an elaborate custom stage flooded with water. It was a ballsy show that, in years to come, will be remembered as an iconic performance.
Just days after the BET Awards, the singer then brought the summer of Beyoncé to the U.K. as she began the European leg of her Formation World Tour. To mark her descent upon Britain, Queen Bey fittingly debuted some new costumes in her show by one of the nation's most beloved fashion designers—Julien Macdonald.
The 45-year-old Welsh fashion guru was tapped by Beyoncé's stylist Marni Senofonte in 2015 to design some glamorous bodysuits for her tour and her performance with Coldplay at the Super Bowl. Little did he know, however, that one of those bodysuits would end up in one of the most-talked-about television performances in recent memory.
Beyoncé's embellished black bodysuit at the BET Awards is one of three Macdonald designed; she debuted a gold version onstage during her UK stadium tour, which included two sold-out nights at London's famed Wembley Stadium on July 2 and 3.
For the first time, Macdonald shares his design sketches for all three bodysuits exclusively with Newsweek. He told Grazia recently that he collaborated with the "Formation" singer over Skype. "She's very opinionated about what she wants," he said.
See all of Macdonald's sketches below, accompanied by pictures of Beyoncé adopting the looks onstage.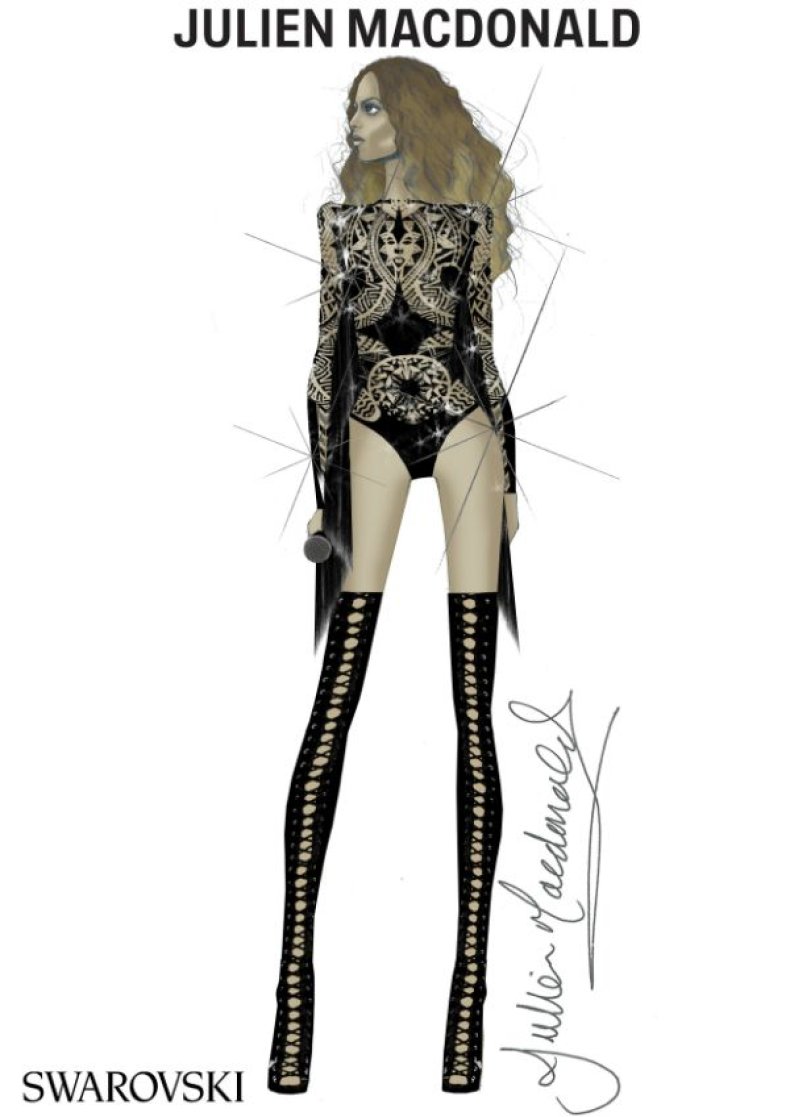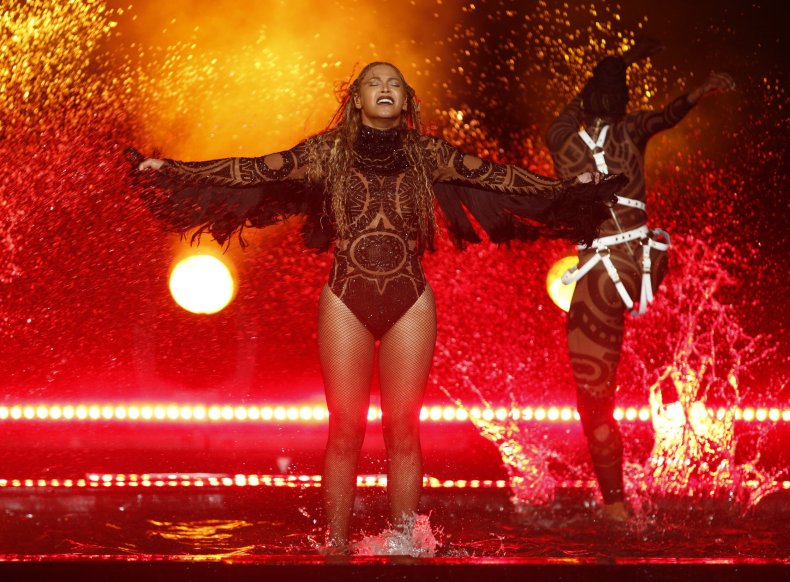 Beyoncé's BET Awards performance also marked the debut of the first of her three Macdonald designs. The designer told Grazia: "She said to me: 'I want you to think of Africa, and something I could wear dancing to an African beat.' It's a bodysuit with about 30,000 black caviar Swarovski crystals. The imagery on the body itself is taken from African tattoos and body paint, and then it's got a silk and Swarovski fringe."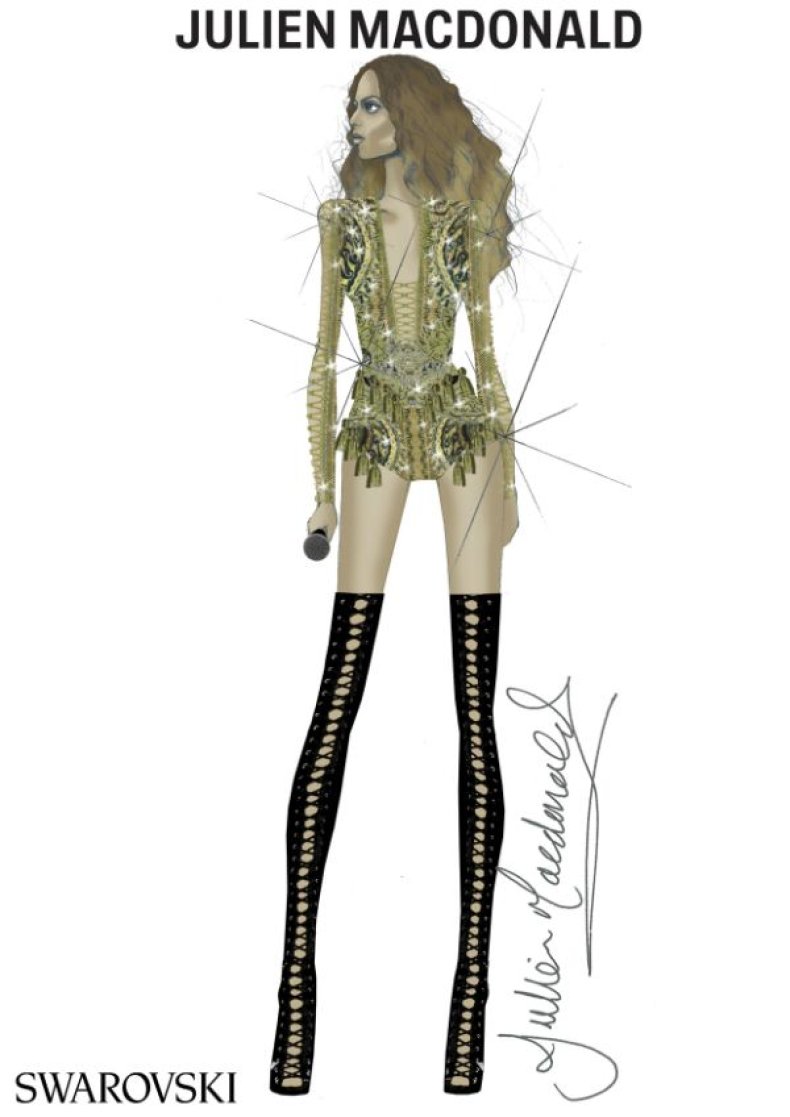 He added: "It takes up to three weeks to create something like this—night and day working on it."
Beyoncé debuted a gold bodysuit on the first night of the U.K. leg of her tour in June at Sunderland's Stadium of Light. This shimmering design is "covered in about 70,000 Swarovski crystals and 24 Carat gold embroidered components," Macdonald told Grazia.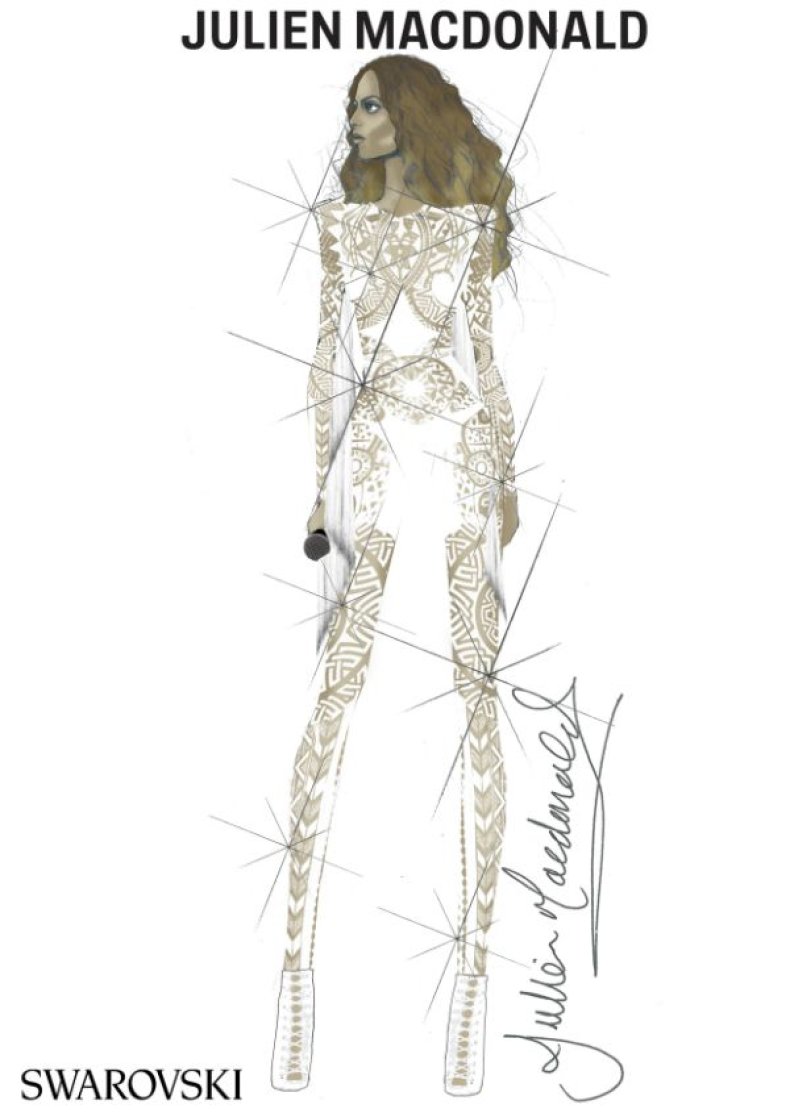 A scan of the most dedicated Beyoncé Twitter fan pages failed to bring up any pictures of the star wearing this white bodysuit with gold embellishments (Beyhive, if you can help—tweet me @tufayel), but the sketch alone is stunning. We imagine this ethereal look would be well-suited for the Formation tour's closing song, "Halo."