The Summer of Beyoncé Arrives in Europe—Here's What to Look Out For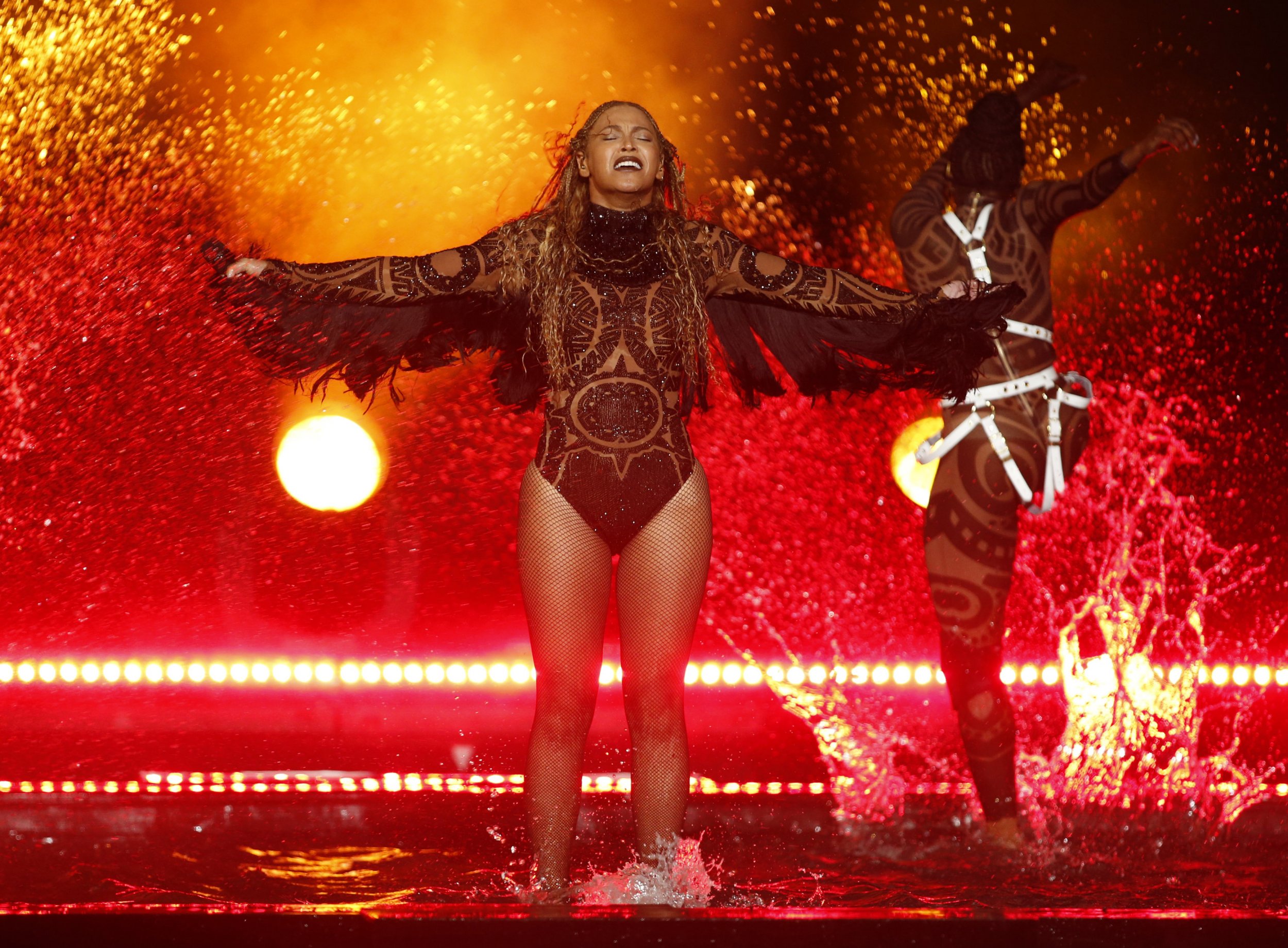 Ready to get into Formation? Beyoncé's world tour touches down in the U.K. and Europe Tuesday and promises to bring with it the whirlwind and chaos that follows the superstar wherever she goes.
It's been a little over two years since the Drunk in Love singer sold out London's The O2 arena for six consecutive dates in March 2014. At the time she was already a musical superstar: one half of rap's most lucrative couples, a Super Bowl headliner, the woman who broke music industry rules by releasing her fifth, self-titled album by surprise on iTunes. She was untouchable.
Now, with the release of her sixth album Lemonade in April, Beyoncé is something more than a musical superstar—a cultural and societal influencer whose music has provided a soundtrack to the Black Lives Matter movement, the wronged woman, African-American women. Yet as her lyrics have transcended the charts, the once untouchable star comes across more personable than ever before. That is the magic of what Beyoncé has achieved with Lemonade: an opus that can convey a little piece of shared life experience with her listener.
So, for an album that has been hailed as a cultural phenomenon, one would expect Beyoncé to put on an accompanying tour to end all tours, right?
As Queen Bey brings a month-long musical hurricane to Europe—beginning at Sunderland's Stadium of Light on Tuesday and ending in Barcelona on August 3—we take a look at the key ingredients that make the Formation World Tour this summer's biggest music event.
The music
First and foremost at any concert, especially if you have a back catalog as generous as Beyoncé's, is the music. She has six albums' worth of material, as well as all those hits with Destiny's Child, so could conceivably perform for hours. Sadly for us—as much as we'd pay to see her perform every last B-side—the set list will be carefully streamlined to fit a two-hour show.
Of course, the emphasis will be on much of her new material from Lemonade , so brush up on Formation, Freedom, Sorry et al.
But for fans of her earlier material, you can expect the old favorites: Crazy in Love, Baby Boy, Partition, and perhaps even, from the Destiny's Child days, Independent Women and Survivor.
A Beyoncé concert is like the greatest of the greatest hits—no filler.
The costumes
Beyoncé's stage shows are the cultural intersection where music and fashion collide. The Formation World Tour boasts no less than five costume changes and for this world tour Balmain, Roberto Cavalli and Dsquared2 have all created unique looks for the star.
From her ethereal white lace look, created by Balmain's Olivier Rousteing, to the military-themed Cavalli bodysuit, each of Beyonce's outfits add an extra layer to her arsenal and only serve to enhance the drama of the show.
The spectacle
There is a reason why Beyoncé has been mentioned in the same category as the likes of Michael Jackson, Prince and Madonna. She is a natural born performer: any of her childhood videos will tell you that much.
With inflating ticket prices and high demand, many musicians can get away with charging exorbitant prices for tickets without giving much in return. But Beyoncé's Formation World Tour may be one of the most elaborately staged concerts in some time. If you're paying £100 for a ticket, she plans to give you your money's worth.
The seismic production includes huge LED video screens, a runway that doubles as a treadmill and a second stage filled with water for a dramatic performance of "Freedom".
For a taste of what is to come, look no further than Beyoncé's performance of "Freedom" at Sunday's BET Awards:
The Beyhive
Is there a more fiercely loyal pop fan base than Beyoncé's Beyhive? So dedicated are her fans that even she was shocked that they knew all the words to Lemonade just days after it was released during the first Formation World Tour concert in Miami back in April.
As well as the karaoke feeling in the stadium, Beyoncé's lyrics have inspired their own memes. It's always fun to see fans get creative with their very own statement-wear:
The hype
Whenever Beyoncé is in town, it's like a disturbance in the Force: you can feel her presence even if you don't know it. The Formation singer causes frenzy like very few other artists and her every move inspires headlines.
Back in 2013, when she headlined V Festival, the star's receipt for a £1,500 Nando's bill was splashed all over the tabloids after she treated her entire crew to a meal from the chicken restaurant.
And in 2014, while in London for her previous tour, reports suggested she and husband Jay Z took a stroll down Brick Lane in East London, which—as any true Londoner will know—is famed for its bagels.
Where might Beyoncé turn up this time? Will she take in a Euro 2016 game in France? Turn up at parliament to sort out Brexit? See her pal Serena Williams play at Wimbledon? The possibilities are endless.
Brace yourselves: the summer of Beyoncé has begun. Tickets for most shows are, as you can imagine, already sold out but have a look on the likes of Ticketmaster , Getmein and Twickets to see if you can bag yourself one last-minute.