'You Treat a Dog Better': Workers Spot Skeleton of Woman Through Window
Construction workers made the horrific discovery of a woman's skeleton while doing maintenance outside her New York City building last month.
Marilyn McMichael, 54, lived in the South Jamaica Houses in Queens, New York, a property operated by the New York City Housing Authority (NYCHA). NYCHA's public housing developments are home to roughly 1 in 16 New Yorkers.
The workers were standing on scaffolding when they spotted McMichael's skeleton through her open bedroom window on the building's seventh floor, WPIX-TV reported.
Police entered the apartment on April 26. They saw McMichael's calendar was turned to August 2020, indicating that she may have been dead for nearly two years.
McMichael's foster sisters Simone Best Jones and Sharman McElrath told WPIX-TV that they began worrying about her in June 2020. She had called them and said she wanted to go to the hospital.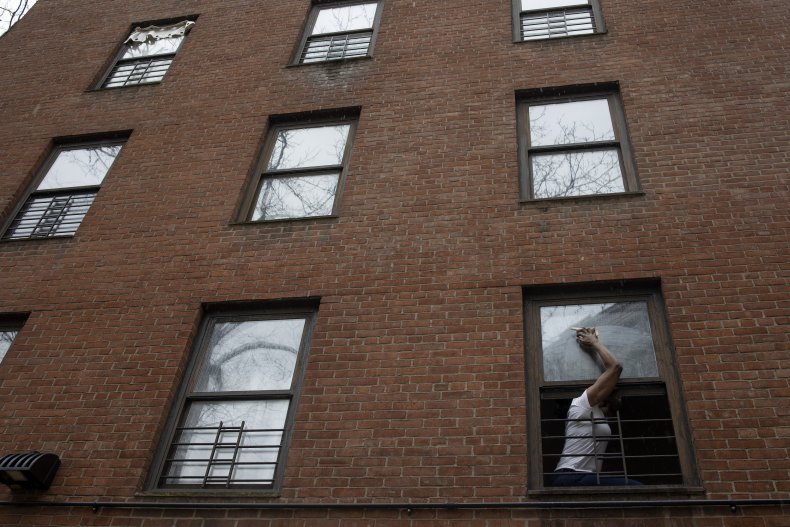 "She didn't sound sick at all," McElrath told the local station. "She sounded a little manic, and I was trying to explain to her they're not accepting people at the hospital."
New York hospitals were still overwhelmed by COVID-19 patients at the time.
The sisters went to visit McMichael at her apartment, but their knocks and calls went unanswered.
Still, they said this was not unusual behavior from their sister, whom they described as struggling with "emotional problems." They said she sometimes chose not to speak with them for years.
But as time stretched on, their fears grew. Best Jones and McElrath decided to call 911 and file a missing persons report in January.
In a meeting with housing police officers, they were told that McMichael "hadn't paid rent in over a year."
Their attempt to file a police report also met resistance from the NYCHA, which claimed they were not next of kin. An official said that Best Jones's parents were on McMichael's emergency card.
Both her parents had been dead for over 20 years, she told WPIX-TV.
The sisters finally convinced NYCHA managers and a police officer to visit McMichael's apartment with them, but their master key could not open the door.
After that, Best Jones said they never tried again.
"You treat a dog better than that," McElrath told the local station.
"So what she lived in public housing?" Best Jones added. "It shouldn't have made a difference."
Asked for comment, a NYCHA representative said that McMichael's death was a "police matter" and directed Newsweek to contact the NYPD.
NYCHA has weathered a range of scandals in recent years. In January, 17 residents were killed in a Bronx apartment fire triggered by a malfunctioning space heater. Inspections from past years had identified broken smoke alarms, busted ovens and mold in the building.
In November 2021, a Manhattan NYCHA tenant was shot in the eye while looking through her apartment peephole.
At the Claremont Consolidated Houses in the Bronx, residents said they were "traumatized" by a rat infestation caused by their appalling living conditions in 2018.