Young Pharaoh Calls CPAC Ban Over Anti-Semitism 'Censorship at its Best'
YouTuber Young Pharaoh has ranted about being "censored" after the Conservative Political Action Conference (CPAC) pulled the controversial online commentator from its 2021 'America Uncanceled' event over his anti-Semitic tweets, including calling people "thieving fake Jews."
Pharaoh had been due to speak at the high-profile conservative gathering, scheduled for February 25-28 in Orlando, Florida, after organizers learned about the self-proclaimed philosopher's previous tweets about Jewish people.
In a rant posted across his social media accounts, Pharaoh said: "This is censorship at its best. All because I said: 'I do not believe in the validity of Judaism and am willing to place $50,000 on myself to debate the top Jewish Rabbi.' Now I'm no longer invited to CPAC, racist, dictatorship, Young Pharaoh."
CPAC dropped Young Pharaoh's scheduled appearance at the Sunday session "Please Check the Number and Dial Again: Doubt, Dysfunction and the Price of Missed Opportunities" after the left-leaning Media Matters for America (MMA), a watchdog that monitors conservative media outlets, found the online commentator had shared offensive posts about Jewish people.
In a tweet on Monday, CPAC organizers said: "We have just learned that someone we invited to CPAC has expressed reprehensible views that have no home with our conference or our organization. The individual will not be participating at our conference."
Pharaoh has previously shared posts with his 58,900 Twitter followers where he said Judaism had been "made up for political gain" and that "all the censorship and pedophilia on social media is being done by Israeli Jews".
In another post, he said: "All of these big tech companies, media and social media platforms are controlled by CCP [Chinese Communist Party] and Israel through Jewish CEO and corrupt Democrats."
Following CPAC's decision to pull Young Pharaoh from the event, the American Jewish Committee, which works for civil liberties for Jews and against discrimination in the U.S., said in a tweet: "Young Pharaoh uses his platform to spread horrific anti-Semitic lies
"He has no place on the CPAC stage. CPAC leadership must denounce his anti-Semitic conspiracy theories and act to ensure that Jew-hatred has no place at the conference."
Pharaoh had also pushed conspiracy theories that the COVID vaccine alters people's DNA as well as ones about the debunked QAnon phenomenon.
CPAC is one of the most high-profile annual events for conservative politicians, activists and commentators and has been used by Republican presidential hopefuls to outline their vision for the U.S.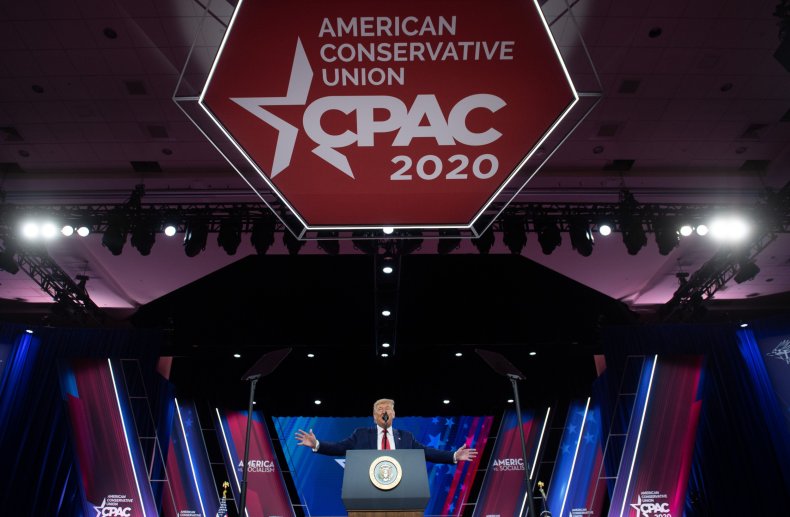 This year's conference will feature former President Donald Trump, its most high-profile speaker, and former Secretary of State, Mike Pompeo.
It will also feature seven talks on "protecting elections" as the former President continues to claim that he won the 2020 presidential election and that it was stolen by the Democratic incumbent, President Joe Biden.
The 2021 conference has also scheduled sessions about being "canceled", which means being publicly criticized, banned from social media or fired, for sharing controversial or abhorrent views.
Organizers previously disinvited British provocateur Milo Yiannopoulos from its 2017 event after footage emerged of him discussing sex between men and boys.
Newsweek has approached Twitter over Pharaoh's posts on its platform.