CPAC Cancels Young Pharaoh From Lineup After Anti-Semitic Comments
Young Pharaoh, a scheduled speaker at this week's Conservative Political Action Conference (CPAC), has been disinvited from the conference after his past comments pushing anti-Semitism and conspiracy theories resurfaced.
Young Pharaoh—an online commenter and cultural critic who has over 90,000 Facebook followers and nearly 60,000 Twitter followers—has made past comments denying the existence of Jewish people and Judaism.
In a July 16, 2020 Twitter post, Pharaoh wrote that Judaism was "COMPLETELY MADE UP FOR #POLITICAL GAIN." In a July 29, 2020 post, he claimed that Jews are responsible for all of the censorship and pedophilia on social media. In a January 4, 2021 post, he referred to the religion's followers as "THIEVING #FAKE #JEWS". The tweets were first resurfaced by Eric Hananoki from the left-leaning watchdog organization Media Matters for America.
He has pushed several conspiracy theories such as QAnon, Pizzagate and Frazzledrip. He has also has said that both the COVID-19 pandemic and the January 6 Capitol riots were staged events planned by left-wing politicians, according to Media Matters.
After Pharaoh's comments resurfaced online, CPAC 2021 canceled his appearance. The conference's theme this year is "America Uncanceled."
"We have just learned that someone we invited to CPAC has expressed reprehensible views that have no home with our conference or our organization," CPAC wrote in a brief statement Monday afternoon. "The individual will not be participating at our conference."
Newsweek contacted CPAC and Young Pharaoh for comment.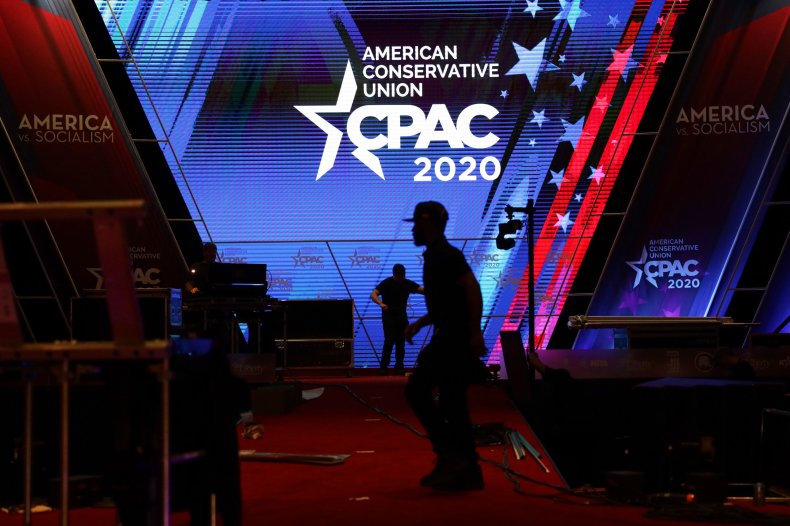 Pharaoh was scheduled to speak in a Sunday session entitled, "Please Check the Number and Dial Again: Doubt, Dysfunction, and the Price of Missed Opportunities." On its website, CPAC described Pharaoh as a "philosopher, scholar, musician."
Two of the conspiracy theories pushed by Pharaoh, QAnon and Frazzledrip, were also pushed by Republican Georgia Representative Marjorie Taylor Greene.
QAnon believers think that a shadowy international child trafficking ring of Satan-worshipping Democrats, Hollywood elites and lizard-humanoids sexually abuse and torture children in order to extract an allegedly psychedelic, youth-rejuvenating chemical called adrenochrome from their victim's pituitary glands.
The body naturally produces adrenochrome, and it does not cause psychedelic or youth-rejuvenating effects.
Frazzledrip, a QAnon-related conspiracy theory, claims that former Secretary of State Hillary Clinton sexually assaulted a child, cut off the child's face and wore it as a mask before drinking the child's blood.
The FBI has called QAnon a domestic terrorism threat. The conspiracy theory has been linked to several murders and death threats against politicians, but the movement has not partnered up with international organizations that actually work to prevent child trafficking.
CPAC describes itself as "the largest and most influential gathering of conservatives in the world." This year's conference will feature seven talks on "protecting elections" as former President Donald Trump, the event's top speaker, continues to baselessly claim that he won the 2020 presidential election.
The conference will also have several sessions about being "canceled," a word for being fired, publicly criticized or losing social media access for publicly voicing controversial views.