Ukrainian President Volodymyr Zelensky said he still plans to negotiate a deal with Russian President Vladimir Putin even after accusing Russia of committing "genocide" against the "whole nation" of Ukraine.
Speaking to BBC News from Bucha on Monday, Zelensky was asked whether peace talks would still be possible after news of the atrocities committed in the town near Kyiv.
"Yes, because Ukraine must have peace. We are in Europe in the 21st century. We will continue efforts diplomatically and militarily," Zelensky said while reiterating that Russia has carried out war crimes in Ukraine.
Over the weekend, Ukraine accused Russian forces of carrying out a massacre in Bucha, where 300 civilians were discovered dead. Kyiv Mayor Vitali Klitschko has also accused Putin of genocide, telling German newspaper Bild that "what happened in Bucha and other suburbs of Kyiv can only be described as genocide." Genocide is defined under the U.N. Genocide Convention as "the intent to destroy, in whole or in part, a national, ethnic, racial or religious group."
In a Sunday appearance on Face the Nation, Zelensky said, "This is genocide—the elimination of the whole nation and the people."
He added, "We are citizens of Ukraine, and we don't want to be subdued to the policy of Russian Federation. This is the reason we are being destroyed and exterminated. And this is happening in the Europe of the 21st century. So this is the torture of the whole nation."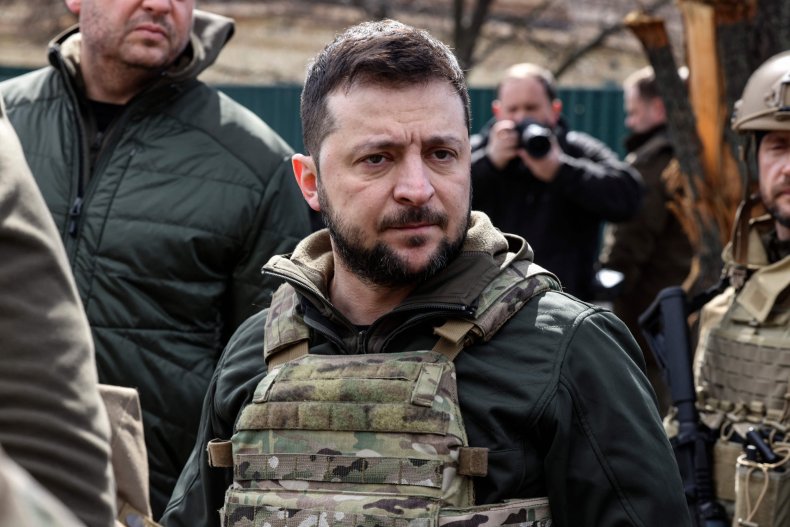 Bucha, a commuter suburb northwest of Kyiv, has been occupied by Russian forces since the third day of the war and was nearly inaccessible for more than a month.
The Ukrainian army entered the town only a few days ago and reportedly found hundreds of dead civilians lying in the streets. Journalists from Agence France-Press, the Associated Press and Reuters have confirmed seeing dead bodies on the streets, some with hands bound and shot in the head.
Russia, however, has denied the allegations it is to blame for the causalities in Bucha.
Russia's ambassador to the United States, Anatoly Antonov, previously told Newsweek that Ukraine was to blame for the deaths. He said Ukrainian forces shelled Bucha after Russian forces allegedly ceased shelling on March 30.
Russian state media have also claimed that the massacre was "staged" and that those killed in Bucha were "shot by Nazis," reiterating Putin's claims that Russia invaded Ukraine in an effort to "denazify" the country.
A fact check by Newsweek found those claims to be false, citing corroborated accounts from international reporters on the ground and eyewitnesses.