Ukrainian President Volodymyr Zelensky has denied accusations that he would use long-range missile systems that the West might supply to fire on Russia.
In a remote interview with Danish media Tuesday, Zelensky said that Ukraine is "not interested in shelling civilians" and that they are not "terrorists."
"We need the right weapons...that work at such a distance," he said in the interview, according to USA Today.
Zelensky and other Ukrainian authorities have ramped up calls for more weapons supplies in recent days to aid their counteroffensive against Russia in what one official has described as a war of artillery. After news reports last month indicated that the U.S. was poised to send long-range rocket systems to Ukraine, Anatoly Antonov, the Russian ambassador to the U.S., alleged that Ukraine may use the equipment to bring the war to Russia.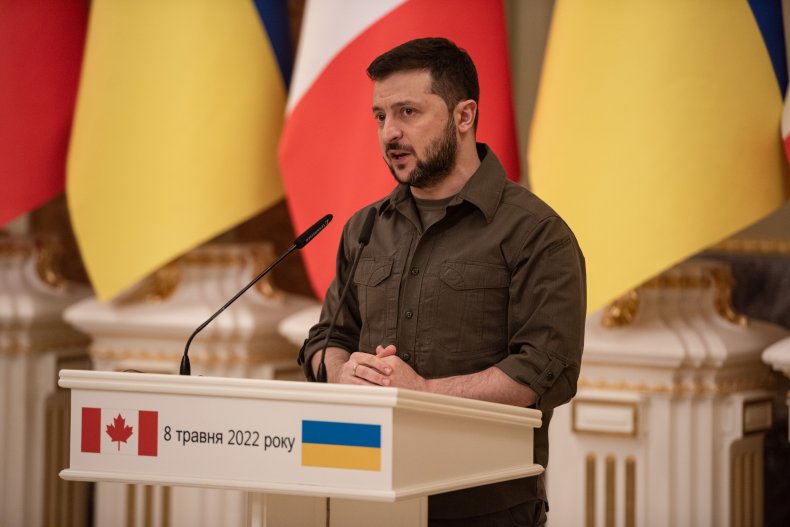 "There is a risk that such equipment will be placed near Russia's borders and Ukrainians will be able to strike at Russian cities. Such a situation is unacceptable and intolerable for us," Antonov was quoted by Ukrainian news outlet Ukrayinska Pravda as saying.
Antonov also called for an "end to the senseless and extremely risky pumping of weapons into the country."
But without more Western-supplied weapons, Ukraine is at risk of seeing "stagnation" on the front lines of the war, Zelensky said in the interview with Danish media, according to a transcript of his comments provided by the presidential office. Zelensky said that he is "grateful" for the weapons that are already purportedly on the way to Ukraine, but stressed that they must come "faster."
Zelensky warned that if Ukraine is unable to put up a strong defense, Russian President Vladimir Putin may be bolstered to look beyond Ukraine's borders.
"I am sure that if Ukraine is not strong, they will move on," Zelensky said. "Kyiv is not the finish line in their marathon. This is the beginning for them. We have shown our strength, and now it is very important that our Western partners show this strength together with us."
The Ukrainian president also pointed to his Russian counterpart while speaking about who has the power to end the Russia-Ukraine War, as well as who controls the fate of Russian civilians.
"Only President Putin decides whether the Russian army will stop or not," Zelenskyy said. "In Russia there is one person who decides absolutely everything for the citizens of Russia and for the Russian military."
Newsweek reached out to the foreign ministries of Russia and Ukraine for comment.