Zelensky Snubbed for Nobel Peace Prize in Shock Upset
Ukrainian President Volodymyr Zelensky hasn't received the 2022 Nobel Peace Prize, despite speculation he might, with the prestigious award instead being shared by human rights campaigners from Russia, Belarus and Ukraine.
Zelensky had been bookies' favorite to win, with odds of 19-10 being offered, according to gambling site Oddschecker.com. He was also featured on a list of favorites for the honor published by Time magazine.
The prize was instead awarded to Belarusian human rights campaigner Ales Bialiatski and two human rights groups, Memorial and the Center for Civil Liberties, which are based in Russia and Ukraine, respectively.
On Twitter, the Nobel Prize committee said the winners had "made an outstanding effort to document war crimes, human right abuses and the abuse of power. Together they demonstrate the significance of civil society for peace and democracy."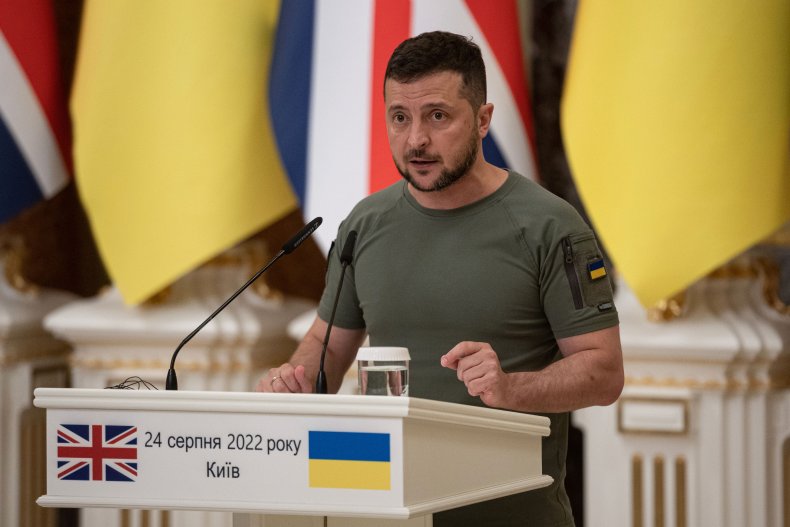 The peace prize is awarded each year by the Norwegian Nobel Committee, with prominent figures around the world invited to suggest recipients.
Referring to the 2022 winners the Nobel committee said: "The Peace Prize laureates represent civil society in their home countries. They have for many years promoted the right to criticize power and protect the fundamental rights of citizens."
Bialiatski, who is being held in a Belarusian prison, became involved in clandestine pro-democracy movements in the 1980s that pushed for an independent state of Belarus outside of the Soviet Union.
Belarus gained its independence in 1991 when the Soviet Union collapsed but soon fell under the authoritarian rule of Alexander Lukashenko, who has been called "Europe's last dictator."
Bialiatski founded the Viasna Human Rights Center in 1996. In 2011, he was arrested for tax evasion and sentenced to four and a half years in prison, but he maintained his innocence and insisted the charges were politically motivated.
Following his imprisonment, Bialiatski was labeled a "prisoner of conscience" by Amnesty International, and both the U.S. and the European Union called for his release.
In August 2020, protests erupted across Belarus following accusations, supported by the EU and U.S., that Lukashenko had rigged that year's presidential election.
The demonstrations were brutally suppressed, with thousands of arrests made and widespread accusations of torture against law enforcement authorities.
Bialiatski was arrested again in July 2021 and is in prison facing accusations of tax evasion. Human Rights Watch has labeled him a "political prisoner."
Russian human rights group Memorial has campaigned for political prisoners and against human rights abuses reportedly committed by Russian troops in Chechnya and Syria. It also sought to preserve accounts of persecution during the Soviet era, before being legally dissolved in 2021 under government pressure.
The third Nobel winner, the Ukrainian Center for Civil Liberties, was founded in 2007 to promote democracy and human rights in the former Soviet state.
Norwegian Nobel Committee chair Berit Reiss-Andersen said: "The center has taken a stand to strengthen Ukrainian civil society and pressure the authorities to make Ukraine a full-fledged democracy, to develop Ukraine into a state governed by rule of law."
Since Russia invaded Ukraine in February, the center has been tracking human rights abuses in the country.
Reiss-Andersen said, "The center is playing a pioneering role with a view to holding the guilty parties accountable for their crimes."