113 House Republicans Vote Against Removing Confederate Statues from Capitol
Lawmakers are one step closer to removing statues of Confederate soldiers and other controversial figures from the U.S. Capitol building that Democrats say are "shameful reminders of slavery and segregation," despite "no" votes from more than half of House Republicans.
The lower chamber approved legislation 305-113 Wednesday that seeks to replace the bust of Chief Justice Roger Taney (1836-1864)—who authored the 1857 Dred Scott decision that Black people could never be U.S. citizens—in the Capitol's Old Supreme Court Chamber with Justice Thurgood Marshall (1967-1991), the first Black justice.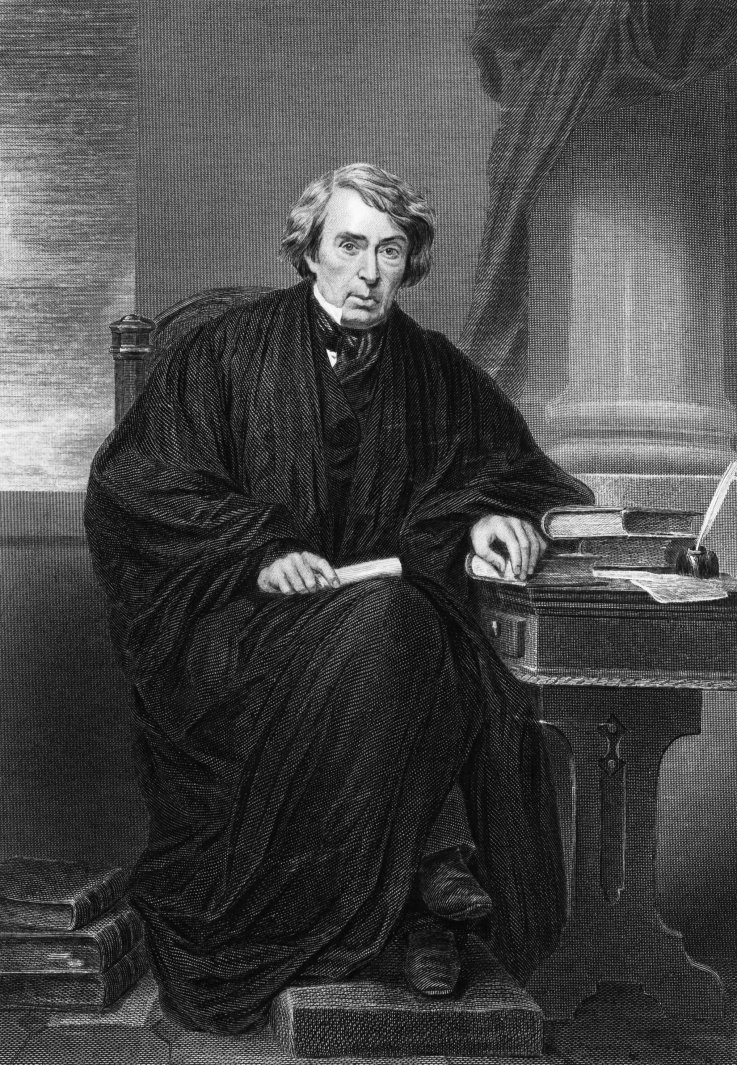 Portrait of American jurist Roger Brooke Taney (1777-1864). He is shown seated, wearing his judicial robes. Undated engraving.
Getty
The measure would also remove three statues of Vice President John Calhoun (1825-1832), North Carolina Governor Charles Aycock (1901-1905) and Representative John Clarke of New York (1827-1829, 1837-1843). Further, the proposal would require states to reclaim and replace statues that they put in the Capitol's National Statuary Hall, a room just off the House floor, of those who fought for the Confederacy in the Civil War.
More than half of House Republicans—113—voted against the bill while 72 of them joined all Democrats and Libertarian Justin Amash in voting for the measure. A two-thirds majority was needed to pass.
House Majority Leader Steny Hoyer (D-Md.), who spearheaded the legislation along with Congressional Black Caucus Chair Karen Bass (D-Calif.), Majority Whip James Clyburn (D-S.C.), Barbara Lee (D-Calif.) and G.K. Butterfield (D-N.C.), said the measure was "long overdue and an historic step."
"As the descendant of an enslaved human being," Lee told reporters, "this is very dear to me."
"Venerating those who took up arms against the United States to preserve the enslavement of black people was an affront to human dignity and a shameful reminder of the harmful legacies of slavery," she added.
Representative Rodney Davis (R-Ill.) urged his GOP colleagues to band together and correct "some of the awful, evil parts of our nation's history" by passing the bill.
"If we can stand together in this instance," he said on the floor, "we can surely stand together and make this country—at a time and places of civil unrest—a better place for every single American in this country."
The passage of the bill that targets controversial historical figures comes just one month after House Speaker Nancy Pelosi (D-Calif.) ordered the removal of several portraits of former House speakers who served in the Confederacy and called for 10 "plainly racist" Confederate statues placed throughout the Capitol to be taken down. It also comes in the wake of Congress' failed endeavor to enact sweeping police reform in response to the nationwide unrest that erupted from the killing of George Floyd, a Black man, by a white former Minneapolis police officer.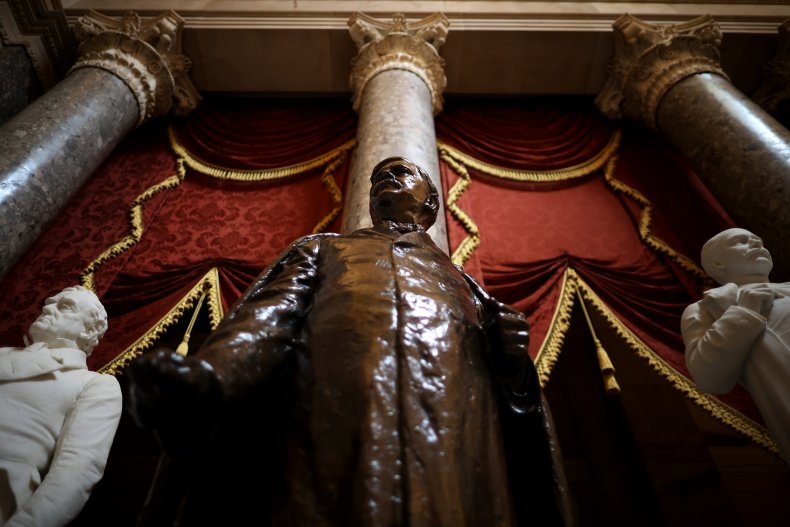 A statue of Taney and other Confederate figures in Baltimore, Maryland, were removed by city officials in 2017 following a deadly white nationalist rally in Charlottesville, Virginia.
"It's time to sweep away the last vestiges of Jim Crow and the dehumanizing of individuals because of the color of their skin that intruded for too long in the sacred spaces of our democracy," Hoyer said. "These statues must be relocated to the dark places of a shameful stain on our history."
The bill now heads to the Senate, where its fate in the GOP-controlled chamber is unknown.