125 Church Campers in Texas Test Positive for COVID-19
A "student ministry camp" in Texas has resulted in more than 125 campers coming down with COVID-19.
Over the weekend, the Clear Creek Community Church of League City sent a message to its members announcing a coronavirus outbreak during the church's four-day youth camping trip in Camp Tejas, a retreat area located in Giddings, Texas. Over 450 people attended the camp, which included kids in grades 6 through 12.
"Additionally, hundreds more were exposed to COVID-19 at camp," the church's message read. "And hundreds of others were likely exposed when infected people returned home from camp."
The Galveston County Health District (GCHD) is now working to confirm the cases.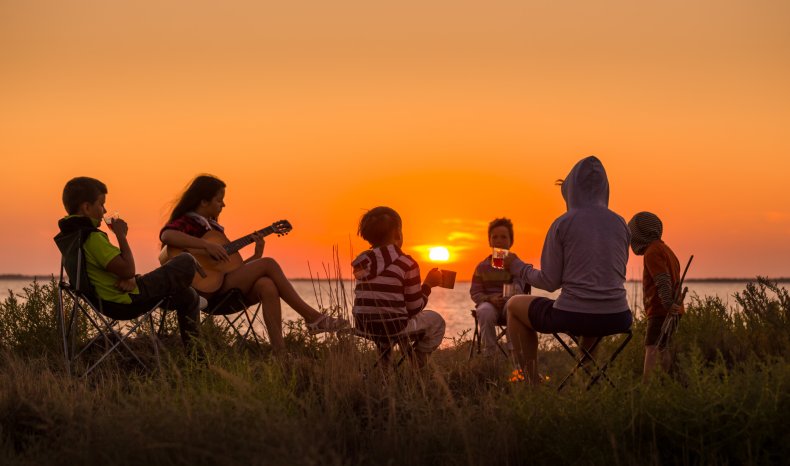 "We're testing for the Delta variant to see if that's the cause for it spreading so rapidly among that group," Dr. Philip Keiser of the GCHD told KHOU. "It's a good cautionary tale for other churches considering get-togethers. Be careful, particularly when planning get-togethers for kids who most of whom haven't been vaccinated yet."
Health officials with the GCHD added that the outbreak may have affected kids who are either ineligible for vaccines or who haven't been vaccinated. Only one in five kids between ages 12 and 15 have been fully vaccinated, and only one in three kids between ages 16 and 17 have been as well, according to the U.S. Centers for Disease Control and Prevention (CDC). Vaccinated adults at the camp have also tested positive for coronavirus, officials said.
The church subsequently cancelled its July 4 and July 7 services, but added that its in-person services will resume by July 11.
"We are surprised and saddened by this turn of events," Bruce Wesley, the church's founding pastor, wrote in a statement. "Our hearts break for those infected with the virus. Please pray for a speedy and complete recovery for all of those affected."
Keiser said the outbreak will give local health officials the chance of possibly learning more about the COVID-19 Delta variant.
The U.S. Surgeon General Vivek Murthy has said the variant is quickly spreading throughout the country and poses a serious risk to unvaccinated people. He called the variant "highly transmissible."
"It will very quickly become the dominant variant in the United States," Murthy said in a July 2 PBS NewsHour interview. However, he also said that the current COVID-19 vaccines offer a high degree of protection against the variant.
Last Thursday, CDC Director Dr. Rochelle Walensky estimated that 25 percent of all COVID-19 cases in the U.S. are now due to the Delta variant.
American citizens and health care experts fear that the variant could contribute to a wave of new infections following the Fourth of July weekend. On Friday, President Joe Biden worried that "people will die" by attending large gatherings where few people had been vaccinated.
While Biden said it was "unlikely" that the variant could cause further lockdowns, he also hesitated to rule out the possibility completely.
Newsweek contacted the Clear Creek Community Church for comment.