I was sitting across from the 10th highest paid actor in the world, and I had just asked him about the first time he learned of menstruation. He stared at me, then at his wife, then back at me, his cheeks turning pink. Finally he started to laugh.
This was my introduction to Akshay Kumar, the Tom Cruise of Bollywood. In the early '90s he became famous playing action heroes, earning him "Sexiest Man Alive" by People India in 2008. He also won India's National Award for Best Actor for his role in the 2016 film, Rustom. Last year, he earned more than Chris Hemsworth, Tom Hanks or Samuel L. Jackson.
Kumar has starred in more than 100 Hindi films over his career, and his latest, Padman, premiering worldwide in January (Sony Pictures), tells the story of a superhero who doesn't wear a cape, doesn't have a superpower and wasn't created by Stan Lee. It's about the man who launched India's sanitary pad revolution.
"I'm just trying to think," said Kumar, who was still flummoxed by my question. "I never sat down and thought about when I was introduced to [menstruation]."
"With me!" exclaimed his wife, Twinkle Khanna, an award-winning actress, bestselling author and producer of Padman. (Whimsical first names run in her family: mom is Dimple, her aunt Simple.) We've met in a hotel in New York City, where she and Kumar shot scenes for the film at the Brooklyn Bridge, Times Square and Jazz at Lincoln Center.
"I don't think he knew that menstruation existed," Khanna said. "I think that's the story for most men—and it's Muruga's story, too. He realized women menstruate after he got married."
Muruga is Arunachalam Muruganantham, also known as India's "Menstrual Man," the inspiration for the film. The school dropout-turned-welder invented a machine that makes inexpensive, sterilized sanitary pads, enabling low-income women to launch local businesses making and selling pads.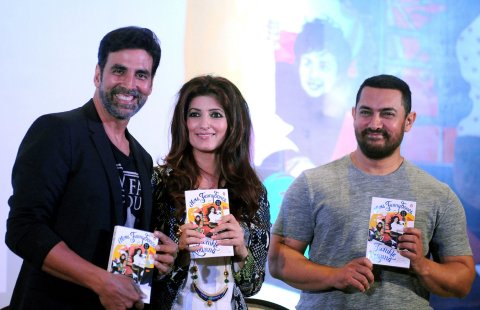 "I was doing research for a column in the Times of India when I came across his story," saidKhanna. "I call him Muruga because even my tongue twists over his name!" That was in 2015. As she began to fictionalize his life for her 2016 book, The Legend Of Lakshmi Prasad, she realized that, "unfortunately, our world is filled with viewers, not readers. For the story to penetrate every household, to start a conversation, that's how the idea of making a movie came about."
Starring as a quirky inventor who spent six years trying to understand menstruation might seem an unlikely fit for a Bollywood action hero, but it's not the first time Kumar has played responsibly. Social change was at the heart of his 2017 summer blockbuster, Toilet, about the sanitation conditions across India. "When I was filming that, 54 percent of Indians did not have a toilet. Now it's come down to 32 percent," he said. "My wife said she wanted to make a small film [about Muruga]. I pleaded with her—I want to do this film! It's become a mission now to make Padman."
In the United States, the battle over menstrual equity has largely focused on eliminating the tampon tax and making tampons and pads free in schools, prisons and shelters. But in the developing world, women's periods are at the center of some of the most neglected human rights issues, including education and public health. In India, at least one in five girls drops out of school in rural areas after they get their period, according to research from Nielsen and Plan India, and only 12 percent of menstruating girls and women use sanitary pads. (Most use old rags, which can lead to reproductive diseases.)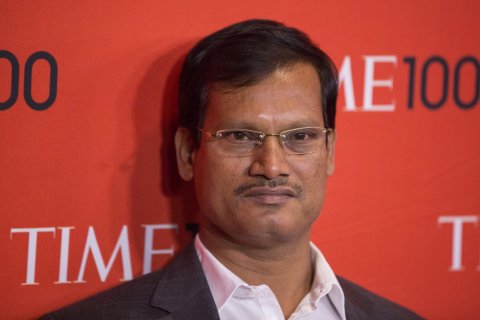 Muruganantham single-handedly sparked a grassroots revolution. In 1998, soon after marrying his wife, he noticed that she was using dirty cloths to manage her period, and was choosing between buying pads or milk for their family. He spent the next six years learning about menstruation and experimenting with various solutions, at one point building a "uterus" by filling a rubber bladder with animal blood, hooking it up to a tube that led to his underwear, then biking and walking around with it for five days. "The messy days, the lousy days, that wetness. My God, it's unbelievable," he said in his 2012 TEDx Bangalore talk.
His community thought he'd lost his mind. His wife (briefly) left him. But the work paid off. There are now at least 2,500 of his simple pad-making machines in India and 17 other countries. In 2014, Time named Muruganantham one of the 100 most influential people in the world. Last year, the Indian government gave him the Padma Shri award for distinguished service in social work.
"Here is a man who's not highly educated, and yet he's become an inventor and innovator, and pushed against his own limitations," Khanna says. "He's on a serious mission, but he's not the sort of man who takes himself too seriously. He's got a whimsy about him—an activist who's also a humorist."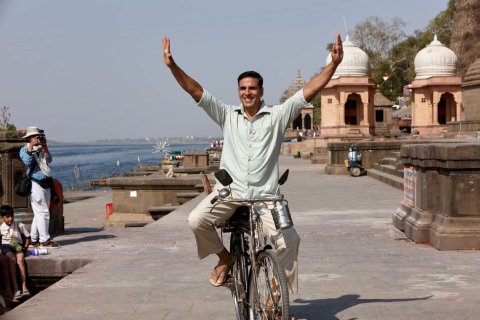 Muruganantham worked closely with Kumar and Khanna on set in India, making sure every detail was accurate—the way he built his machine, how to operate it, even his own posture. The bike riding is in the film—"Ha! That was an interesting day," says Kumar with a laugh. A bigger challenge was finding local actors enlightened enough to handle the topic. One actor quit after a two day shoot because a scene involved his holding a sanitary pad. "We couldn't find him. We had to reshoot the two days with someone else."
Disgust and shame is a common reaction from men in India. Kumar is hoping Padman will prompt the sort of activism that has swept the U.S. in the last two years, including new legislation, conferences, a celebrated new book and celebrity campaigns. Even men are joining the fight. Khanna believes the needs in India are far more basic.
"Girls have been dropping out of school because they can't afford sanitary pads," she says. Politicians need to make it "mandatory that every public institution has freely available pads, like they have water and soap, because these are necessities."
She has one other radical suggestion, inspired by Padman: "Our top male politicians should put a pad between their legs and a bladder [dripping] with blood."