Adam Kinzinger Accuses Kevin McCarthy of Failing to Tell the Truth About January 6th
Representative Adam Kinzinger, an Illinois Republican, accused House Minority Leader Representative Kevin McCarthy, a California Republican, of failing to tell the American people the truth about the January 6 insurrection against the U.S. Capitol carried out by former President Donald Trump's supporters.
Kinzinger was one of the 10 House Republicans to vote to impeach Trump a week after the January 6 assault on the U.S. Capitol, which came after the former president repeatedly lied about the 2020 election results and urged his supporters to "fight like hell" to keep him in office.
The GOP lawmaker has become one of Trump's most vocal critics, also taking aim at Republican leaders who have aligned themselves with the former president.
"The American people deserve the truth," Kinzinger said during an interview with Fox News Sunday.
"And my party, to this point, has said things like, 'it was hugs and kisses,' 'it was antifa and BLM,'" the congressman continued. "It was anything but what it was, which was a Trump-inspired insurrection on the Capitol and people deserve to hear the truth."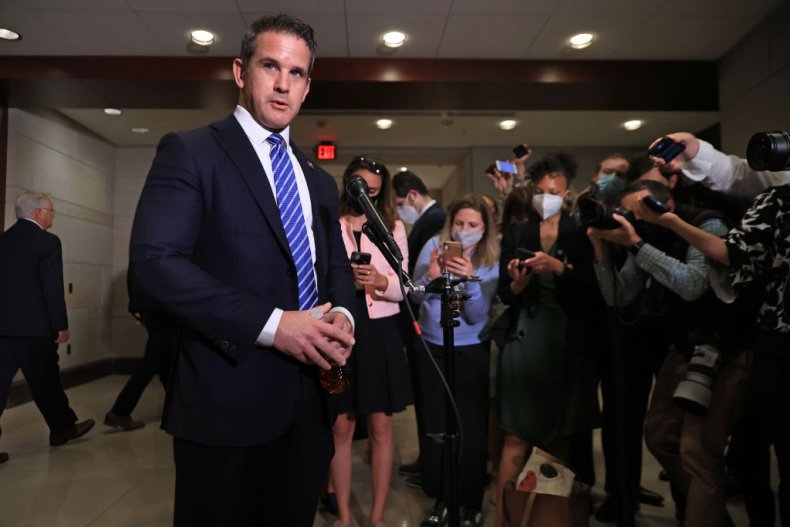 Kinzinger argued that Republicans "will look like we are sitting here just denying reality and facts" if they don't address what actually happened during the pro-Trump attack. He said that his party should "recommit" to telling Republican voters "the truth," arguing that Trump has "abused" GOP voters' patriotism by his lies and conspiracy theories.
The Republican lawmaker went on to criticize his party's leadership, taking aim at McCarthy.
"I do think Kevin has failed to tell the truth to the Republicans and the American people. And it pains me to say it. It's not like I enjoy standing up and saying this," Kinzinger said. "But people—the 74 million voters that voted for Donald Trump, that believe—a number of them—that believe the election was stolen, believe it because their leaders have not told them otherwise."
"The people they trust have either been silent or not told them the truth," the congressman said. "That's where Kevin has failed, because he told the truth on January 13th—something around then. And then he went to [Trump's private club] Mar-a-Lago and said Donald Trump's the leader of the party."
As Kinzinger pointed out, McCarthy initially condemned Trump for allegedly inciting the attack against the U.S. Capitol. "The president bears responsibility for Wednesday's attack on Congress by mob rioters. He should have immediately denounced the mob when he saw what was unfolding," McCarthy said in a House floor speech on January 6.
However, McCarthy later traveled to Florida and smoothed over his relationship with Trump. The GOP House leader has aligned himself with Trump and the former president's faction of the Republican Party since then, turning against Representative Liz Cheney, a Wyoming Republican.
Cheney, who previously served as House Republican Conference Chair, also voted to impeach Trump and has repeatedly condemned the former president over his lies and alleged incitement of the January 6 attack. The congresswoman was ousted by Republicans from her leadership role earlier this month.
Last week, McCarthy came out against a bipartisan commission to investigate the events of January 6. Although the House Republican leader urged members of his party to vote against the legislation establishing the commission, 35 GOP lawmakers broke ranks and voted to approve it alongside Democrats.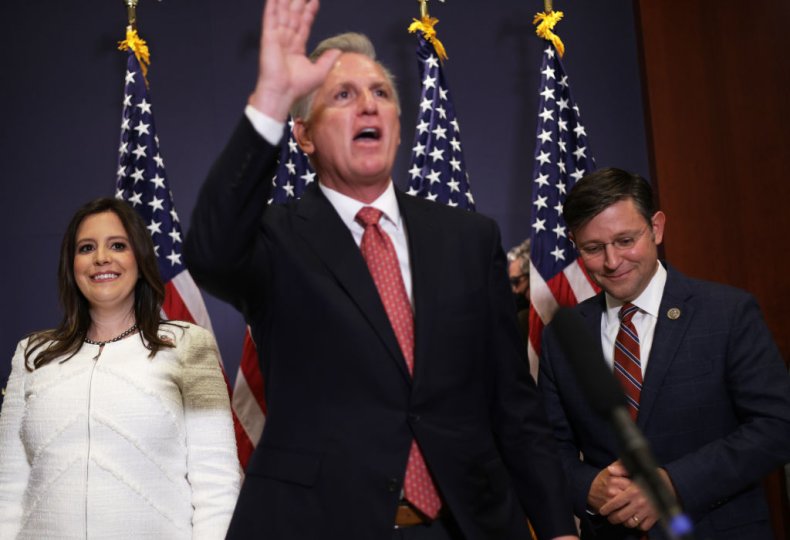 Trump and his allies continue to lie about the results of the 2020 election as they downplay the events of January 6. Although the former president and his supporters continue to claim that the recent presidential election was "rigged" or "stolen" by Democrats, they have not provided evidence to substantiate their extraordinary allegations.
Dozens of election challenge lawsuits filed by Trump and his supporters have failed in state and federal courts. Even judges appointed by Trump and other Republicans have rejected the claims. Meanwhile, multiple audits and recounts in key battlegrounds states—including in places where the election was overseen by pro-Trump Republicans—have reaffirmed Biden's victory.
Former U.S. Attorney General William Barr, who was widely viewed as one of Trump's most loyal Cabinet members, said in December that there was "no evidence" of fraud that would change the election's outcome.
Furthermore, the Cybersecurity and Infrastructure Security Agency at the Department of Homeland Security, which was led by a Trump appointee at the time, said last year that the 2020 election was the "most secure in American history." The agency asserted that there was "no evidence that any voting system deleted or lost votes, changed votes, or was in any way compromised."
Newsweek reached out to McCarthy's office for comment, but did not immediately receive a response.