Trump 'Chickenhawks' Wouldn't Last in His Civil War, Kinzinger Says
Illinois Republican Representative Adam Kinzinger has made a prediction about the people he claims are desiring another civil war in the United States.
On Monday morning, Kinzinger took to social media to call out "civil war" advocates, saying that a scan of their Twitter feeds could provide an indication on how long they would potentially last in an actual battle.
"If you find a 'civil war' chickenhawk, look at their feed. It Will be filled with anger over gas prices, masks, and vaccines. If that makes them uncomfortable, there is no way they would last a war. So don't let them start one or talk tough," he wrote.
Kinzinger's declaration came after former President Donald Trump shared a Truth Social post that said "Civil War." Some, including George Conway, a frequent Trump critic and husband of former Trump adviser Kellyanne Conway, claimed that the former president was "advocating or predicting civil war in the United States."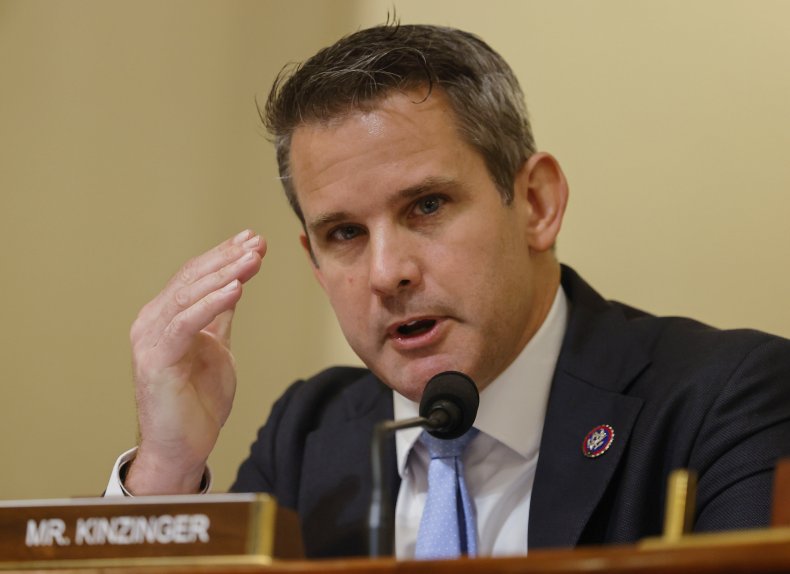 California Democratic Representative Eric Swalwell wrote that the former president is making a call for something that, if it were to happen, he has no plans to take part in.
"Donald Trump is calling for Civil War. Of course, like Vietnam and the walk to the Insurrection, he won't be man enough to fight it," Swalwell posted.
In response to a user who posted "We are already in a war," Kinzinger suggested stopping the "'civil war' lust."
"Here is another 'patriot' who wants a civil war. I guarantee you she wouldn't last in one. How can I tell? Her feed is filled with victimhood angst...and shes never seen war. It's just like camping right! How about we stop the 'civil war' lust. Buy some GI Joes or something," Kinzinger posted.
On Sunday evening, Kinzinger, a vocal and frequent Trump critic who has said he "would love" to run against the former president in a primary, asked his fellow GOP members if they would step up and condemn Trump's social media activity.
"Any of my fellow Republicans wanna speak out now? Or are we just wanting to get through 'just one more election first...?'" Kinzinger wrote.
In addition to Trump, Kinzinger has been vocal in his criticism of other Republicans. Earlier this month, the Illinois congressman took aim at New York Representative Elise Stefanik for accusing her opponents of being the "usual pedo grifters."
"Ok. What? You used to be the bridge builder in politics, now you are calling people PEDOPHILES. America, you deserve better than this. We deserve leaders that inspire. Politics is failing," he wrote.
Also this month, following the deadly shooting in Buffalo, New York, Kinzinger blasted the "great replacement theory" promoted by some GOP lawmakers and commentators. In a tweet, he singled out House Minority Leader Kevin McCarthy, Representative Marjorie Taylor Greene of Georgia and Representative Madison Cawthorn of North Carolina for criticism regarding the right-wing conspiracy theory.
Newsweek reached out to Kinzinger's office for comment.