Representative Adam Kinzinger, an Illinois Republican, said Sunday that the GOP is "certainly not united" when it comes to its vision of the political party's future.
Kinzinger was one of 10 House Republicans who voted to impeach former President Donald Trump following the violent insurrection against the U.S. Capitol by Trump's supporters on January 6. While Kinzinger and a number of other leading GOP lawmakers oppose Trump and do not want the former president to have a continued leadership role within their party, the majority of Republican voters and lawmakers remain aligned with the former president.
In an interview with CBS News' Face the Nation, Kinzinger suggested that Republicans may be largely united when it comes to opposing some of the things President Joe Biden is doing, but that the party remains fractured over the direction it should go moving forward.
"I think in terms of what is our vision for the future, certainly not united. I think we are a party that's been for too long peddling in fear, using fear as a compelling way to get votes. And fear does motivate. But after a while, fear can destroy a country, can destroy narratives, and it can destroy a democracy. And we have to quit peddling that," the GOP lawmaker said.
The Republican congressman said that the party has "no ability to recognize the fact that we have lost the House, the Senate and the presidency because of Donald Trump." Kinzinger went on to praise some of the GOP lawmakers that have taken a stand against Trump as he has done
"There are a few that I really do appreciate in the Senate. You think of like [Senator] Ben Sasse [of Nebraska], of course, [Senators] Mitt Romney [of Utah], Lisa Murkowski [of Alaska], those that voted to remove the president, particularly because I think they did it at great personal cost. That shows leadership. There are people in the House, of course, [Representative] Liz Cheney, you know, with her strength and ability to stand up in front of a tough crowd and tell the truth. That's what America needs more of," he said.
Newsweek reached out to the Republican National Committee for comment but did not immediately receive a response.
Prior to Kinzinger's comments, GOP chair Ronna McDaniel appeared on Face the Nation Sunday and dismissed the internal tensions within her party. McDaniel argued that the party will continue to embrace Trump because the voters have done so. "It's up to the voters, and the voters are saying overwhelmingly they agree with what President Trump did in office," she said.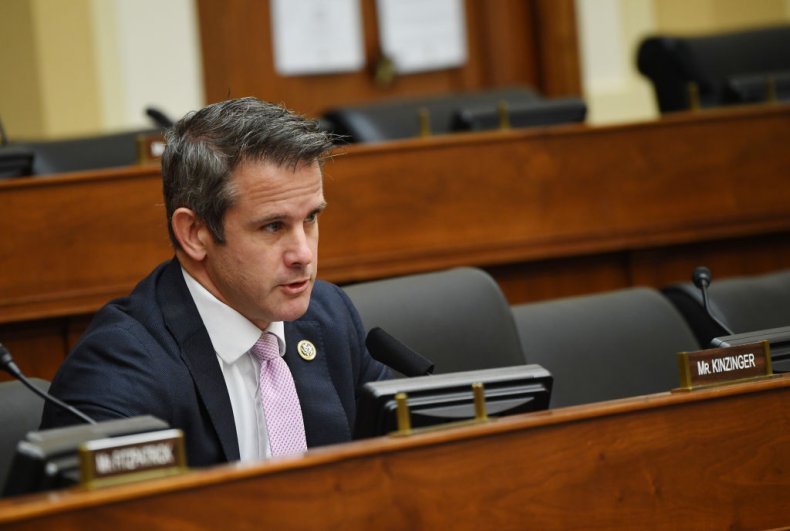 Cheney, the No. 3 ranking House Republican, voted like Kinzinger to impeach Trump following the events of January 6. The Wyoming Republican has been outspoken in asserting that Trump should not continue to have a leadership role within the GOP going forward, but most within her political party disagree. Just seven Republican senators voted to convict Trump alongside all 50 members of the Senate's Democratic Caucus at the conclusion of his Senate trial earlier this month. Although that marked the most bipartisan conviction vote against a president in U.S. history, it fell 10 votes short of the two-thirds majority required by the Constitution for it to be successful.
Meanwhile, polls show that the majority of Republican voters continue to back the former president. A poll published by Morning Consult following the Senate trial showed that 54 percent of GOP voters would support Trump if he runs again in 2024. The second most popular potential candidate was former Vice President Mike Pence, who just 12 percent of Republican voters backed.