'We Can Have Division': GOP Chair Ronna McDaniel Downplays Republican Tensions Over Trump
Republican National Committee chair Ronna McDaniel downplayed the tensions within the GOP, saying that "we can have division." Her remarks came on Sunday morning ahead of former President Donald Trump giving his first big speech since leaving the White House later in the day at the Conservative Political Action Conference in Florida.
Republicans are split over the role Trump should play in the GOP going forward in the wake of the violent insurrection carried out by his supporters against the U.S. Capitol on January 6. While most Republican voters and lawmakers continue to support Trump, there is a notable faction of GOP lawmakers who are strongly opposed to the former president.
But in an interview on Sunday with CBS News' Face the Nation, McDaniel argued that the GOP was aligning with the views of Republican voters by continuing to embrace Trump. "It's up to the voters, and the voters are saying overwhelmingly they agree with what President Trump did in office," she said.
"You know, we can have division within our party, and you can have state parties say, I disagree with that vote and I disagree with what you did there. But overwhelmingly our party agrees with each other on more than we disagree with each other on," McDaniel insisted.
Asked if Trump would run for president again in 2024, McDaniel said she did not know: "That's going to be a decision he's going to have to make down the road. I do know he's committed to helping us win back majorities in 2022, which is, of course, what I'm focused on right now."
Newsweek reached out to the RNC press office for further comment but did not immediately receive a response.
Ten House Republicans and seven Senate Republicans voted with Democrats to impeach and convict Trump for helping to incite the mob that attacked the Capitol, while several others have condemned the former president despite opposing the impeachment and Senate trial. Although the Senate impeachment trial vote was the most bipartisan in U.S. history, it did not meet the Constitution's two-thirds majority threshold for a conviction, which would have required an additional 10 Republican senators to vote "guilty" against Trump.
Meanwhile, Senate Minority Leader Mitch McConnell, a Kentucky Republican, has condemned Trump and suggested he should be criminally prosecuted for what happened on January 6. Representative Liz Cheney, the chair of the House Republican Conference and the No. 3 Republican in the House of Representatives, has repeatedly said that Trump should no longer have a leadership role within the GOP going forward. But the majority of Republican voters disagree.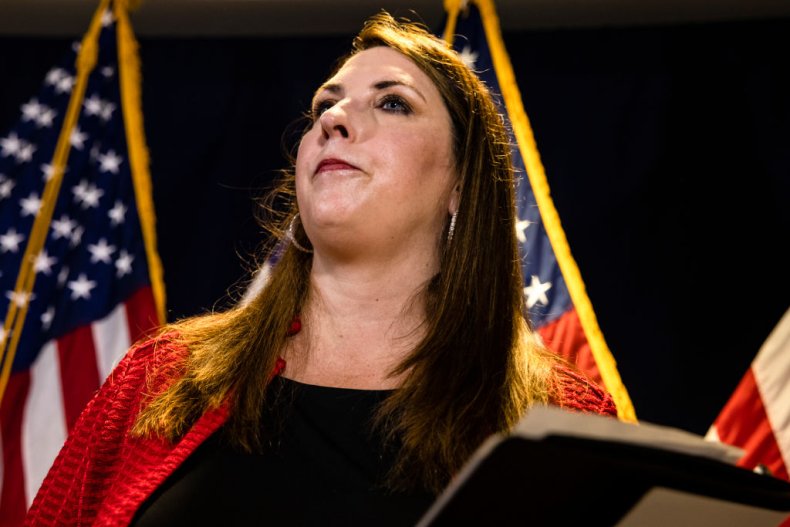 A poll conducted in early February by CBS News/YouGov found that 71 percent of Republicans viewed GOP lawmakers supporting Trump's impeachment or conviction as being "disloyal." Another poll by Morning Consult showed that 59 percent of Republicans believed Trump should play a "major role" within their party going forward, while 54 percent said they would back the former president in 2024 if he ran.