Republican House Minority Leader Kevin McCarthy rebuked "cancel culture" within the GOP on Thursday, after Wyoming Republican Rep. Liz Cheney said that former President Donald Trump should no longer play a role in the party.
"I don't believe in cancel culture, whether it be Republican or Democrat. I believe in free speech. I believe the Republican Party is a big tent—we are a party of ideas and people should be hearing our ideas," McCarthy said during an interview with Fox and Friends.
"The idea that a Republican would join with the cancel culture, I just think is wrong, it's beyond just having a difference of opinion," he said.
McCarthy's statements come after he and Cheney sparred a day earlier over what role Trump should play in the future of the GOP.
When asked by reporters on Wednesday whether or not the former president should speak at the upcoming Conservative Political Action Committee (CPAC) conference, McCarthy said, "Yes he should." Cheney, however, offered a different opinion.
"I've been clear about my views about President Trump and the extent to which, following January 6, I don't believe that he should be playing a role in the future of the party or the country," Cheney said.
Shortly after Cheney's comments, McCarthy sarcastically said, "On that high note, thank you very much," as the two walked away.
Cheney was one of 10 House Republicans who voted in favor of impeaching Trump for "incitement of insurrection" following a violent attack on the U.S. Capitol on January 6.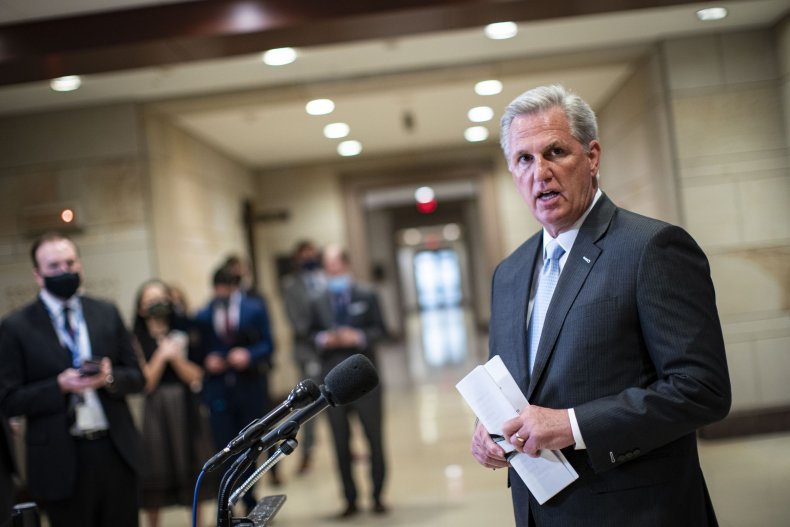 Since then, the Wyoming congresswoman has continued to criticize Trump and has called on her fellow GOP colleagues to break away from his influence over the party.
But her attacks against Trump have since resulted in political backlash, including a formal censure from the Wyoming Republican Party, and calls for her removal as the party's conference chairwoman.
Cheney isn't the only Republican to receive pushback for speaking out against the former president. Nearly every GOP senator who voted to convict Trump during the impeachment trial have also faced formal criticisms from Republican groups in the states they represent.
Trump is slated to make his first major public appearance since leaving office at CPAC this Sunday. The former president is expected to speak about the future of the Republican Party and conservative movement, as well as to attack President Joe Biden's extensive immigration plan, The Hill reported.
On Thursday, McCarthy said he will work to "bring the people together" in his role as House minority leader, when asked about differing factions within the GOP.
"We cannot sit back and wait. We will continue to lead, I will continue to move forward and I will bring the people together," McCarthy told Fox and Friends.
Newsweek reached out to McCarthy for additional comment, but did not hear back in time for publication.